Six of England's best stately homes to visit now
Discover the wonders of Britain's finest stately homes and country estates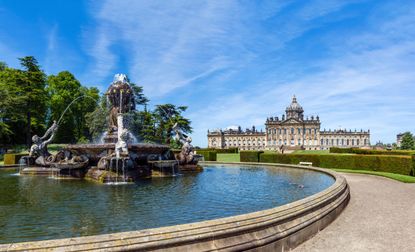 (Image credit: Alamy Stock Photo)
England has some phenomenal stately homes, from examples of architectural brilliance to places that hide unbelievable stories.
If you're looking for a fun day out with the kids, an amble around some grand grounds with friends or a gentle reprieve from 2020, a visit to one of the UK's stately homes should make an appearance in your diary.
So read on and start planning your next trip...
Castle Howard, North Yorkshire
Set in over 1,000 acres of rolling parkland, Castle Howard is one of the UK's finest historic houses. Built in 1699, and famous as the backdrop for the film and television series of Brideshead Revisited, it remains home to the Howard family.
Take a tour of the interior and you'll find awe-inspiring rooms filled with a world-renowned collection of furniture, sculptures and artworks by painters such as Titian and Gainsborough. In the impressive grounds, dotted with temples, statues and fountains, there's a pretty rose garden, and an ornamental vegetable garden. All have beautiful vistas across to the Howardian Hills, which are an Area of Outstanding Natural Beauty. In the enchanting Ray Wood, visitors will discover an impressive botanical collection from all over the world, and the estate is also home to the 120-acre Yorkshire Arboretum.
After a day there, you're in the perfect spot to spend time exploring the picturesque North York Moors National Park. Here you can meander along coastal paths, hike up steep valleys, lose yourself in heather-clad moorland and explore fragrant pine forests.If you're lucky, you'll spot badgers, roe deer and hawks on your way.
Pre-booking is required. Adult (house and garden): £22. Child 4-16: £12.
Click here for tickets and information (opens in new tab)
Chatsworth, Derbyshire
Home to the Duke and Duchess of Devonshire, Chatsworth is in the heart of the beautiful Peak District. Built in the 16th century, the house has more than 30 breathtaking rooms which are open to the public, including the magnificent Painted Hall, the State Rooms and the Sculpture Gallery.Adorning the walls are masterpieces by artists such as Rembrandt, Reynolds and Veronese.
Situated in a 1,000-acre park on the banks of the River Derwent, Chatsworth is surrounded by wooded hills and lush pasture. The 105 acres of formal gardens were designed by Capability Brown and feature impressive sculptures and water features such as Canal Pond and the dramatic Cascade. There is also a Victorian rock garden and a challenging maze, while walkers will enjoy a number of trails through the park which take in the beautiful Derbyshire countryside.
Pre-booking is required. Adult (house and garden): £23. Chid: £12.50.
Click here for tickets and information (opens in new tab)
Blenheim Palace, Oxfordshire
Considered a masterpiece of 18th-century architecture, Blenheim has over 300 years of history and is the only non-royal, non-episcopal residence in England to hold the title of palace. Home to the Dukes of Marlborough, and the birthplace of Sir Winston Churchill, the palace is a World Heritage Site, sitting in 2,000 acres of parkland.
Its gilded State Rooms (currently closed) include the Great Hall, with its 20-metre-high ceiling, the State Dining Room and the Long Library. Also on show are the famous Blenheim Tapestries.
In the grounds, there are two large water terraces featuring fountains and sphinxes, as well as the Duke's Private Italian Garden and the tranquil Secret Garden. Children will love the adventure playground, which they can get to by miniature train from the palace.
Pre-booking is required. Adult (palace, park and gardens): £28.50. Child 5-16: £16.50.
Click here for tickets and information (opens in new tab)
Lyme Park, Cheshire
Once home to the Legh family, this beautiful National Trust property, which dates from the end of the 16th century, nestles on the edge of the Peak District. The house is set in 15 acres of formal gardens, with a 1,360-acre park beyond where a herd of medieval deer roam.
The parkland offers a number of walks with fantastic views of the surrounding countryside, and on a nearby hill stands the Cage – a one-time hunting lodge which looks like a smaller version of the Tower of London. The reflecting lake in front of the house will be familiar to viewers of the BBC production of Pride and Prejudice as it's where a damp Mr Darcy meets Miss Bennet.
A tour of the interior reveals stunning rooms – from Regency splendour to the wood-panelled Dining Room and impressive Elizabethan Long Gallery.
Pre-booking is required. Adult: £8. Child: £4.
Click here for tickets and information (opens in new tab)
Abbotsford, Scottish Borders
The home of Sir Walter Scott – one of the 19th century's most prolific and successful writers – this beautiful house sits in an estate on the banks of the River Tweed which covers 120 acres. Scott bought the plot in 1811, and began to create his vision of a baronial residence in a Romantic landscape, complete with formal Regency gardens.
Visitors can follow marked trails through woods and along the river, where they may spot otters and red squirrels. Views from the flower-filled gardens take in a pretty 'Rapunzel' tower overlooking the river and a Gothic staircase leading to a meadow beyond. Inside the house, much of which has been left virtually untouched since Scott's day, you can see his Study, where he wrote his later novels, and the Dining Room, where he died in 1832.
Pre-booking is required. Adult: £11.50. Child under 17: £5.
Click here for tickets and information (opens in new tab)
Castle Ward, Co Down
Sitting on rolling hills overlooking Strangford Lough, this unique National Trust property is famed for its odd mixture of architectural styles. Back in the 18th century, Viscount Bangor wanted the house to be classical in design, while his wife Lady Ann preferred the fussier Gothic revival. And neither of them backed down – so half of the house was built, decorated and furnished in one style, and half in the other.
The estate has another claim to fame – its Georgian farmyard was used as the backdrop for the castle of Winterfell in the popular TV show Game of Thrones. It's also where you'll find the show's Whispering Wood.
Walkers can enjoy a waterside trail along the shores of the lough, spotting the diverse wildlife of the area, while exploring a ruined 15th-century tower, an ornamental lake and follies.
Pre-booking is required. Adult: £10. Child: £5.
Click here for tickets and information (opens in new tab)
We hope you have a wonderful bank holiday!
Helena is the Travel Editor for Woman & Home, Woman's Weekly, Woman, Woman's Own and Chat. As a journalist with 8 years' experience, she has also worked for titles including Stylist, The Evening Standard and Heat.

She is a keen traveller who loves nothing more than exploring a new country. Her dream trip is a safari. A fierce animal lover, she dreams of seeing some of the big five out in the wild. Her wish-list also includes India – to explore her husband's heritage more – as well as exploring more of America's stunning national parks.