Cape Weligama Review Sri Lanka: Why you've Got To Plan A Stay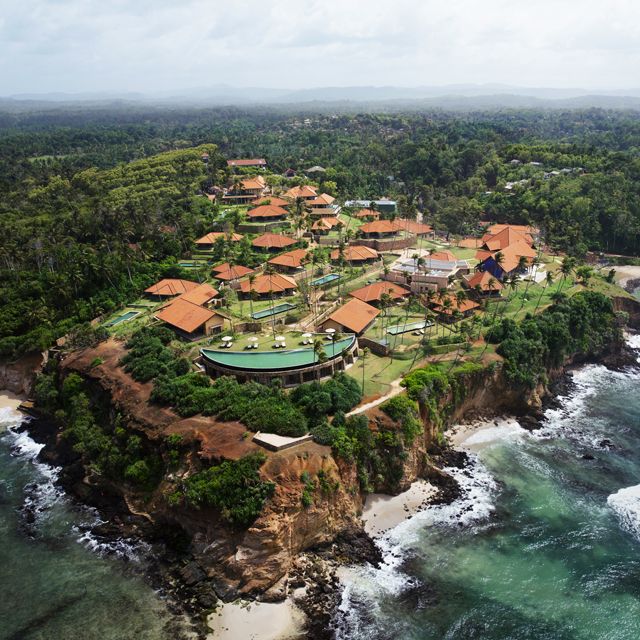 Driving through the high wooden gates and arriving into the reception of Cape Weligama is where your holiday starts properly. You see, here is where you'll be met with your butler – a dedicated team member to help you make the most of your stay at one of Sri Lanka's best hotels.
After being plied with a refreshing tropical frozen pop, fragrant iced tea and restorative cool towels you'll be given the golf cart-led tour of the property. Set high on a cliff overlooking the Indian Ocean, Cape Weligama is hilly in places and as you wind your way down the neatly kept paths you'll be met with all sorts of delights.
Clustered around the top half of the resort are the property's beautiful bungalows which sleep between two and four guests and have swimming pools shared between every couple of villas. Down towards the oceanfront are the suites which are centered around one of the main pools and which have brilliant sea views. Moving on there are then the two restaurants, two bars, the gym, spa, activity centre, deserted beaches and pools to discover.
Once back in your room you can begin to get a real feel for the experience you're about to get. Your butler will efficiently take you through the room's amenities; which include linked Sonos speakers in every room, a walk-in-wardrobe as big as most London flats, a full-sized steam room kitted out with cool stone benches and of course a massage bed (for when you can't manage to make it to the spa).
The accommodation is awash with the little details that mark the difference between a good hotel and a great hotel. From the little cookie jar filled with seemingly unlimited buttery biscuits beside the high-end coffee machine to the laundry service which sees any amount of clothes washed, dried, ironed and returned to your room in twenty four hours by your butler.
Richly coloured soft furnishings in thick, plush fabrics throughout the villas ensure even the outdoor spaces are luxuriously comfortable and actually contribute to a very real problem throughout your stay: you may well not want to leave your room. And you really don't have to if you don't want to. Your smiley butler will be happy to arrange meals, massages and entertainment in your room for you if you so wish, as no request seems to large or small for the staff to manage.
If you do however, leave your room, you'll be well rewarded and wherever you turn there'll be someone on hand to make life that little bit easier; even if that just means helping you straighten your beach towel. Attendants are stationed at both main swimming pools and will gladly roll out your towels, put up and down umbrellas and bring you unlimited ice cold bottled water when you need it. Those little extras mentioned earlier manifest themselves here as complimentary fruit kebabs and chilled smoothies offered to guests at intervals throughout the day when the sun is at its hottest. If travelling without children we'd recommend setting yourself up at the 60-metre crescent-shaped infinity pool where there's an adults only policy and some of the most spectacular views on the Sri Lankan south coast.
For those in search of adventure the hotel provides a sports centre where guests are treated to one free activity each day. Choose from guided snorkelling in the tranquil bay next to the hotel where turtles are often spotted, scuba diving with world-class instructors, surfing on some of the famous southern coastline or a private cycle around villages, lakes and paddy fields nearby where monkeys swing through the trees above you and startled peacocks run out from their hiding places in the fringes of the fauna.
There are plenty of additional activates the hotel can arrange too. Being just half an hour from the Dutch colonial town of Galle this picture-postcard town is a must-see stop on your itinerary, if only to experience the multitude of beautiful boutiques that sell beautiful linens, heady spices and all sorts of beaten copper home wears to stash away in your suitcase. For those with good sea legs there are trips out to see gargantuan blue whales and if you want to stay closer to home the hotel's chefs will happily take you through a detailed and delicious cooking class while you overlook the crashing waves below.
Leaving the culinary offerings up to the chefs themselves will pay off. The hotel provides breakfast, lunch, afternoon tea and dinner every day for guests and meals can be taken in one of three venues or your own room if preferred.
Breakfast choices include traditional Sri Lankan treats like Dosa and Hoppers which are brightly spiced and somehow seem appropriate at 7am when enjoyed in the sunshine in your private terrace while Western options include all the usuals as well as indulgent plates, like pancakes with cream and chocolate.
Dinner is not to be missed and can be a steak cooked in front of you in the small open-air theatre-like restaurant, a la carte from the main restaurant or a choice from the 'Pola' (meaning market) which is twice weekly filled with a seafood grill. Piles of the freshest local catches like lobster and Jack fish fill a wooden boat display and guests are free to choose as much or as little as they like before asking for it to be cooked to their preference. Choices include grilled with lime, olive oil and pepper, an Asian salt and pepper stir fry or having it simmered in a Sri Lankan curry sauce. And if you can't choose the staff will happily cook up all three.
The lofty wooden structures with huge storm doors and whirring fans above are the perfect places to enjoy cocktails of an evening while listening to the sounds of Sri Lanka's south coast.
For the combination of service, location and facilities there's nowhere else we've experienced like it. Our advice? Go now, before everyone else hears about it.
Cape Weligama (www.resplendentceylon.com/capeweligama / +94 11 774 5700) offers rates from $442 per night on a B&B basis, including: accommodation on a double – occupancy basis, daily breakfast, plus laundry, mini bar, afternoon tea, all taxes and service charges plus one activity per day.