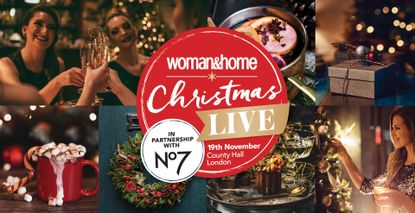 (Image credit: Future)
Brand new for 2022, woman&home Christmas Live in partnership with No7, is an exciting boutique event taking place at London's iconic etc. venues County Hall on 19th November, 2022.
The perfect way to begin the festive season with friends, join us to shop, relax and be inspired in this beautiful Southbank setting with breathtaking views of the Houses of Parliament, Big Ben and the London Eye.
The woman&home Christmas Live experience will showcase creative demos, festive food and drink tasting, beauty treatments, inspiring fashion, crafts and a luxury Christmas market. Expect to see experts and celebrities presenting top fashion styles to help you find the perfect party outfit, plus big beauty brands showcasing their best gifts for the Christmas season.
And our event wouldn't be complete without our much anticipated Goodie Bag packed with incredible make-up and skincare products worth up £275**. Select a Deluxe Ticket to receive your Goodie Bag worth £275, or a Standard Ticket to receive your Goodie Bag worth £120.
Visit womanandhomechristmas.com (opens in new tab) for more information and to purchase tickets.
What's included in a ticket for Woman&Home Christmas Live?
As well as access to the whole event and a free goody bag to take home worth £120**, all guests with a standard ticket will be guaranteed a seat in The Main Stage for a dazzling dose of Christmas fashion, beauty and celebrity presentations, as well as:
Cocktail demos and sampling
Expert food and drink tasting, with puddings, the perfect cheeseboard and the best festive fizz
Craft demonstrations
Beauty tips from the experts
A complimentary glass of fizz
Complimentary Beauty Lounge access
Access to the woman&home Christmas market
Plus, a personalised agenda, festive sampling and brand discounts
What's included with the Deluxe ticket?
Those lucky enough to bag a Deluxe ticket before they are snapped up will get all of the benefits and experiences listed above for Standard ticket holders as well as exclusive perks including:
A Deluxe goody bag worth £275**
A private lounge with river views, plus a VIP bar serving delicious complimentary food and drink
Free beauty treatments
Reserved seating at the Main Stage for all presentations throughout the day
How to buy tickets for Woman&Home Christmas Live
To buy tickets for Woman&Home Christmas Live and join us for this brand new event in 2022, simply visit womanandhomechristmas.com (opens in new tab).
*Standard tickets are £99. Deluxe Tickets are £185. Subscribers get 20% off with the code WH09 until 21st September 2022. (Standard tickets £79.20 and Deluxe tickets are £148). Select Subscriber option on the website. All ticket holders will have a seat in all theatres. Customers can select an AM (10am-2pm) or PM (3.30-7.30pm) event session on Saturday 19 November 2022.
**Goodie bags will be given to everyone with a ticket on the day. Standard Ticket Holder's Goody Bag value, £120; Deluxe Ticket Holder's goody bag value, £275. For full terms and conditions visit womanandhomechristmas.com (opens in new tab)
Digital Editor - Woman & Home
An internationally published digital journalist and editor who specialises in SEO strategy and content production, Rachael has worked as a writer and editor for both news and lifestyle websites in the UK and abroad.
Rachael's published work covers a broad spectrum of topics and she has written about everything from the future of sustainable travel, to the impact of the coronavirus pandemic on the world we live in, to the psychology of colour.