Why there is unlikely to be a Behind Her Eyes season 2 despite the show's popularity
Who else can't help hoping for a Behind Her Eyes season 2?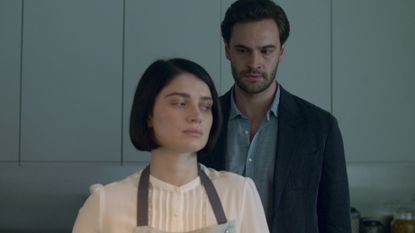 (Image credit: photo: ©Netflix / Courtesy Everett Collection via Alamy)
The possibility of a Behind Her Eyes season 2 won't be far from many viewers' minds since finishing Netflix's hit thriller.
Based on the novel of the same title by Sarah Pinborough, this chilling show follows single mother Louise as she finds herself increasingly involved in the lives of David and Adele's perfect relationship. The closer Louise gets to them, befriending Adele after becoming involved romantically with David, she can't help wondering if it's all too good to be true.
Those who have already raced through this gripping debut season may need that Behind Her Eyes ending explained, as David and Adele's secrets come to light in a jaw-dropping twist. Settling down with your best eReader to enjoy the drama all over again in Sarah's bestselling Behind Her Eyes might just help you spot the clues you missed.
But when it comes to getting some serious answers to the ultimate question - what happens next? - there's only one way and that is a Behind Her Eyes season 2.
Warning: spoilers ahead!
Why it's unlikely there will be a Behind Her Eyes season 2
For those who have already binge-watched (or maybe re-binged) the show, you're probably anxiously waiting to find out what happens next. Well, it looks like we'll have to wait a little longer. Netflix still hasn't made an official announcement as to whether there will be a Behind Her Eyes season 2. The show also already reached the end of the Behind Her Eyes plot in the novel.
Netflix also reportedly released the show as a limited series, meaning it was intended to be standalone. However, the thriller's huge success, twist ending, and a possible plot thread left over from the book might mean a Behind Her Eyes season 2 could be announced in the future.
What could Behind Her Eyes season 2 be about?
If Netflix does confirm a Behind Her Eyes season 2 it seems pretty logical that the story would pick up soon after the ending of season 1. Viewers were horrified to see Louise, AKA Rob in Louise's body, marry David in the final episode after first disposing of Adele, whose body he was also previously inhabiting. Driving through rolling countryside planning their honeymoon, Louise suggests a cruise, only for her young son Adam to astutely point out that she hates boats.
"You've always said you hate boats," he tells her.
Louise smiles, saying: "Maybe I've changed."
Adam looks warily back at her as the camera zooms in closer to Louise's eyes before the credits start to roll. Knowing what we know—that David has married murderer Rob, disguised as the woman he loves—we can't help fearing for him and especially for Adam.
Do we see a possible cruise storyline in the future? Sarah Pinborough's novel makes Louise's intentions towards Adam at the end much clearer. Louise is planning to harm Adam, suspecting that she's not fooling him at all and desperate to keep her sinister secret - and David - to herself. This could make for an even more gripping Behind Her Eyes storyline, as we watch Adam contend with Rob.
Is there a sequel novel to the Behind Her Eyes book?
Author Sarah Pinborough has not written a Behind Her Eyes sequel to the bestselling book. Though much like the Netflix series, the success of the show doesn't necessarily mean there couldn't be one in the future. Behind Her Eyes was first published back in 2017, leaving plenty of time for Sarah to consider potential follow-up plots.
With poor Adam left alone with "Louise" and David, who is none the wiser about the woman he's just married, the idea of a sequel picking up where Behind Her Eyes left off would certainly intriguing.
Who else can't help hoping for a Behind Her Eyes season 2?
Emma is a Senior Lifestyle Writer with six years of experience working in digital publishing. Her specialist areas including literature, the British Royal Family and knowing all there is to know about the latest TV shows on the BBC, ITV, Channel 4 and every streaming service out there. When she's not writing about the next unmissable show to add to your to-watch list or delving into royal protocol, you can find Emma cooking and watching yet more crime dramas.