Will the 'rule of six' be dropped in time for Christmas?
Will families finally be able to reunite?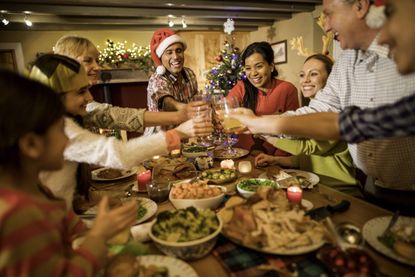 (Image credit: Getty Images)
Christmas is just over two months away, so families and friends are starting to plan how they might spend it. Of course, Christmas Day in 2020 is going to look different to previous years, as it's the first time groups will be celebrating during a global pandemic.
The government's "rule of six", which was introduced in early September, is likely to prove very difficult for those with large families or big friendship groups - who usually spend the festivities together.Under the new rule, people must not meet in a group of more than six people, indoors or outdoors - with some exemptions including weddings (15 people) and funerals (30 people).
MORE:Will the Christmas markets go ahead in the UK in 2020?
Over the past few weeks, there have been mixed reports about how long this social restriction will last for and if families will be able to reunite by Christmas time.
What have the government said?
Recently, there's been talk of the government potentially dropping the rule of six for the big day. A few weeks ago, The Mirror reported that Boris Johnson might even consider lifting the rule of six for 24-hours on Christmas day.
Health Secretary Matt Hancock also weighed in on the discussion, saying the rule will be in place for the "foreseeable future," but that he hopes the situation can be turned around before Christmas.
He told BBC Radio 4's Today programme. "It's absolutely there for the foreseeable future. I really hope that we can turn this around before Christmas."
MORE:Martin Lewis warns shoppers what they 'shouldn't buy' this Christmas
But when pressed on whether the rules will still be in place in late December, he commented, "I think that, in a pandemic, Christmas is a long way off. Three months is a long time in a pandemic and I very much hope that this stronger rule, together with the local action that we've taken in places like Bolton … I very much hope therefore this can work to do that by Christmas."
So what will Christmas day really look like for families this year? We asked cardiologist Dr Dominic Pimenta for his professional opinion.
Will the rule of six be dropped for Christmas?
Dr Dominic Pimenta, co-founder and chairman of HEROES, explains that - due to the sharp rise in cases over recent weeks - it's likely the rule, along with social distancing, will be around for a while.
He tells womanandhome.com, "Given the rising cases, especially in the North West, in addition to already being a few weeks away from breaching critical capacity, it is very likely that restrictions going forward will need to increase rather than relax in the coming months.
"Early and sharp restrictions may bring cases down to a controllable level once more, but social distancing will need to be maintained to prevent a further spike in the colder months.
Dr Pimenta adds that even if cases do fall by December, that doesn't mean we would be out of the woods.
He adds, "If case prevalence is very low by Christmas time then there is a slim chance it would be safe to allow some degree of extra socialising - but that will require a real personal and national effort, everyone doing our bit, to get COVID back under control.
"So, wash hands, cover your face, make space, and encourage everyone to do the same, and maybe a more normal Christmas could be on the cards. As things stand, however, it looks very unlikely sadly."
Lizzie Thomson is a regular contributor to woman&home, and also contributes to Metro.co.uk, Ideal Home, Culture Trip, and Evening Standard, covering all things lifestyle.