Sarah Lancashire: "I Truly Believe That Gender Has Nothing To Do With Who You Fall For"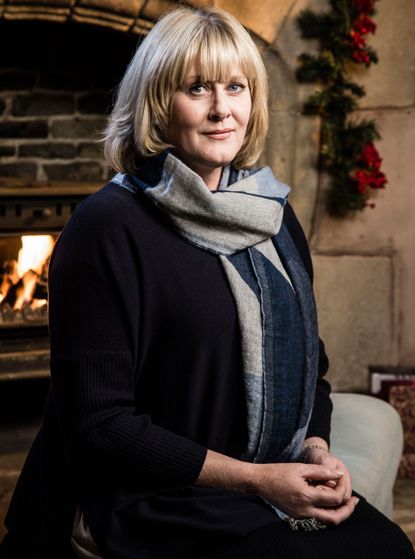 Sarah Lancashire, 52, has two grown-up sons from her first marriage to composer Gary Hargreaves, and a 12-year-old son with her TV producer husband Peter Salmon. She lives in London. Sarah plays Caroline in Last Tango in Halifax.
I don't want to give too much away, but when we meet Caroline again, there's a new woman in her life - and she's quite dramatically younger! It wasn't anything Caroline consciously set out to find; she's certainly not dating because she's still very much grieving the loss of Kate, but this woman who lives locally pursues her and Caroline finds herself in a bit of a situation. It's not a relationship, it's more of an "encounter". Her life has actually moved on quite significantly in all areas - her daughter, Flora, is about two years old now, she's moved house and she's also about to start a new job at a different school. It's all change!
I think Caroline has hit a nerve with a lot of women. She's been married to a man for a very long time and she has this sudden realisation that she needs to be true and honest to herself - I know there are so many women who have been in a similar situation. I got lovely feedback about her and Kate's love affair from women in their midlife who have embarked on same-sex relationships. It was a huge sense of relief that I didn't upset anybody and they were happy with the portrayal.
I truly believe that love is love and gender is immaterial. So I didn't speak to anyone or do any research into what it's like to leave a marriage for a same-sex relationship - because I don't think gender has anything to do with who you fall for. It's irrelevant, isn't it?
I have to admit, I won't be watching the special (watching myself back is never a joyful experience!) - I normally spend my Christmas in the kitchen doing the cooking instead! I will be watching Sally Wainwright's other show, To Walk Invisible: The Brontë Sisters though - I'm so excited that the hairs are actually standing up on my arms just thinking about it! In the meantime, I'm keeping occupied with Tutankhamun - it's become my Sunday night fix now that Downton Abbey's gone.
People are always asking if a there's a third series of Happy Valley on its way - well, the answer is that I don't know! It's not something we're in discussions about because Sally [Wainwright] is busy doing other things at the moment, but she has said she'd like to write another one. One of the reasons it's such a good piece though is because she does it in her time - there's nobody sitting on her shoulder saying, "Deliver it, deliver it, deliver it!" The more we do that, the less likely she is to write it!
What am I doing in 2017? I'm actually unemployed at the moment! Maybe Nicola [Walker] and I should set up shop in a café and write something together. We'd probably end up just eating the cake though. In fact, I'd love to open my own tearoom...
The Last Tango in Halifax Christmas Special airs on BBC One in two parts this December.
Natalie Whittle is a British journalist specialising in celebrity content in the women's lifestyle sector. She previously held the role of Celebrity Director at Woman & Home and has also worked at Prima, Red & Good Housekeeping.