Royal family share a snap of one of the Queen's sweetest childhood memoirs in honour of World Book Day
Aw!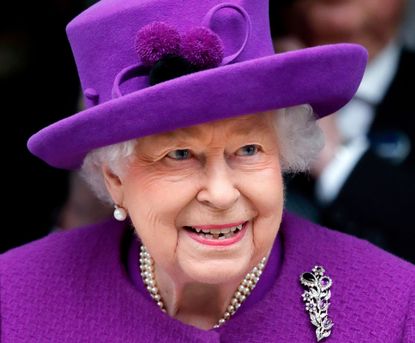 (Image credit: Getty)
An adorable childhood memoir belonging to Her Majesty the Queen has been shared on the British royal family's Twitter account.
In honour of World Book Day today, the social media account which boasts 4.1 million followers, posted a lovely glimpse into our monarch's younger years, back when she was known as Princess Elizabeth.
The image shows the inside of one of the Queen's old story books, in which she has scribed her name.
'This image shows The Queen's (then Princess Elizabeth) name written in her own handwriting inside her childhood copy of Lewis Carroll's Alice in Wonderland,' the caption beside the historical snap shot read.
'This magic of our childhoods- the characters, the stories, the imagination of it all- is an enduring and essential part of our culture,'it sweetly went on, quoting Queen Elizabeth from an event celebrating children's literature back in 2006.
The post prompted lots of comments from adoring royal fans.
'That is enchanting,' penned one.
'That's beautiful. Well Done,' added another.
'Wow! Her Majesty's signature has remained remarkably consistent,' a third chipped in.
'Reading opens the world to those who turn the pages,' a fourth continued.
This comes after the Queen paid a special tribute to her grandson Prince Harry in the grounds of Buckingham Palace.
Last week the Prince teamed up with iconic rock star Jon Bon Jovi to record a special single in aid of the Invictus Games Foundation.
In honour of the musical project, the Buckingham Palace Guards played a medley of Bon Jovi hits.
As the video was shared on the Royal Family Twitter, the caption read, 'TrumpetGuard Change at Buckingham Palace!
'Today the @ScotsGuardsBand played a special @BonJovi medley to celebrate his collaboration with @WeAreInvictus!
'The Queen's Guard handed over responsibility for protecting Buckingham Palace and St James's Palace to the New Guard.'