The hidden meaning behind Kate Middleton's new gold necklace
The Princess of Wales, Kate Middleton stepped out wearing a beautiful $1,000 necklace, which is said to have a special meaning behind it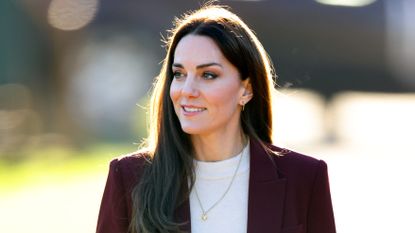 (Image credit: Getty Images)
Princess of Wales Kate Middleton wore a citrine yellow necklace when she attended a reception for the England Wheelchair Rugby League Team at Hampton Court Palace.
Kate Middleton recently wore a $1,000 (£825) gold pendant necklace by London designer Daniella Draper.
The Princess of Wales has previously worn some of the designer's necklaces over the years.
Kate Middleton has been known for her incredible style over the years, especially when it comes to jewelry.
But the latest addition to her collection not only looks amazing, but it also has a very special meaning.
Earlier this month, the Princess of Wales attended a reception for the England Wheelchair Rugby League Team at Hampton Court Palace.
As well as rewearing her bespoke Roland Mouret burgundy suit layered over a white jumper, she added a citrine yellow necklace created by one of her favorite designers Daniella Draper.

This 'Gold Citrine Baby Treasure Necklace' has a thin chain and includes one of the birthstones for November.
The website reads, "The birthstone for November, citrine assists in manifesting your biggest dreams, bringing in more success and prosperity."
According to Tiny Rituals, the meaning of citrine is focused on 'prosperity, joy, and energy', with the website also stating, "Citrine is like a summer holiday for your soul.
"Bright and bustling, this stone is actually a special variety of quartz but comes soaked in a yellow color.

"Perhaps, it's these far-flung places that feed it full of good vibes, or maybe it's just Mother Nature's way of reminding us that when life gives you lemons."
This isn't the first time Kate has been pictured wearing one of the designer's necklaces, as she previously wore one with her children's initials on it.
Back in May 2021, Kate visited a tennis court in Scotland with Prince William and wore a Daniella Draper chain costing $600 (£495) which had 'G', 'C' and 'L' charms.
A year before that on a trip to Cardiff in January 2020, the mum-of-three was spotted wearing a personalised gold midnight moon necklace which is engraved with the letters 'G, L, C' and three stars costing $1,200 (£1,070).
The product description reads, "The moon is universally representing the rhythm of time as it embodies the cycle. The phases of the moon symbolise immortality, eternity and enlightenment."
Naomi is a news and lifestyle journalist and digital content creator with bylines in The Independent, The Sun, Cosmopolitan, and Fabulous. She covers a range of topics and currently works at Heart Radio in London.