Sophie Wessex opens up about her menopause experience in incredibly honest royal first
Sophie Wessex has shared details of her menopause experience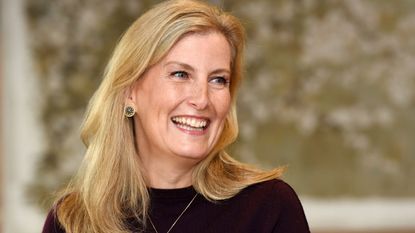 (Image credit: Photo by Stuart C. Wilson/WPA Pool/Getty Images)
Sophie Wessex has opened up about her menopause experience in an incredibly honest royal first.
Sophie Wessex got candid about the menopause in a super honest chat during a recent royal engagement.
The Countess of Wessex is the first royal who has openly chatted about the change and her own menopause symptoms, having become a patron of Wellbeing of Women, a pivotal women's charity.
---
Opening up about her own experience with periods and the stages of menopause, the Countess of Wessex shared the struggles she faced going through her body's natural changes but also gave an insight into the positivity she has taken from it.
During a recent engagement, Sophie, who is married to the Queen's youngest son, Prince Edward, had a candid chat about taboo topics surrounding women's health.
As part of her new role as Patron of Wellbeing of Women, a charity dedicated to changing the lives of women and girls, Sophie got honest about both the highs and the lows of her own periods and the menopause.
In a video shared on The Royal Family Instagram page, Sophie can be heard saying, "We all talk about having babies. Nobody talks about periods. Nobody talks about the menopause. Why not?"
"It's something that happens to us 12 times a year; it's something that's incredibly normal but it's something that is very hidden. And I think it's time to say, 'Enough!'"
Sophie, who lives at Bagshot Park with Edward and their children, Lady Louise Windsor, 17, and 13-year-old James Viscount Severn, urged women to see the menopause in a happier light but admitted that it impacted her brain in a big way.
"Really, we should be celebrating the fact that we don't have to have periods anymore. It should be a liberation. But it feels like it's a shackle. Because it's described as something that's incredibly negative.
"And, one, yes it's an admittance of the fact that we're getting a bit older; we're not as young as we were before. We're not being, to use the word 'productive'. We're past that stage, which is quite a moment isn't it?"
"You suddenly can't remember what on earth it was you were talking about. Try being on an engagement when that happens," the Countess joked.
"Your words just go. And you're standing there going, 'Hang on, I thought I was a reasonably intelligent person.' What has just happened to me?
"It's like someone has just gone and taken your brain out for however long before they pop it back in again, and you try and pick up the pieces and carry on."
We applaud Sophie for helping to normalize the conversation around menopause.