Six incredible royal baby facts you probably didn't know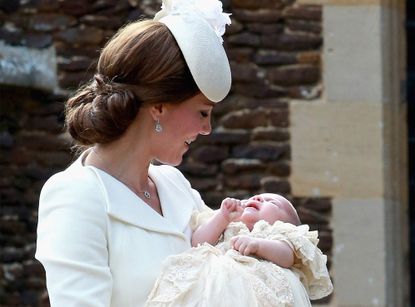 The birth of a royal baby has long been a cause for celebration, the child welcomed with great excitement by a waiting world.
For many of us, a royal baby signifies hope for the future, not just for the royal family but also for the nation; a symbol of continuity and a regal bulwark against changing social mores.
With the Duke and Duchess of Cambridge's third child due any day now, Ingrid Seward - editor-in-chief of Majesty magazine and the author of My Husband and I: The Inside Story of 70 Years of the Royal Marriage - reveals six incredible facts about royal babies through the years...
1. All of the Queen's children were born at Buckingham Palace - save one
All the Queen's labours were conducted from the Buhl Room at Buckingham Palace, with the exception of Princess Anne, who was born at Clarence House.
The Buhl Room, a magnificent space with sweeping views of The Mall, where visiting heads of state are entertained, was converted into an operating theatre for the births of Princes Charles, Andrew and Edward, with the most up-to-date equipment and a huge team of experts on call at all times.
2. Prince George's astrological sign is Cancer– but just barely!
Born at 4.24pm on 22 July 2013, Prince George, now four, came into the world just 40 minutes before the Cancer star sign turned to Leo– meaning Prince George will place a lot of importance on family life and history, if astrology is to be believed. Handy for a future king.
3. Modern royal babies are trendsetters from the off
When Princess Charlotte was carried out of the Lindo Wing, the receiving blanket in which she was wrapped sold out within minutes. The brand, GH Hurt, monitored 100,000 people from 183 countries visiting their site in less than 24 hours.
Similarly in 2016, when Prince George greeted President Obama at Kensington Palace wearing a dressing gown from British brand My 1st Years, a gift from his parents when his sister was born, it sold out within minutes.
4. Prince Philip cracked one of his legendary jokes at Prince Edward's birth
When Prince Edward was born in 1964, Prince Philip was by his wife's side – an unusual occurrence for a husband ofthe time (years earlier he was playing squash when the Queen was in labour with Charles).
Seeing the anxiety on the faces of the medical team, he tried to ease the tension. "It is a solemn thought that only a week ago General de Gaulle was having a bath in this very room," he joked.
5. Princess Diana was brought to tears after William's birth
The media has always been invasive following a royal birth, and back in 1982 all the attention around the birth of Prince William frightened Diana.
As soon as the chauffeur-driven car carrying her and her newborn son had rounded the corner away from the crowds outside the hospital – St Mary's in Paddington again – she burst into tears.
6. When it comes to her children, Kate is very aware of royal tradition
The Duchess cleverly chose to pull out of storage one of Prince William's old silk romper suits for George's first balcony appearance, and often dresses George in similar clothes worn by his father – for instance, the red shorts and white shirt she dressed him in for Charlotte's christening.
At the christening, Kate also used the old silver-wheeled Milson royal pram as well as the Honiton christening robe first introduced in Victorian times (albeit replaced with an excellent copy, worn by royal babies ever since).