Queen Memorial Gardens proposed, a 'living legacy' that's a place of 'peace, beauty and tranquillity'
A fitting tribute for the longest serving monarch in British history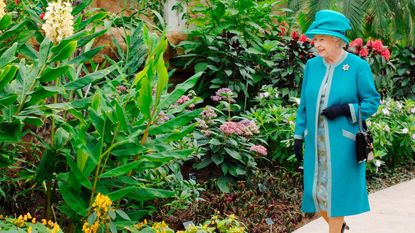 (Image credit: POOL/Tim Graham Picture Library/Getty Images)
Proposals have been put forward for the creation of new memorial gardens around Buckingham Palace in honor of the late Queen Elizabeth II. The project will introduce a place of 'peace, beauty and tranquillity' into the center of London, a fitting tribute for the late Queen, who was a lover of nature.
Proposals have been unveiled for The Queen's Memorial Gardens, a special area of natural beauty that will be introduced near Buckingham Palace
Incorporating elements of sustainability and representing the biodiversity of all of the British Isles, the proposals have bene called a "fitting tribute" to the late Queen Elizabeth II
---
As the official mourning period for Queen Elizabeth II has come to an end, those who knew, loved and respected the late monarch are thinking of ways to memorialize the history-making figure.
While London's Mayor, Sadiq Khan, has come out against the idea of a statue in Trafalgar Square, the Buckingham Palace Park Project have proposed a "living legacy" that will both reflect the Queen's love of nature and provide Londoners with a place of "peace, beauty and tranquillity" in the name of the Queen.
The Queen's Memorial Gardens, if approved, would run alongside Grosvenor Place, a main road in Central London that runs from Hyde Park Corner towards Victoria.
VOTE "YES" for a new park in central LondonOur vision would be for the gardens to be left in their wild state, containing woodland & a butterfly meadowThere would be benches, a prominent statue the of Queen & it would be a 'phone free zone' #QueenElizabethMemorialGardens https://t.co/z4coPkSgVP pic.twitter.com/EIjVzvzgWYSeptember 30, 2022
See more
Stefan Simanowitz, founder of the Buckingham Palace Park Project, has explained more details behind the project.
He has said, "We had hoped this part of the Palace Gardens would be bequeathed to the nation by the Queen herself, but now - to mark her passing - the proposal is now to create a new Royal Park as a living legacy to our longest-serving monarch."
"As this period of official national mourning comes to an end, our thoughts turn to how we will mark Her Majesty's memory, we are hopeful that this project might act as both a fitting tribute to the Queen and as well a welcome new green space in a congested corner of London."
The potential project was first shared with the Queen and the Royal Family in 2015, as a possible way to celebrate the Queen's 90th birthday.
At the time, it was reported that King Charles (the then-Prince of Wales) was very keen on the idea, especially as it was to incorporate elements of sustainability - a cause known to be important to the current monarch.
Antonio Pisano, architect behind the proposals, has added, "Our vision is to have a place which will reflect Her Majesty's love of nature and try and capture it in a beautiful walled garden, carved from just a sliver of the 42-acre Buckingham Palace Gardens."
As a woman who made it clear that she was here to serve her subjects, the Memorial Gardens would be a perfect tribute. As Antonio explains, "It will be an act of care towards London and its unique, fragile yet resilient ecosystem."
"In terms of what you want for a memorial, having a place close to where the Queen lived, a place where she would have actually walked and enjoyed herself – because there is such an outpouring of grief, the idea of coming to a place that she loved would be very powerful," Stefan added.
"I think while it could be seen as just another park, giving it the name Memorial Garden and asking people to turn off their phones, making people think about what the Queen meant to them and about loss and love, would help them connect with those powerful things in a beautiful park in central London."
Jack Slater is not the Last Action Hero, but that's what comes up first when you Google him. Preferring a much more sedentary life, Jack gets his thrills by covering news, entertainment, celebrity, film and culture for woman&home, and other digital publications.
Having written for various print and online publications—ranging from national syndicates to niche magazines—Jack has written about nearly everything there is to write about, covering LGBTQ+ news, celebrity features, TV and film scoops, reviewing the latest theatre shows lighting up London's West End and the most pressing of SEO based stories.