The one key custom the Queen is sticking to amid the coronavirus outbreak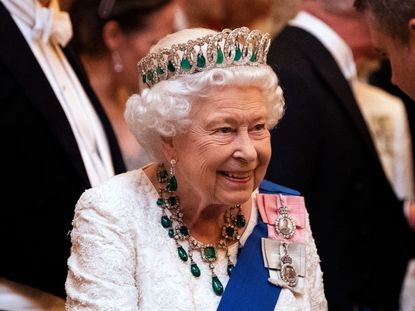 This week, the Queen stuck to a crucial royal custom despite the ongoing coronavirus crisis.
The Queen met with Prime Minister, Boris Johnson, on Wednesday night.
Since she ascended the throne in 1952 the Queen has always held weekly audiences with Britain's Prime Minister as part of her role as head of state.
This follows royal news that Prince Charles has tested positive for COVID-19.
On Wednesday night, Queen Elizabeth spoke to Prime Minister, Boris Johnson, by telephone to ensure the essential custom continued.
The Royal Family's official Twitter account shared a photograph of Her Majesty and Boris Johnson talking on the phone.
The tweet read: 'The Queen held her weekly Audience with the Prime Minister today by telephone.
'Her Majesty - pictured this evening at Windsor Castle - has held a weekly Audience with her Prime Minister throughout her reign.'
This comes days after her son, Prince Charles, tested positive for the virus.
Is the Queen at risk?
But despite worries that he may have been in contact with the Queen, the Palace has confirmed that Her Majesty is in good health.
A spokesperson said: 'The Queen remains in good health.
'The Queen last saw The Prince of Wales briefly on the morning of 12 March and is following all the appropriate advice with regard to her welfare.
'We will not be commenting further.'
A spokesperson for Prince Charles and his wife, Camilla, Duchess of Cornwall, said: 'In accordance with government and medical advice, the Prince and the Duchess are now self-isolating at home in Scotland.
'The tests were carried out by the NHS in Aberdeenshire where they met the criteria required for testing.
'It is not possible to ascertain from whom the Prince caught the virus owing to the high number of engagements he carried out in his public role during recent weeks.'
Get well soon, Prince Charles.
Robyn is a celebrity and entertainment journalist and editor with over eight years experience in the industry. As well as contributing regular to woman&home, she also often writes for Woman, Woman's Own, Woman's Weekly and The Sun.