Princess Diana and Prince Charles' divorce was influenced by this key fact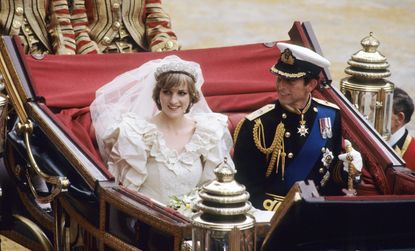 (Image credit: WireImage)
Princess Diana and Princes Charles separated in 1992 and divorced in 1996.
Prince Charles' romance with Camilla was thought to be a key reason for their split, but there is one other reason.
Charles and Diana had only been on 12 dates before he proposed to her in 1981.
Why did Princess Diana and Prince Charles divorce?
Aside from Charles' blossoming relationship with the Duchess of Cornwall, the 13-year age gap between Charles and Diana has also been suggested as a key reason why the couple split.
Diana was just 16 years old when she was introduced to Charles in 1977, who was dating her sister Lady Sarah at the time.
Many thought he was in love with Camilla, but after returning from three years of Navy service in 1980, Charles found out that she had married someone else.
He and Diana then began dating and he proposed in 1981.
Diana turned 20 the year they tied the know, while Charles had turned 32.
Royal expert Sarah Bradford revealed that Charles once referred to Diana as "a child", showing cracks in their relationship.
In her documentary, 'Princess Diana: In the Name of Love' she claimed that Charles said, "She is exquisitely pretty, a perfect poppy. But she is a child.
"She does not look old enough to be out of school, much less married."
Robert Jobson, royal correspondent and author of 'Charles At Seventy: Thoughts, Hopes And Dreams', claimed that Charles even wanted out of the marriage.
He wrote that Charles said to friends, "I desperately wanted to get out of the wedding in 1981, when during the engagement I discovered just how awful the prospects were having had no chance whatsoever to get to know Diana beforehand."
Robyn is a celebrity and entertainment journalist and editor with over eight years experience in the industry. As well as contributing regular to woman&home, she also often writes for Woman, Woman's Own, Woman's Weekly and The Sun.