Prince Harry's hilarious backup plan for Prince William if Kate Middleton rejected his wedding proposal
Prince Harry joked that his brother should be prepared for both outcomes...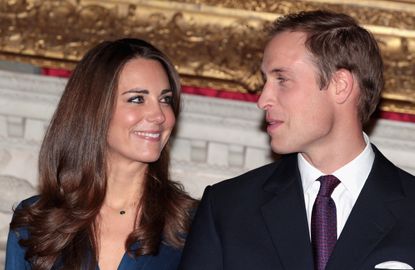 (Image credit: Photo by Chris Jackson/Getty Images)
Prince Harry gave Prince William a hilarious back up plan if Kate Middleton rejected his wedding proposal when he popped the question back in 2010.
Prince Harry had a cheeky suggestion ahead of Prince William's proposal to Kate Middleton, in case she turned him down.
The Duke of Cambridge got down on one knee during a trip to Kenya with Catherine over a decade ago.
---
Prince Harry gave Prince William a hilarious backup plan for if Kate Middleton rejected his proposal when he popped the question back in 2010.
The Duke and Duchess of Cambridge got married ten years ago today at Westminster Abbey and enjoyed a lavish wedding reception at Buckingham Palace after the ceremony.
Prince William's romantic proposal in Kenya went without a hitch, but in true brotherly form, Prince Harry offered some cheeky advice ahead of his brother's big moment, suggesting he prepare for if Catherine rejected his offer of becoming his wife and future Queen consort.
Ingrid Seward, editor-in-chief of Majesty magazine and long-time royal expert, shared details of the run-up to Prince William's proposal, reporting that he confided in his brother as soon as he knew Kate was the one.
"Once he had finally decided, the first person he told was Harry. His brother was impressed by William's romantic plan to propose to Kate in a remote lodge in Kenya, East Africa, accessible only by helicopter," Ingrid told The Sun.
She detailed how Prince Harry is believed to have teased his brother with a cheeky quip, allegedly telling Prince William to have a bottle of brandy on hand if Kate turned him down.
"Being Harry, he had to make a joke of it and suggested as well as the bottle of champagne on hand for when she said yes, he should also have a bottle of brandy in case she said no," Ingrid added.
During William and Catherine's engagement interview, the future King admitted that the pair had been discussing the prospect of tying the knot for some time.
"We had been talking about marriage for a while so it wasn't a massively big surprise. I took her up somewhere nice in Kenya and I proposed," he told Tom Bradby during the chat.
"I'd been planning it for a while but as any guy out there will know it takes a certain amount of motivation to get yourself going. I was planning it and then it just felt really right out in Africa. It was beautiful at the time. I had done a little bit of planning to show my romantic side," Prince William added.
While Prince Harry's brandy banter was mere sibling teasing, William seemingly did have worries that he wouldn't be able to marry Kate—if her father, Michael Middleton, said no, that is.
Ensuring that he and Catherine were able to go ahead with their royal nuptials, William strayed from tradition and asked Michael's permission to marry his daughter after getting down on one knee.
"Well, I was torn between asking Kate's dad first, and then the realisation that he might actually say 'no' dawned upon me. So I thought if I ask Kate first then he can't really say no. So I did it that way round," he joked during the iconic interview.