Prince Harry reveals surprising thing King Charles 'doesn't approve' of women wearing
King Charles 'doesn't approve' of too much make-up, apparently...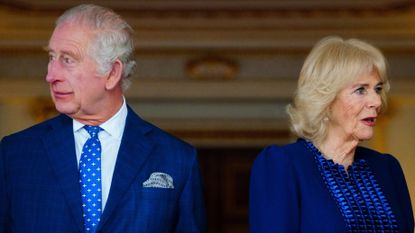 (Image credit: Getty Images)
Prince Harry has claimed that his father King Charles isn't keen on women wearing heavy make-up.
---
In his long-awaited Spare memoir, Prince Harry has revealed the advice he gave to Meghan Markle ahead of her first meeting with his father, King Charles.
The former Suits actress, who was Harry's new girlfriend at the time, is said to have been told by him how to wear her hair and make-up for her first encounter with King Charles and Harry's stepmother, Camilla, who is now Queen Consort.
The Spare passage explains that Meghan wore her iconic brunette hair down for the pivotal family meeting, with Harry saying it was "because I suggested she wear it that way".
The Duke of Sussex, who stepped back from royal life with Meghan in 2020, added, "Pa likes it when women wear their hair down. Granny too."
Revealing Kate Middleton's iconic asset that the Queen was obsessed with, the book continues, "She often commented on 'Kate's beautiful mane."
Harry also explained that King Charles' dislike of heavy make-up looks meant that he told Meghan to go for a natural look.
"Pa didn't approve of women who wore a lot," he said.
During her and Prince Harry's Netflix docuseries, Meghan detailed the moment she met her husband's brother, Prince William, and his sister-in-law, Kate Middleton, for the first time.
"It's so funny if I look back at it now, because now I know so much, and I'm so glad I didn't then," Meghan said on the show, "Because I could just authentically be myself without so much preparedness."
Recounting the somewhat awkward moment, Meg went on, "Even when Will and Kate came over, and I had met her for the first time.T hey came for dinner, I remember I was in ripped jeans and I was barefoot.
"I was a hugger, always been a hugger. I didn't realize that that is really jarring for a lot of Brits," Meghan added.
Meanwhile, Prince Harry's memoir also details Kate Middleton becoming a part of his life and how he feared that she would impact his and Prince William's brotherly bond.
"She'd done a gap year in Florence, knew about photography, art. And clothes. She loved clothes. Her name was Kate," the book reads.
Confessing that despite his worries, he and Kate had a sweet relationship with plenty of laughter, Harry added, "Whenever I worried that Kate was going to be the one to take Willy from me, I consoled myself with thoughts of all our future laughing fits together.
"I told myself how great everything would be when I had a serious girlfriend who could laugh along with us."