Watch the shocking moment an Asda worker fainted in front of Prince Charles
Oh, no!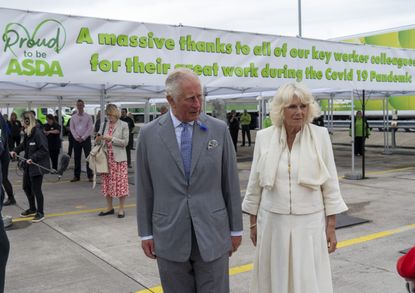 (Image credit: Getty)
Prince Charles watched an Asda worker faint in front of him in a shocking moment this week.
Prince Charles and the Duchess of Cornwall spent time meeting essential supermarket workers in Bristol this week.
During the visit, one unfortunate man fainted right in front of royal visitor, Prince Charles.
This royal news comes after the Duchess of Cambridge sparked concern during her latest public appearance.
The mishap occurred during the future King and his wife Duchess Camilla's royal tour of Bristol.
Prince Charles and the Duchess of Cornwall paid a visit to an Asda distribution centre where they chatted with members of staff, like delivery drivers, who have been working hard throughout the coronavirus crisis.
But one unnamed worker took a turn for the worse when he was enjoying a chat with the Prince of Wales.
In a shocking video from the moment, the man can be seen falling backwards and onto the ground.
His colleagues rushed to put him into the recovery position while Prince Charles watched over to make sure he was okay.
Luckily, the fainting man was able to recover to greet the royal visitor properly.
This comes after it was reported that Prince Charles is full of feelings of regret about the situation regarding his son, Prince Harry, and his wife Meghan Markle.
The couple stepped back from the royal family at the beginning of the year and moved across the pond to start a new life with their baby son, Archie.
With the Sussex family now residing in Los Angeles, they are of course unable to easily see royal relatives currently, in light of the coronavirus crisis.
According to a royal expert, Charles "personally regrets" that he is unable to see his son and grandson and is said to have attepted to get the Sussexes to change their mind.
"He no doubt personally regrets the fact that he won't see his son and family as much as he otherwise would have. He likes tradition and order," royal biographer Nigel Cawthorne said.
"I think he genuinely made an attempt to support what Harry and Meghan were looking for as long as it wouldn't upset other HRH's.
"In truth, however, there wasn't a lot he could do apart from offering moral support," Nigel, who wrote Prince Andrew, Epstein and the Palace, told Fabulous.