Prince Andrew memorabilia is now 'unsellable at any price' in the wake of the Epstein scandal, say auctioneers
Collectors are struggling to offload once-valuable Prince Andrew memorabilia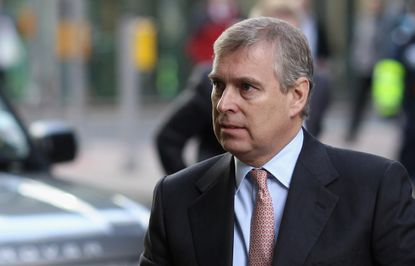 (Image credit: Getty Images)
Auctioneers are turning down Prince Andrew memorabilia because "nobody would want to be seen buying it" due to the royal's involvement with Jeffrey Epstein.
Auctioneers are struggling to sell memorabilia relating to Prince Andrew due to his entanglement with disgraced financier and convicted sex offender Jeffrey Epstein.
A new civil lawsuit brought against the prince by Virginia Giuffre alleges that he sexually abused her—claims which he continues to deny.
---
Collectors hoping to offload Prince Andrew memorabilia that they had assumed would increase in value have found it to be "unsellable at any price".
Speaking to the Sunday Telegraph, Chris Albury, an auctioneer and senior valuer at Dominic Winter, revealed that he had recently declined to auction a slice of wedding cake from Prince Andrew and Sarah Ferguson's 1986 wedding.
"History has not been favourable to that wedding and certainly, the current situation Prince Andrew finds himself in does him no favours," he told the paper.
While slices of certain royal wedding cake tends to generate significant interest (as was the case with Princess Diana and Prince Charles' wedding cake, which sold for a staggering $2,553 at auction), others tend to be less favourable in the eyes of collectors.
"I don't think anyone would want to be seen buying it," said Albury. "You would have to be a brave person to speculate because while you could probably get things [relating to the Duke] pretty cheap at the moment, to assume things will turn around and the price would go up, is reliant on his situation changing."
Though he added that items relating to most lower ranking royals could be difficult to sell at the best of times, the auctioneer said he would be "very wary" of buying anything relating to Prince Andrew.
Similarly, Louisa Chinery, a manager at Crow's Auction Gallery in Dorking, said the gallery would not accept Prince Andrew memorabilia in "light of the allegations made against him".
Though she explained that it had always been difficult to sell Prince Andrew memorabilia as it didn't have "high value", she said that the allegations brought against the prince meant they would "turn down" items relating to him in future.
"Andrew would just not have financial rewards. If someone came in with some items we would kindly reject it based on economic value and in a matter of taste," Chinery told the paper.
"As much as anything it wouldn't have a market value – and now he has a black cloud hanging over him that would only add to the problem."
Kate is a freelance contributor to woman&home, covering everything she loves most: fashion, fiction, and fancy face cream. If she's not working, she's probably reading, feeding her online shopping addiction, or judging the taste level of celebrity houses (10/10 for Dakota Johnson, 2/10 for Tan France).

She graduated from Central Saint Martins in 2020 with a BA in fashion journalism, and her byline has also appeared in British Vogue, The Times, and Marie Claire.