Paddington Bear photoshoot at royal residences praised as 'sweetest thing of all time'
Paddington Bear tributes left for the Queen enjoyed their own photoshoots in Buckingham Palace and Clarence House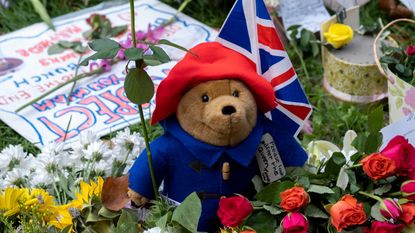 (Image credit: Mike Kemp/In Pictures via Getty Images)
The official Royal Family Instagram account sent fans into a mixture of joy and tears today when they shared a collection of photos showing Paddington Bear enjoying life at the royal residences. From checking out the library to enjoying a marmalade sandwich next to a framed photo of Queen Elizabeth II, fans cannot get enough of the adorable gesture.
A series of photographs showing Paddington Bear teddies posing in various rooms across the royal residences has delighted fans and moved many to tears
The bears were left as tributes to honor the late Queen Elizabeth, and have remained at the royal residences where they've been professionally cleaned before going to charity
---
Paddington Bear certainly knows how to strike a pose.
An adorable collection of Paddingtons have featured in a range of photos across Buckingham Palace and Clarence House.
The hilarious and heartwarming photos were shared to the official Royal Family's Instagram account earlier today (November 18).
In the post, the caption reads as if Paddington himself wrote it, charmingly saying "We've had a lovely stay at Clarence House and Buckingham Palace (doing our best to keep out of mischief…)"
"Looking forward to arriving at our new homes next week!"
The various photos are taken throughout the Palace and Clarence House, and show Paddington enjoying the spoils of royal life.
From checking out some of the fancy artwork to sliding down the banister of a grand staircase and even peering out of what appears to be a throne room, Paddington really knew how to set the scene for a striking picture.
Fans have instantly hailed the post a classic, replying with a mixture of pure joy and some bittersweetness at the references to the dearly departed Queen.
One fan commented, "Ohhh dear that's basically the sweetest thing of all time! Thank you for sharing, this is really special and much appreciated."
For another fan, the photos "really made [her] day."
While many had fun with the photos, others commented on the sadness of the Queen missing out.
One said, "Our late Queen would've been delighted with these pictures and the next journey of these bears gifted to her and now gifted to everyone else."
Another added, "This is so lovely, still brings tears to my eyes."
Previously, Queen Consort Camilla posed with hundreds of Paddington Bears, announcing that the tributes left for the late Queen Elizabeth would be professionally cleaned and sent to Barnardo's, a children's charity in the UK.
"The bears have been scrubbed up to look their best, before they are delivered to their new home."
"The bears are currently being well looked after at Buckingham Palace, Clarence House and in the Royal Parks nursery located in Hyde Park."
Jack Slater is not the Last Action Hero, but that's what comes up first when you Google him. Preferring a much more sedentary life, Jack gets his thrills by covering news, entertainment, celebrity, film and culture for woman&home, and other digital publications.
Having written for various print and online publications—ranging from national syndicates to niche magazines—Jack has written about nearly everything there is to write about, covering LGBTQ+ news, celebrity features, TV and film scoops, reviewing the latest theatre shows lighting up London's West End and the most pressing of SEO based stories.