Princess Margaret's Ruby and Diamond flower brooch: details and the sad reason it's no longer in the Royal Family
Princess Margaret's Cartier flower brooch was one of her favorites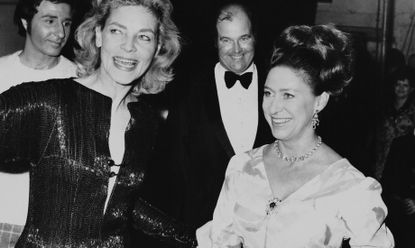 (Image credit: Central Press/Hulton Archive/Getty Images)
Princess Margaret was known for her outrageous wit and her flair when it came to fashion. One of her most frequently worn pieces was a Cartier Ruby and Diamond flower brooch. The brooch was so popular with the Princess a replica was made and can be seen in the new season of The Crown, worn by Lesley Manville who plays the late Princess. The brooch is no longer in the Royal Family's possession though, after her children sold off her belongings in a controversial estate sale.
Princess Margaret's enchanting Cartier Ruby and Diamond flower brooch was a beloved favorite.
The piece features an oval ruby stamen and leaf decoration and is estimated to be worth around $50k.
---
They were close sisters, but there were huge differences between Queen Elizabeth II and Princess Margaret.
Whereas the late monarch was known for her stoicism and pragmatism, her younger sister was a touch more outrageous – loving a party and the finer things in life.
Which probably explains why Margaret casually wore a $50k brooch for most of her life – not exactly the kind of daily accessory most would wear.
The brooch, made by Cartier in 1948, features "curved openwork old and single-cut diamond petals and stem" and an "oval ruby stamen and leaf decoration." The piece was originally made as a clip brooch but was later converted to a pin-fitting brooch.
While she wore the flower brooch regularly for daytime occasions, Margaret was known to dress up the stunning piece for evening occasions.
At the London premiere of Doctor Zhivago in April 1966, she paired the signature piece with several other ruby and diamond jewels, including a pair of Girandole earrings, two bracelets, and her ruby and diamond engagement ring.
Despite being such a favorite of Margaret's the brooch sadly left the Royal Family in 2006, after her death.
In 2006, Margaret's children, David Linley and Lady Sarah, sparked controversy when they announced they'd be holding an estate sale of their mother's belongings.
It was seen as controversial to some as it took place a relatively short time after Margaret's death in February 2022. The purpose of the estate sale was to settle an inheritance tax bill.
While the auction – overseen by Christie's – was originally estimated to pull in around $3.5m (£3m), it eventually ended up bringing in a staggering $16m (£14m).
The auction included over 800 family heirlooms including Princess Margaret's wedding tiara, which fetched $1.1m (£926k).
The brooch itself also proved to be incredibly popular. It was initially estimated to fetch up to $17k but the final selling price was higher. Considerably so.
The Cartier gem sold for $128k (£108k).
Jack Slater is not the Last Action Hero, but that's what comes up first when you Google him. Preferring a much more sedentary life, Jack gets his thrills by covering news, entertainment, celebrity, film and culture for woman&home, and other digital publications.
Having written for various print and online publications—ranging from national syndicates to niche magazines—Jack has written about nearly everything there is to write about, covering LGBTQ+ news, celebrity features, TV and film scoops, reviewing the latest theatre shows lighting up London's West End and the most pressing of SEO based stories.