Meghan momentarily forgets this royal rule - and fans are quick to notice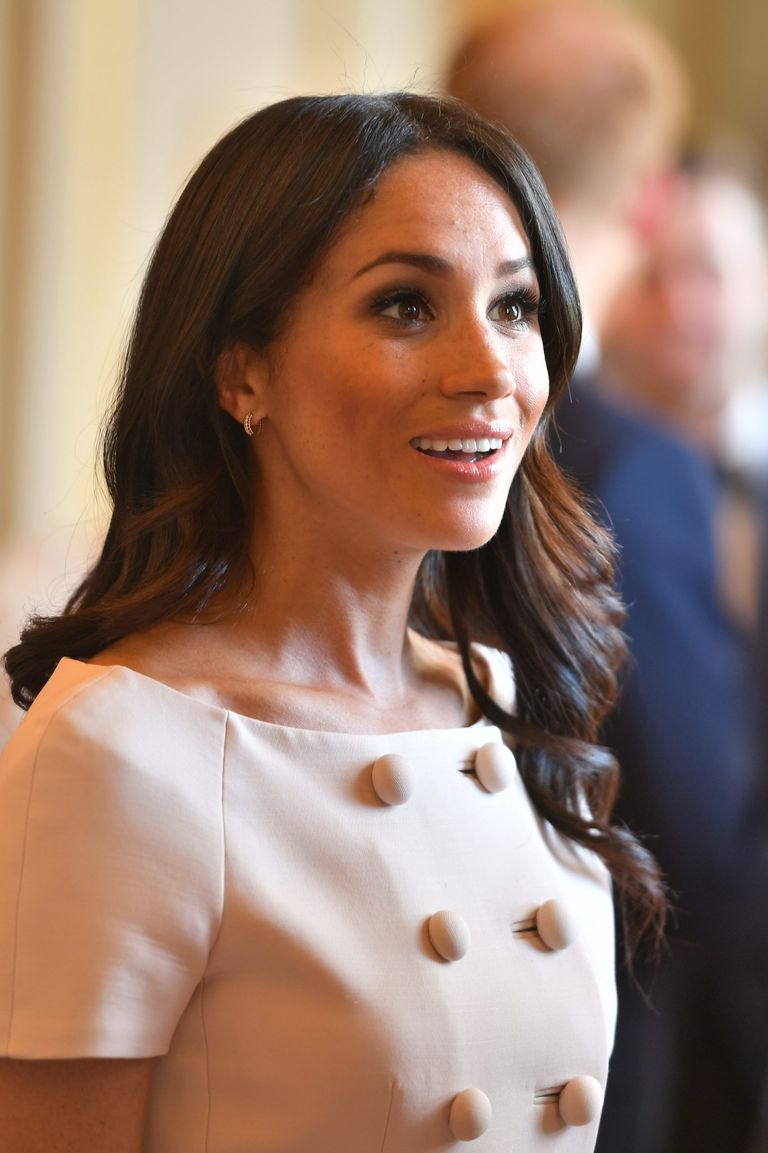 By Amy Hunt
On Tuesday night, the Duchess of Sussex, alongside her husband Prince Harry, once again joined the Queen for an important royal engagement.
The trio headed to Buckingham Palace for the Queen's Young Leaders Awards ceremony, celebrating inspiring young leaders across the Commonwealth.
And while Meghan has been expertly navigating her new royal role so far, adapting her wardrobe and posture to suit, she had a very minor slip-up whilst at the formal palace event.
The Duchess appeared to innocently forget a subtle royal role during the ceremony, as she, Harry and the Queen headed to pose for a formal photo with the young leaders.
As she took her seat, Meghan crossed her legs at the knee (as many of us do), before quickly correcting herself, and instead slanting her legs to the side – mimicking the now-famous 'Duchess slant'.
It appears to be part of unofficial etiquette that the ladies within the royal family are required to slant their legs to the side, crossing them over only at their feet, when out on official events.
It's thought that the reason behind the move is so as to ensure the ladies modesty, whilst maintaining an elegant stance.
According to Myka Meier, royal etiquette expert, crossing your legs at the knee is one of the "biggest etiquette mistakes a lady can make".
She told People magazine that crossing your legs at the ankles instead is "sophisticated, protects vulnerabilities and looks fabulous in photos".
The Duchess of Cambridge has undeniably mastered the 'Duchess slant' pose – which makes sense, after seven years as an official member of the family.
But of course, Meghan is still very new to 'The Firm' – and so it's completely understandable that she may have forgotten the rule - if only for a second!
Royal fans were quick to pick up on the 'mistake', suggesting that even her adjusted slant was incorrect. On a video of the moment, one fan said – 'Still not quite right.', while another commented 'She keeps them crossed the entire time which is incorrect.'
However, the majority of people stood in defence of Harry's wife, suggesting it was unfair to criticise her for such a small thing. One said, 'Give her a break already' and another commented, 'She still was graceful and poised'
However Meghan sat at the event, the Duchess still ensured she looked utterly regal in a blush pink Prada suit paired with some simple black Aquazzura heels
.
Many fans have drawn comparisons between Meghan's look and that of her sister-in-law, the Duchess of Cambridge, suggesting her silky smooth, curly blow-dry is reminiscent of Catherine's regular hairstyle.
We know we'd love to share styling tips with the Duchess...