'You are loved': Meghan Markle leaves inspiring notes for sex workers in food packages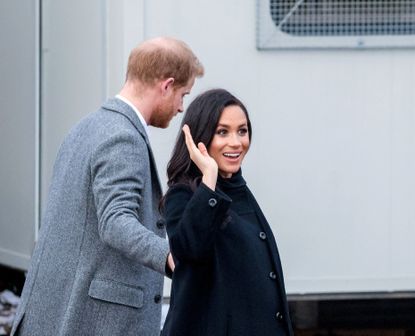 Prince Harry and Meghan Markle arrived in snowy Bristol last week to visit One25, a charity that works towards helping women break free from street sex work, addiction and other life-controlling issues.
While visiting the charity, the lovely pair met with volunteers who run the charity's outreach programme, which is a lifeline for vulnerable women trapped on Bristol's streets.
The Duchess helped make up packed lunches and care packages which would be distributed to women working on the streets that evening and it was during this activity that Meghan had her quirky idea.
Exclaiming, 'I'm in charge of banana messaging', The Duchess of Sussex wrote messages of encouragement on bananas that were being packed into the food bags.
With a black sharpie pen, Meghan wrote messages such as, 'You are special', 'You are strong', 'You are brave' and 'You are loved' on the bananas.
It is thought that the Duchess had watched a television show that had inspired her to make this lovely - yet unusual - gesture.
Last year it was revealed Stacey Truman, a school dinner lady from the US, had made it her mission to write motivational messages on the bananas she would be serving to students. While having their lunch, the children would be able to read messages such as 'Smile' and 'Reach for the stars'.
Meghan's gesture has received an outpour of admiration from royal fans, who called her 'sweet,' 'thoughtful' and 'amazing'.
One twitter user wrote, 'Such a thoughtful gesture from the Duchess, I'm sure these ladies will appreciate it.'
Another royal fan said, 'The Duchess of Sussex is so thoughtful.'
But there has been some backlash to the stunt.
Reported in The Sun, it is said a sex worker found the gesture 'offensive'.
The sex worker said, "People out here struggle to eat and sleep and she gifts us some words on a piece of fruit. She has the means to help us more than that."
For others, The Duchess's gesture was inappropriate, with the belief it was 'patronising' and perhaps more appropriate for children voiced on social media.
However, it was also reported another sex worker welcomed the kind notes, believing the messages were 'sweet'.