Lady Kitty Spencer, Princess Diana's niece, will not inherit Althorp for this controversial reason
Why Earl Spencer will not be leaving the Althorp estate to his eldest child, Lady Kitty Spencer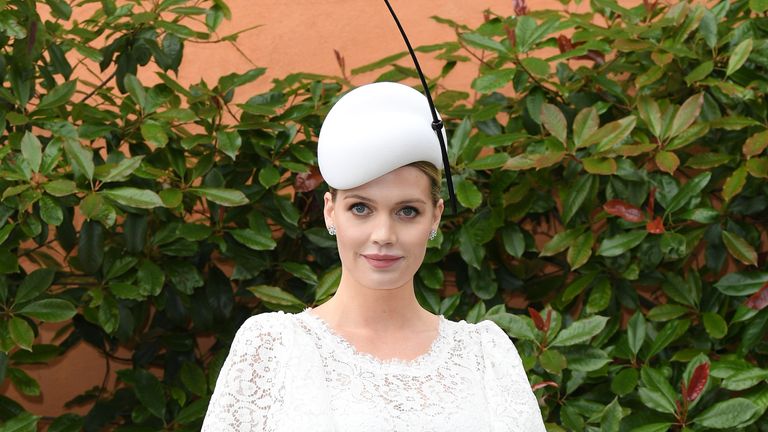 (Image credit: it: Karwai Tang / Contributor)
Earl Spencer's daughter Lady Kitty Spencer will not inherit her family's aristocratic estate—despite being his eldest child.
Lady Kitty Spencer will not inherit the family's Althorp Estate when her father, Earl Spencer, dies.
This is despite the fact that she is the eldest of his four children—three daughters and a son.
---
The 30-year-old niece of the late Princess Diana recently confirmed that both Althorp and the Spencer House will be left to her younger brother, Louis Spencer, in respect of their father's wishes to observe the archaic English law of primogeniture.
"Primogeniture can be a tricky topic because as times are changing, attitudes are as well," Kitty told Town & Country magazine. "We've grown up understanding that it's Louis to inherit, and Louis will do an incredible job."
What is primogeniture and how does it affect Lady Kitty Spencer?
The law of primogeniture states that the eldest son is entitled to inherit the family's fortune, no matter how many older sisters he has. While it was abolished by the UK government for regular folks in 1925, it remains in full force in the royal and noble circles of Britain.
If the family has a title, then all its assets will be passed down to the men of its lineage. If there are no sons to take on the title, it will be endowed to the next male in line - whether that's a nearby nephew or a distant cousin. As a result, aristocratic women, like Lady Kitty Spencer, have zero chance of inheriting their family's fortune.
As well as being inherently sexist, primogeniture creates serious obstacles for gender equality in society. Folks with titles like 'Earl' and 'Viscount' are eligible to be elected to the UK Parliament, where they can have a major influence on the country's policy.
"With these titles comes the chance to be elected to one of the 92 seats still reserved for hereditary peers in the House of Lords which have been held almost exclusively by men," explains Lady Kinvara Balfour, an outspoken critic of primogeniture. As the daughter of the Earl of Balfour, who has no sons, she knows all too well the unfairness of this outdated system. "'When he [her father] dies, his title will be inherited by his brother (because he is male) and then his brother's second child (ditto)," she revealed.
As a result, Lady Kinvara's eldest sister will never have the opportunity to be elected to an already male-dominated House of Lords. Lady Kitty Spencer and her two sisters will also be deprived of this chance, with the title of Earl automatically assigned to their brother.
What is the Althorp Estate?
Best known as the childhood home of Princess Diana, the Althorp Estate has been owned by the Spencer family for over 500 years. It was left to her brother, Charles Spencer, in 1992, following the death of their father, and has been run by the Earl ever since.
The Grade I property is located in the affluent district of Daventry in Northamptonshire, about a 2-hour drive from Buckingham Palace in Central London. Open to members of the public, it is a major attraction for fans of the late Lady Diana, who lived in the elegant residence during her teenage years. Its main highlight, unsurprisingly, is Althorp House, which is also known as the 'Main House.' Sitting on a sprawling plot of 13,000 acres, the stately manor boasts 90 rooms filled steeped in rich history and culture.
Visitors are invited to explore its extravagant interior, which includes private collections of immaculate paintings and ceramics hailing from all over Europe. It's not all 'la-di-da' furnishings though. There's also a billiard room with a pool table and a plush library packed with books, as well as a spacious dining room with a table set for 42 guests.
The grave of Princess Diana, who died tragically in a car crash in 1997, can be found on its outdoor grounds. The Spencer family chose a peaceful island on the Round Oval lake to be the late royal's burial site, as a symbol of her eternal protection from the negative forces.
Visitors can leave tributes to Diana at an adjacent memorial, which includes a Doric-style temple inscribed with the beloved princess's name.
Emma is a news writer for woman&home and My Imperfect Life. She covers the Royal Family and the entertainment world, as well as the occasional health or lifestyle story. When she's not reporting on the British monarchy and A-list celebs, you can find her whipping up vegan treats and running the roads to cheesy '90s pop music...but not at the same time, obviously.