Kate Middleton compared to late Princess Diana in emotional birthday tribute
Kate Middleton is 'just like Diana' according to a royal expert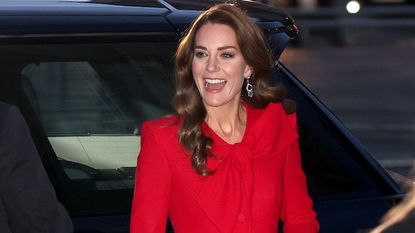 (Image credit: Getty)
Kate Middleton has been movingly likened to Princess Diana as she celebrates turning 40.
---
Ingrid Seward paid the touching tribute to Kate during True Royalty TV's The Royal Beat ahead of her 40th birthday on Sunday.
During the interview, she revealed how Kate is becoming more and more like Diana.
The royal commentator said, "She chats away. She talks a lot, and she has suddenly become more like Diana actually.
"Really chatting with people and engaging with them in a personal way, telling them little bits about herself."
Ingrid also revealed to The Mirror earlier in the week, "She is patient, and has the ability to listen.
"And she has discovered she has this ability with people, she is very good with the very young and the very old. That is like Diana was."
She continued, "Today there is definitely ­confidence and poise there. She has learnt to overcome her shyness.
"On the advice of Prince Charles, you don't have to rush into taking on hundreds of charities.
"You can take your time and enjoy your family, and I believe having her family has helped her gain confidence."
This comes after it was revealed that Kate and William may share a joint birthday party in the summer, rather than a big celebration this weekend to mark Kate's 40th.
Ingrid revealed, "I think it will be lowkey this weekend. Probably after the Platinum Jubilee celebrations are over—she and William, whose birthday is on June 21st, will have a joint party and really celebrate then."
Robyn is a celebrity and entertainment journalist and editor with over eight years experience in the industry. As well as contributing regular to woman&home, she also often writes for Woman, Woman's Own, Woman's Weekly and The Sun.