Inside Hillsborough Castle—the Queen's stunning Irish home
Welcome to Hillsborough Castle, the Queen's official Northern Ireland residence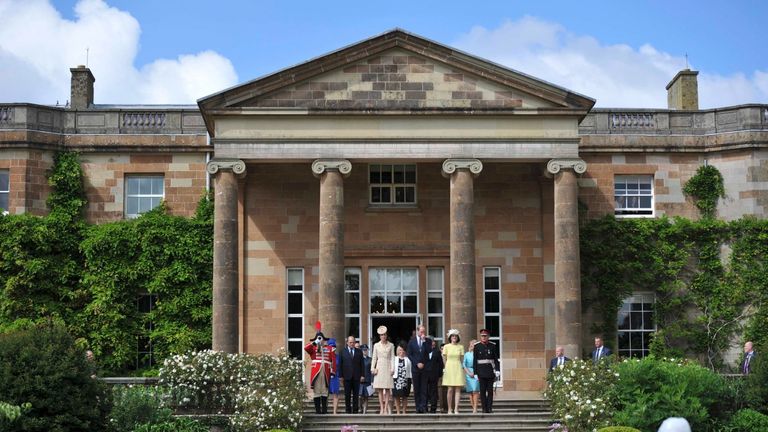 (Image credit: CLODAGH KILCOYNE/WPA Rota/Press Association Images)
It may not be Buckingham Palace, but the Queen's official Northern Ireland residence is nothing to scoff at.
Hillsborough Castle is the Queen's official residence in Northern Ireland, hosting the Royal Family about two or three times a year.
The stunning property was bought by the British government in the early 20th century and has been used as a conference space ever since.
We've covered plenty of the Queen's homes at woman&home, including Buckingham Palace, Balmoral Castle, Windsor Castle, and Sandringham Estate. Her Majesty has an enviable lineup of properties to her name, all of which she visits throughout her busy calendar.
But with the pandemic's travel restrictions, there's one royal estate that didn't get much love from Her Majesty last year. Hillsborough Castle, the Queen's official residence in Northern Ireland, is often forgotten under the shadow of British counterparts—and we think it's about time that changed.
Where is Hillsborough Castle?
Nestled in the historic village of Hillsborough in County Down, this grandiose property is just a twenty-minute drive outside of Northern Ireland's capital city Belfast.
A brief history of Hillsborough Castle
We'll let you in on a little secret: Hillsborough Castle isn't technically a castle.
Built in the 18th century for an Irish noble family, the Georgian house was bought by the British government in 1922 after it acquired six out of the nine Ulster counties. It was used as the office for the Governor of Northern Ireland up until 1972 when the post was abolished entirely in favor of direct rule from London. The Queen's Secretary of State moved in as her representative and the house continued to host royal visitors, along with political guests like George W. Bush and Tony Blair.
It remains the official Northern Irish residence for the Queen, who has clocked up 25 state visits to the UK province over her reign.
How much is Hillsborough Castle worth?
Hillsborough Castle is not on the housing market, but if it was, it would still be way out of our budget.
The 100-acre property unveiled a five-year-long renovation in 2019, which saw a total overhaul of its interior architecture. The £24 million project, spearheaded by British design studio Kinnersley Kent Design, included the addition of a shiny new visitor center, along with more retail and dining spaces.
It also featured a restoration of Hillsborough Castle's Stable Yard, which was originally built in 1780. The site has been converted to install a learning center, which will provide facilities for activities with young people and community groups.
Who lives at Hillsborough Castle?
It may surprise you to find out that the Queen shares Hillsborough Castle with non-royal housemates—or in other words, commoners like ourselves. When Her Majesty is not in town, the property is occupied by Northern Ireland's Secretary of State, Brandon Lewis.
What is it like inside Hillsborough Castle?
While there may not be any turrets or moats, Hillsborough Castle still boasts some serious fairytale vibes.
The plush manor includes several decadent State Rooms, all of which are gleaming with royal artifacts and elegant furnishings. Its grandest attraction is by far the Throne Room, a saloon that hosted a celebratory ball for the Queen's coronation in 1953. With its green silk damask fabric and colossal crystal chandeliers, the room is the perfect setting for regal weddings and classical concerts.
There's also the State Dining Room, which continues to be used to serve meals to VIP guests. It can seat up to 40 guests for dinner and host 60 for a reception, making it ideal for medium-sized banquets and galas.
The Red Room, which unsurprisingly follows a red theme, is the go-to conference space in the house.
Originally a drawing-room, it was converted in the 1970s to hold high-profile meetings with political leaders. Its crimson walls are decorated with 40 portraits of British monarchs, as well as several royal consorts. A round table sits in the center of the room, reinforcing its function as a space for discussion and debate.
Hillsborough's outdoors are also brimming with subdued elegance. A walled garden, Yew Tree Walk, and tranquil temple can all be found in its well-maintained outside grounds.
Is Hillsborough Castle open to the public?
Hillsborough Castle is currently open to the public from Wednesday to Sunday, with adult tickets costing £9.90. The price includes full access to the house and its gardens, and there's no time limit on the visit.
Emma is a news writer for woman&home and My Imperfect Life. She covers the Royal Family and the entertainment world, as well as the occasional health or lifestyle story. When she's not reporting on the British monarchy and A-list celebs, you can find her whipping up vegan treats and running the roads to cheesy '90s pop music...but not at the same time, obviously.