How the Duke and Duchess of Cambridge are celebrating their wedding anniversary in lockdown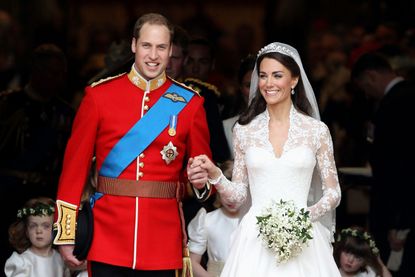 The Duke and Duchess of Cambridge celebrate nine years of marriage today, but with the country in lockdown, they're having to be imaginative when it comes to celebrating.
Kate and William's nuptials were televised around the globe and watched by approximately 26.3 million people in the UK alone.
The public also enjoyed a special bank holiday to mark the occasion.
Recently, they've been working hard to stay in contact with charities and the public via telephone and video calls, but they are likely take a break today.
How will the Duke and Duchess of Cambridge celebrate?
According to relationship expert, Nia Williams, Kate and William might use this anniversary to reflect on the years they have spent together.
She said, 'In 2011 we all watched in awe as the Duke and Duchess of Cambridge got married in Westminster Abbey.
'Today, as they celebrate their wedding anniversary in these unprecedented and difficult times due to lockdown, there will be limitations in regards to what the couple can do but where there is love there is a way.
'The Duke and Duchess have done all they can over the past few weeks to support charities and NHS frontline workers with touching phone calls and launching a mental health initiative to support medical frontline during the COVID-19 pandemic.
'We imagine that their anniversary however, will be a day of reflection and appreciation of the wonderful love they share.
'When it comes to romance, it is all about imagination and using that imagination to create magic.'
Happy anniversary, William and Kate!
Robyn is a celebrity and entertainment journalist and editor with over eight years experience in the industry. As well as contributing regular to woman&home, she also often writes for Woman, Woman's Own, Woman's Weekly and The Sun.