How the Duke and Duchess of Cambridge will be following in Princess Diana's footsteps after the coronavirus pandemic
They're set to take inspiration from Diana.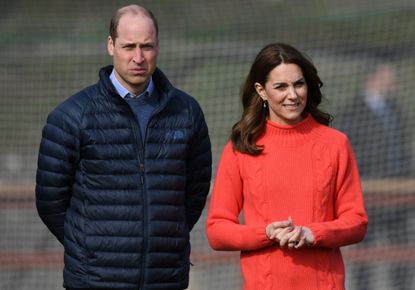 (Image credit: PA)
The Duke and Duchess of Cambridge are set to take a leaf out of Princess Diana's book following the coronavirus pandemic, according to a royal expert.
A royal expert has claimed Prince William and Duchess Catherine will follow in Princess Diana's footsteps when we emerged from the coronavirus pandemic.
The pair are expected to replicate how Princess Diana shook hands with AIDS patients to shun the stigma surrounding the illness.
Prince William and his wife Duchess Catherine are thought to be planning in following in the future King's late mother's footsteps in their response to post-corona life.
Throughout the worldwide health crisis, the Duke and Duchess have been doing their bit by carrying out virtual royal engagements via video calls, all while homeschooling and caring for their three children, Prince George, Princess Charlotte and Prince Louis, at their Norfolk home, Amner Hall.
With the world looking forward to the day when normality resumes, the famous royal duo are reportedly planning to mark a new time in which we adopt a new normal by adopting Princess Diana's famous approach to the AIDS virus.
The compassionate royal mother-of-two, who was married to Prince William and Prince Harry's father Prince Charles between 1981 and 1996, is known for shunning the stigma surrounding AIDS in the 1980s by shaking hands with those with the illness.
"HIV does not make people dangerous to know.You can shake their hands and give them a hug. Heaven knows they need it," she said at the time, in attempts to banish the idea that the disease could be spread via skin-to-skin contact.
Explaining that he expects to see Kate and William shaking hands when it is safe to do so, Nigel Cawthorne,author of Prince Andrew: Epstein and the Palace, said, "We now know how [AIDS] is transmitted, but there was a lot of uncertainty at the time.
"Ironically, at the time, shaking hands couldn't transmit the virus, and their mother made a point of doing so to counter the stigma and spread comfort.
"I think her sons will seek to do the same and show how life can resume normality, while sticking to the safety rules on transmission further to the latest guidance - washing hands frequently, wearing a face mask, particularly when coughing and sneezing or when exercising or singing, or mingling in a large group," he told FEMAIL.