Why Duchess Meghan's 39th birthday was tinged with sadness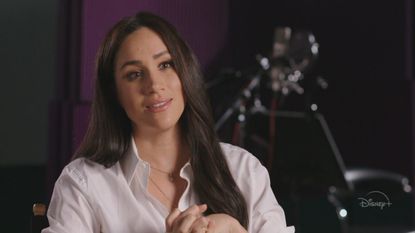 (Image credit: Walt Disney Television via Getty)
Duchess Meghan's birthday wishes were bittersweet for the couple, according to a royal commentator.
Meghan Markle celebrated her 39th birthday on Tuesday.
Senior Royal Family members all wished her a happy birthday, but the festivities were 'tinged with sadness.'
Why was Duchess Meghan's birthday tinged with sadness?
A royal expert has claimed that Meghan's birthday was bittersweet because it may lead the Royal Family to reflect on what they have lost with Meghan and Harry's departure from the Firm.
Royal commentator Richard Fitzwilliams told Express.co.uk on her birthday: "The royal Twitter accounts wish Meghan many happy returns for today.
"Yet looking back over the last year the one has a profound feeling of sadness.
"Diana thought her epitaph would be 'a great hope crushed in its infancy'.
"In a totally different context, this might refer to the enormous potential Harry and Meghan, with their global reach had as senior working members of the monarchy.
"Yet it didn't last two years after they married because of their clearly expressed unhappiness with what royal life involves."
Harry's grandparents, Queen Elizabeth and Prince Philip, Duke of Edinburgh, are due to travel to Balmoral this week.
They were expected to host Harry, Meghan and Archie this summer ahead of the pandemic.
But Meghan and Harry moved to Los Angeles in March and are expected to remain there for the foreseeable future.
Richard Fitzwilliams explained they may have chosen to postpone their visit to the Queen until next summer.
He said, "As the Queen reportedly heads to Balmoral, it is to be hoped that next year, Harry, Meghan and Archie, currently trapped by the pandemic in Los Angeles, will join her as they were reportedly planning to do this year.
"Hopefully by then, they will also have been able to start their charitable and commercial ventures with success."
Robyn is a celebrity and entertainment journalist and editor with over eight years experience in the industry. As well as contributing regular to woman&home, she also often writes for Woman, Woman's Own, Woman's Weekly and The Sun.