70 Queen facts to honor the remarkable life of Queen Elizabeth II
We share the Queen Elizabeth II facts you might not have known as we pay tribute to the life and legacy of Britain's longest-reigning monarch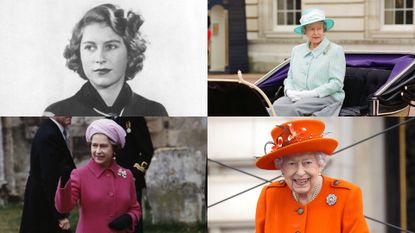 (Image credit: Future// Images left-right, top-bottom: Image 1: Photo by Apic/Getty Images// Image 2: Photo by Tim Graham Photo Library via Getty Images// Image 3: Photo by Tim Graham Photo Library via Getty Images// Image 4: Photo by Max Mumby/Indigo/Getty Images)
There are so many Queen Elizabeth II facts from her long, remarkable life that even the most knowledgeable of royal fans might not have been aware of as we honor this great monarch.
As Britain's longest-reigning monarch, Queen Elizabeth II lived an extraordinary life filled with so many interesting experiences. The news of Queen Elizabeth II's death aged 96 at Balmoral Castle on September 8th has been met with devastation from her family and those around the world who were inspired by her unwavering commitment to her duties. From the moment she ascended to the throne in 1952 to her final official engagement receiving new Prime Minister Liz Truss, the Queen showcased her dedication, warmth and wisdom.
Despite so much being known about Her Majesty and her achievements, there are still many Queen facts that some might not be as familiar with. Here as we reflect upon her long life and astonishing legacy we share some of the facts about Queen Elizabeth II some might not have known.
70 Queen facts to honor Queen Elizabeth II's remarkable life
1. Her 70 year reign made British history
Serving for 70 years, Queen Elizabeth was the longest-reigning monarch in British history. In 2015, she surpassed her great-great-grandmother, Queen Victoria, who reigned for 63 years and 7 months. It's understood that France's Louis XIV was the longest reigning monarch in history, having served for 72 years.
2. The Queen's height was 5 foot 3 inches
Although not confirmed by the Queen herself, according to estimates throughout her reign, Queen Elizabeth II was 5'3" tall. Her Majesty's late husband, the Duke of Edinburgh is thought to have been around 6' tall and his and the Queen's children, Prince Charles, Princess Anne, Prince Andrew and Prince Edward are all taller than their mother.
3. The Queen ascended to the throne at the age of 25
The then-Princess Elizabeth of York became Queen of the United Kingdom when she was 25 years old following the death of her father King George VI. She and Prince Philip had been on a royal tour in Kenya when this sad family news was broken to her and Her Majesty returned to the UK as monarch. Her coronation took place in June 1953.
4. The Queen owned all the swans in the UK
All swans in UK waters technically belong to the UK's monarch and so throughout her extraordinary life belonged to the Queen. It goes back to an old custom, dating as early as the twelfth century, where the Crown claimed ownership of all mute swans in the country because the birds were highly valued as a delicacy at banquets and feasts. However, today, Her Majesty only exercised ownership of swans on certain stretches and tributaries of the River Thames around Windsor.
5. The Queen also owned all the dolphins in UK waters
As well as swans, over her 70-year reign, Queen Elizabeth also owned all of the whales and dolphins in the waters around the United Kingdom. A statute from 1324 states, "…the King shall have whales and sturgeons taken in the sea or elsewhere within the realm." This statute is still valid today, and whales and dolphins are recognized as "fishes royal."
6. The Queen had two birthdays
Although Queen Elizabeth II was born in April, she also celebrated an official birthday in June each year. This official birthday usually fell on the second Saturday of June and this date is believed to have come about because the UK weather is typically expected to be better in June. This made this month better suited for the Trooping the Color parade which marked Her Majesty's birthday.
7. Queen Elizabeth was born in April 1926
The Queen was born on April 21st 1926 and although her birthday wasn't celebrated officially until a few months later, this momentous occasion was regularly paid tribute to over the years. For Her Majesty's milestone 96th birthday in April 2022, a special new portrait was shared showing the monarch alongside two magnificent Fell Ponies.
8. The Queen was born at Bruton Street in Mayfair
Whilst many other members of the extended Royal Family were born at Buckingham Palace or London hospitals, Queen Elizabeth II was born at Bruton Street in Mayfair. It's understood that her parents had moved into the house which once belonged to the Earl and Countess of Strathmore (her grandparents) just a few weeks earlier.
9. The Queen sent a birthday card to anyone turning 100
The Queen used to send congratulatory messages to those celebrating their 100th and 105th birthday, and every year thereafter. Letters were also sent to those celebrating their 60th, 65th, and 70th wedding anniversaries. The message was pre-written, however it is believed that the Queen herself signed each card.
10. Queen Elizabeth II had four children
The Queen and Prince Philip were proud parents of four children - Prince Charles, now known as King Charles, Princess Anne, Prince Andrew and Prince Edward. The eldest of the Queen's children was born in 1948, followed by the Princess Royal in 1950, the Duke of York in 1960 and then the Earl of Wessex in 1964.
11. The Queen got an interesting wake-up call every morning
During her reign, it's understood that the Queen was woken up by a bagpipe tune every morning. This was reportedly played outside her window for 15 minutes every morning at 9am and her royal bagpiper even had the special title of "Piper to the Sovereign".
12. The Queen spoke fluent French
Her Majesty spoke French fluently and her language skills were put to excellent use throughout her 70 years on the throne. According to the official royal website, "It is a skill which has stood The Queen in good stead, as she often has cause to use it when speaking to ambassadors and heads of state from French-speaking countries, and when visiting French-speaking areas of Canada."
13. Queen Elizabeth owned over 30 Corgis
If there was one dog breed associated most with the Queen it was the Welsh Corgi. Over the years she's reportedly owned over 30 of them since she received her first as a gift for her 18th birthday. Her Majesty was even said to have bred them and the Queen's corgis were hugely valued pets to the monarch over the years.
14. The Queen's cypher was ER
The Queen's full royal cypher is understood to have been EIIR but was often represented as ER, standing for Elizabeth II Regina and Elizabeth Regina respectively. In Latin Regina means Queen and the monarch's cypher was used to sign official documents.
15. The Queen didn't need a passport
Since all British passports were issued in the Queen's name during her reign, she herself didn't need or have one. The monarch was also the only person in the UK who didn't need a license to drive or to have a number plate on her car.
16. The Queen's full name paid tribute to her family members
Although best known as Queen Elizabeth II, the monarch was born Princess Elizabeth Alexandra Mary Windsor. Her middle names could be seen as a lovely tribute to her paternal grandmother Queen Mary of Teck and great-grandmother Queen Alexandra.
17. The Queen had a personal poet
The Poet Laureate is an honorary position appointed by the monarch of the United Kingdom. They will write bespoke poems for special royal events, like royal weddings, funerals, and coronations and did so during Queen Elizabeth II's reign.
18. Queen Elizabeth apparently never ate pizza
Her Majesty apparently never ate a pizza, according to former royal chef, Darren McGrady. In a 2020 interview with The Telegraph, Darren claimed the monarch preferred to ate very healthily and avoided starch.
"When she dines on her own, she's very disciplined. No starch is the rule," he said. "No potatoes, rice, or pasta for dinner. Just usually something like grilled sole with vegetables and salad."
19. She had 30 Godchildren
Queen Elizabeth was a beloved godmother to 30 children, including Princess Theodora of Greece and Princess Diana's brother, Earl Spencer.
20. She received around 300 letters per day
It's thought Her Majesty got around 200 to 300 letters a day. She chose a few to read herself, and then members of her staff responded. The official Royal website said that she took "a keen interest in the letters" she received.
21. The Queen bought her wedding with coupons
Always one to play her part, Her Majesty used ration coupons to pay for materials for her spectacular wedding outfit for her marriage to Prince Philip in November 1947.
22. The Queen was the first female royal to join the Armed Services as a full-time member
Serving in World War Two, the Queen joined the Auxiliary Territorial Service in 1945, where she trained to be a mechanic.
23. Queen once partied in the streets of London
Princesses Elizabeth and Margaret once got their parents' permission to join the crowds celebrating the end of World War II on May 8, 1945. The Queen previously recalled the evening as one of the most memorable in her life.
"I remember lines of unknown people linking arms and walking down Whitehall, all of us just swept along on a tide of happiness and relief," she said in 1985, according to a post shared on the official Royal Family Instagram.
24. The Queen's tiara snapped on her wedding day
In a moment of disaster, the Queen's wedding tiara snapped on her wedding day. Though, thankfully, the royal jewelry house, Garrard, was on standby to help repair the broken tiara.
25. The Queen had eight bridesmaids at her wedding
Princess Margaret, Princess Alexandra of Kent, Lady Caroline Montagu-Douglas-Scott, Lady Mary Cambridge, The Hon. Pamela Mountbatten, The Hon. Margaret Elpinstone and Diana Bowes-Lyon were all Queen Elizabeth II's bridesmaids.
26. Her Majesty didn't need to pay taxes, but she chose to
The Queen voluntarily paid a sum equivalent to income tax on her private income and income from the Privy Purse (which includes the Duchy of Lancaster) that is not used for official purposes.
27. 2000 guests attended the Queen and Prince Philip's wedding
The Queen and Duke of Edinburgh's wedding guests included the King of Iraq, Princess Juliana and Prince Bernhard of the Netherlands and The Hereditary Grand Duke of Luxembourg and Princess Elisabeth of Luxembourg.
28. The monarch owned around 200 racing pigeons
A known animal-lover, the Queen was believed to own around 200 racing pigeons and she was also a Royal Patron of a number of pigeon racing societies. These included the Royal Pigeon Racing Association and the National Flying Club.
29. The Queen's wedding ceremony was broadcast around the world
The Queen and Prince Philip's wedding ceremony was recorded and broadcast by BBC Radio to 200 million people across the globe.
30. The Queen had many hobbies, most notably horse racing
The Queen owned hundreds of racehorses down the years and claimed more than 1600 race wins. Because of her well-known love for the sport, she even received a special tribute at the Epsom Derby in 2022.
31. Her wedding dress was designed by Sir Norman Hartnell
Sir Norman Hartnell submitted various designs, with the winning design approved less than three months before the royal wedding.
32. Her Majesty sent a message to the moon
Ahead of the Apollo 11 moon landing in 1969, dozens of world leaders were invited to write "messages of goodwill" that were transferred onto a small silicon disc. That disc is still sitting on the surface of the moon—Neil Armstrong and Buzz Aldrin placed it just below the American flag they planted at the landing site, according to NASA.
"On behalf of the British people I salute the skill and courage which have brought man to the moon," the Queen wrote in her moon message. "May this endeavor increase the knowledge and wellbeing of mankind."
33. The Queen was sent over wedding 2500 gifts
The Queen received some spectacular gifts for her wedding to Prince Philip. Well-wishers around the world sent the newlyweds presents and according to the Royal Collection Trust, these ranged from a bath sponge to a diamond necklace.
Following the wedding in November 1947 until March 1948, the gifts were displayed to visitors at St James's Palace.
34. The Queen's wedding cake was over nine feet tall
The Queen's wedding cake was not only nine feet high, but contained four tiers and was based by McVitie and Price. This stunning cake was made from ingredients from all over the world and earned itself the nickname The 10,000 Mile Cake as a result. The bride and groom's monograms were featured on the cake, as were the coat of arms of both families, regimental badges and sugar-iced figures.
35. There was only one day a year the Queen didn't do her own makeup
The Queen used to do her own makeup every single day of the year except for one: the day of her annual Christmas message broadcast.
36. Her Majesty always carried a bespoke umbrella
The Queen is understood to have always carried a bespoke umbrella from Fulton Umbrellas and had one in every color.
37. The Queen had five dressers
The Queen is believed to have had five dressers who helped her to plan her wonderful, colorful outfits.
38. The Queen and her dressers followed a color palette or theme each season
Her senior dresser, Angela Kelly, once revealed spring is for softer colors and florals. Summer meant light fabrics in bold colors with stronger floral patterns. Fall was for cashmere and other wools in a cooler color palette. And winter was for velvet and wool in gold, royal blue, and dark purple.
39. Her Majesty doesn't have a surname
The Queen's official title was "Elizabeth the Second, by the Grace of God, of the United Kingdom of Great Britain and Northern Ireland, and of her other Realms and Territories Queen, Head of the Commonwealth, Defender of the Faith."
40. The Queen had worn the same nail polish since 1989
Apparently, the Queen's nail polish of choice was Essie's classic pale pink polish, Ballet Slipper. Essie said that, in 1989, Queen Elizabeth's hairdresser wrote a letter to nail polish mogul Essie Weingarten requesting a bottle of the classic shade and loved it so much she wore it in the years since.
41. The Queen is said to have owned 200 handbags by Launer
Her Majesty's preferred styles of bag were said to be the Royale and the black patent Traviata.
42. She couldn't be prosecuted or compelled to give evidence in court
A statement on the royal family website previously explained, "Although civil and criminal proceedings cannot be taken against the Sovereign [...] the Queen is careful to ensure that all her activities in her personal capacity are carried out in strict accordance with the law."
43. The Queen had a Barbie doll created in her honor
To celebrate the monarch's birthday and the Queen's Platinum Jubilee which marked 70 years on the throne, Barbie released a royal doll made in her image.
44. Her reign saw 14 different US presidents and 15 British Prime Ministers
These have included Winston Churchill and Harold Wilson in the UK and John F. Kennedy and Barack Obama in the US.
45. The Queen invented a new dog breed
The Queen is credited with creating the dorgi - a dachshund-corgi mix. This hybrid breed came about when one of her corgis mated with her sister Princess Margaret's dachshund Pipkin.
46. She only carried cash one day per week
The Queen only carried cash in her purse on Sundays so she could donate money to her church.
47. Her shoes were broken in for her by Angela Kelly
To ensure the monarch is comfortable and able to walk at all times, other people wore her shoes and break them in for her. According to Hello!, the Queen' Personal Assistant and Curator, Angela Kelly explained in her memoir that she's one of them, stating, "The Queen has very little time to herself and not time to wear in her own shoes, and as we share the same shoe size it makes the most sense this way."
48. She was the first British monarch to visit China, in 1986.
The Queen frequently undertook overseas tours throughout her reign and in 1986 she became the first British monarch ever to visit China. Accompanied by Prince Philip, the monarch spent six days in the country and visited Beijing, Shanghai and many other cities as well as the Great Wall of China and Forbidden City.
49. The Queen hosted Buckingham Palace's first women-only event
In March 2004, she hosted the "Women of Achievement" event at Buckingham Palace. Guests at the included J.K. Rowling, Charlotte Church, Twiggy, Marjorie Wallace, Kate Moss, and more.
50. The Queen made a James Bond cameo
Her Majesty's exciting appearance came back in 2012 when she starred in a hilarious action sequence with Daniel Craig, who's played the Ian Fleming character in five successive films. The sketch aired during the opening ceremony of London's 2012 Olympic Games and saw the Queen being escorted to the Olympic Stadium.
51. The Queen had access to a private ATM
The monarch's private ATM was at Buckingham Palace and is said to be provided by Coutts, one of Britain's most prestigious banks.
52. The Queen was known as Lilibet to her close friends and family
The nickname was coined when then-Princess Elizabeth was just a toddler and couldn't pronounce her name properly. Prince Philip called her the nickname too, and their grandson Prince Harry and Meghan Markle later honored Her Majesty by naming their daughter after her.
53. The Queen apparently didn't like garlic
Her Majesty's former royal chef Darren McGrady once told Recipes Plus that Her Majesty wasn't picky when it came to food, but disliked garlic-heavy meals or anything with too much onion.
54. Queen Elizabeth never gave an interview in her entire reign
Unlike other members of the extended Royal Family, apart from official appearances, the Queen never gave any press interviews, though she addressed the nation officially many times.
55. The Queen owned hundreds of racehorses
The Queen owned hundreds of racehorses over the years and claimed more than 1600 race wins. Because of her well-known love for the sport she even received a special tribute at the Epsom Derby in 2022.
56. Her Majesty's first dog was called Susan
The Queen might've owned many corgis throughout her lifetime, but Susan will likely forever have held a special place in her heart. Susan was given to the then-Princess Elizabeth as a birthday present from her father King George VI. They are understood to have had a truly incredible bond and one which reportedly inspired the Queen to take Susan with her on her honeymoon.
57. She once held a party for others also celebrating their birthday
In a touching gesture, on her 80th birthday the Queen invited a group of guests who were also turning 80 to Buckingham Palace for a party.
58. In 1982 an intruder broke into the Queen's bedroom
In 1982, an intruder managed to break into Buckingham Palace and enter the Queen's bedroom. They are said to have had a 10-minute conversation before she called security.
59. The Queen once broke her no-touching rule at engagements
Even though other people are not supposed to touch Her Majesty, she could sometimes be relaxed about this rule. The Queen famously hugged Michelle Obama when the former First Lady visited in 2009.
60. The Queen might have been an Arsenal fan
Although not confirmed there were a few exchanges over the years that alluded to the Queen supposedly supporting Arsenal Football Club.
Politician Jeremy Corbyn said in a speech, "Now, we know the Queen is absolutely above politics. She may be above football, too, but many locals harbor this quite secret view that she's actually, privately, a Gooner" (the local term for Arsenal fans).
Arsenal midfielder Cesc Fabregas also claimed that Her Majesty told him she was "a fan" of the team during a reception at Buckingham Palace in 2007.
61. The Queen spent different times of year at different residences
Over the years, the Queen established a tradition of staying in certain royal residences at different times of year. This included spending her summer break at Balmoral Castle in Scotland, Christmas at Sandringham House in Norfolk and often Easter at Windsor Castle in Berkshire.
62. The Queen had a brilliant sense of humor
Over her 70 year reign, the Queen was known for her brilliant sense of humor, with many people who met her commending the monarch for this. Prince Harry even singled out his grandmother's "great sense of humor" as her best quality.
63. The Queen had 12 great-grandchildren
The Queen was a proud great-grandmother to 12 royals, including the Duke and Duchess of Cambridge's children, Prince George, Princess Charlotte and Prince Louis, and the Duke and Duchess of Sussex's children, Archie and Lilibet Mountbatten-Windsor. Many of her great-granddaughters also had 'Elizabeth' as a middle name in honor of her, with Lilibet's given name paying tribute to her childhood nickname.
64. The Queen could recite one-liners from her favorite show
Journalist Phil Jones once revealed that Her Majesty told him her favorite program was the sitcom The Kumars at No 42 and that she proceeded to recite some of the one-liners from the series.
65. Queen Elizabeth was the first British monarch to celebrate a Diamond Wedding Anniversary
The Queen and Prince Philip were married for almost 74 years before he passed away in 2021. The iconic royal couple celebrated their Diamond Wedding Anniversary in November 2007 and even revisited Broadlands where they spent their honeymoon to mark the occasion.
66. The Queen watched her favorite film with her grandchildren
Opening up to Yahoo Movies in the past, British actor Brian Blessed reportedly claimed that the Queen's grandchildren watched the movie Flash Gordon (in which he starred) with her every Christmas.
67. Her Majesty loved the theater
The Queen is believed to have loved musicals like Showboat, Oklahoma! and Annie Get Your Gun - as revealed by her cousin, Lady Elizabeth Anson, on a BBC program celebrating her 90th birthday.
68. Queen Elizabeth II loved Hermés scarves
The Queen was known for her classic and elegant looks and when it came to headscarves, the monarch often turned to silk printed ones from French luxury brand, Hermès. Featuring a range of patterns and colors, they were a staple of her wardrobe for more relaxed days such as appearances at the Royal Windsor Horse Show.
69. The Queen preferred bright colors for a touching reason
Queen Elizabeth II's daughter-in-law Sophie, Countess of Wessex, revealed in the documentary The Queen at 90, that Her Majesty wears bright colors so everyone who turned out to see her could recognize her easily.
"She needs to stand out for people to say 'I saw the Queen'," Sophie explained. "Don't forget when she turns up somewhere, the crowds are two, three, four, 10, 15 deep, and someone wants to be able to say they saw a bit of the Queen's hat as she went past."
70. Queen Elizabeth II was the first monarch to have tea with Paddington Bear
The Queen's Paddington video during the Platinum Jubilee celebrations was met with overwhelming delight from not just fans but the Queen's great-grandchildren too. Acting opposite the fictional bear in a hilarious teatime sketch taking place in Buckingham Palace, Her Majesty was wished a Happy Jubilee by Paddington as she revealed her secret love for marmalade sandwiches.
Jack Slater is not the Last Action Hero, but that's what comes up first when you Google him. Preferring a much more sedentary life, Jack gets his thrills by covering news, entertainment, celebrity, film and culture for woman&home, and other digital publications.
Having written for various print and online publications—ranging from national syndicates to niche magazines—Jack has written about nearly everything there is to write about, covering LGBTQ+ news, celebrity features, TV and film scoops, reviewing the latest theatre shows lighting up London's West End and the most pressing of SEO based stories.