Are royal marriages to so-called 'commoners' always destined to fail?
It's certainly not an unusual occurrence nowadays, but does this union automatically put a relationship on the back foot?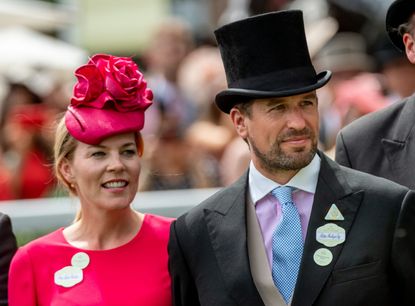 (Image credit: Getty Images)
The royal world was left shocked when, earlier this week, the seemingly unshakeable couple Autumn and Peter Phillips announced that they were separating after 17 years together.
The Queen's grandson and his native Canadian wife met back in 2003, before marrying in 2008 and welcoming two adorable daughters, Savannah and Isla Phillips.
The pair, who live nearby Princess Anne in Gatcombe Park, appeared to be the very picture of happiness, most recently seen laughing arm-in-arm at last year's Royal Ascot. But of course, all wasn't as rosy as it seemed, as behind the scenes, the couple have been separated since 2019, having told the Queen of their plans to divorce late last year.
MORE:The heartbreaking reason Prince Philip will be spending Valentine's Day alone
Online, the news of their split has sparked debate (in The Telegraph and 9Honey) over the demise of so many royal marriages - particularly when they involve a royal by blood, and a so-called 'commoner' - someone who was not born into the royal family.
Three of the Queen's four children have divorced, and her sister Princess Margaret also divorced her husband Lord Snowdon back in 1978. Although some of their spouses, such as Lord Snowdon and Princess Diana, were of British noble society, none were royal.
Marriages between 'commoners' and royalty: a brief history
The facts have sparked questions over the viability of a union between a royal and a non-royal, and there's an interesting history to take a look back at. Princess Anne married Captain Mark Phillips - a man with no blood ties to British nobility - in 1973, but the relationship ended less than 20 years later, after two children, Zara and Peter.
Mark was - and is - famously avoidant of the spotlight that shines so brightly on the British royal family. Mark even declined a peerage from the Queen, which would have allowed his children to use royal titles, and conducted very few public duties whilst he was married to the Princess Royal.
Prince Andrew's marriage to Sarah Ferguson - who, although technically a commoner, had close family ties to the royals - lasted ten years, before a divorce in 1996. Fergie suffered numerous faux-pas during her time as a royal, and famously struggled with the demands on her relationship.
And then, there was Prince Charles and Princess Diana, whose marriage ended in unhappiness with rumours of infidelity, before her untimely death. Although Diana was no commoner - had dad a nobleman, Viscount Althrop, and her childhood, spent in Park House, on the same Sandringham estate the Queen calls home - she was never born as a blood royal.
Other royal marriages to 'commoners' have also finished in divorce. In 2019, Buckingham Palace confirmed that Lady Davina Windsor's (daughter of the Queen's first cousin) marriage to Gary Lewis had ended, with reports claiming their different backgrounds to be one of the causes. And in European royal families, there have been numerous divorces.
Evidently, there were personal reasons behind all of these divorces. But it's interesting to note that eventually, the pressures of life as a royal family member can appear to become too much.
The exceptions to the rule
Of course, there's one royal marriage that's survived the test of time throughout every obstacle - the 70+-year-union of the Queen and Prince Philip. But Philip is a royal born and bred. He has never known anything else, and arguably, knew exactly what he was signing up for when he married the Queen.
And therein lies the sticking point. Do royal marriages to non-royals come to an early end because no one can ever know the pressures, tensions, and rigidity of royal life before it's too late?
Is the pressure of royal life too much for those not brought up in that world?
A prime example is Prince Harry and Meghan Markle, as noted by The Telegraph in their piece exploring the topic. In Harry's own words, the couple were 'excited' for their life as working royals after they married in May 2018. And the pair are still happily married. But less than two years later, the couple have packed in every aspect of royal life in for a quieter existence in Canada, agreeing to no longer work on behalf of the Queen in order to become financially independent.
The reasons behind their departure from royal life haven't been spelled out, but in a speech following the news, the Duke of Sussex confirmed that there really was "no other option", following "so many years of challenges".
Autumn and Peter Phillips have been able to live their lives in relative peace, though. As they are not official, working royals, they've not faced anywhere near the same levels of scrutiny and invasion into their private lives. But living life as a direct relative of the Queen of course comes with challenges and restrictions we'll likely never understand. Take Peter Phillips' recent commercial for a milk brand - which was widely questioned and criticised.
Sally Baker, a royal commentator and senior therapist noted, "It would be easy to see how a commoner marrying-in would find the restrictions and out of date pomp and circumstances imposed on them eventually a burden.
"Meghan Markle is simply the extreme example of what all the other minor royals are expressing with their growing distaste for the limitations imposed on who they are in exchange for money from the Civil purse."
She continued, arguing, "Markle couldn't see the advantage of staying a member of the Royal Family when she trusts that she and Harry have the connections and the ability to not only make it on their own but exceed anything they could achieve by fulfilling their Royal duties."
It stands perhaps then, that if you were born into that life, you can more readily accept those restrictions. But if you weren't? It may another story, it seems.
But there's no doubt there are exceptions to this way of thinking.
Two royal marriages that have endured for years, and that appear to only be getting stronger, are that of the Duke and Duchess of Cambridge, and Sophie Wessex and Prince Edward.
Sophie and Edward have been married for 21 years, and together for five years before that. And Prince William and Catherine have been together for almost 18 years, but married for nine.
The Australian website 9Honey, suggested that the two women, although commoners, may have been more accustomed to the lifestyle of a royal family member, having spent time before meeting their respective princes mixing in high society. The Duchess of Cambridge has family ties to British aristocracy, and reports state that the family has benefited from family trust funds that span back years. She and her siblings also attended private schools throughout their education.
And Sophie Wessex is distantly related to King Henry IV, as well as, more recently, the family of the Viscounts Molesworth.
Prince Charles and the Duchess of Cornwall too, seem more solid than ever - and she was not born as a royal.
Is this the secret to making a royal marriage last?
It could be argued that both Sophie and Catherine were more well aware of the realities of life in the highest of society - the royal family - perhaps pointing to why, so far, they've been able to enjoy happy marriages to their royal spouses. They knew - more so than arguably Meghan and Autumn - what was coming.
Mike and Zara Tindall are another example of a royal marriage to a non-royal that's stood the test of time. They've been together for over 17 years and seem happier than ever. But both partners live life well outside the royal institution, with Zara not even having a royal title. Could that be the essential key to their successful union?
Of course, the reasons behind the divorces seen within the royal family will likely always remain private, as they should. And an assumption that they inevitable suffer due to insurmountable differences between royals and commoners has proven to be untrue with the marriages of Zara and Mike, Kate and William and Sophie and Edward.
But it seems there could be some truth in the notion that the restrictions of royal life can be too much for people not brought up in that environment - and that when something has to give, it often seems to be the marriage.
Sally commented, "Self-definition and self-actualisation - who we are and what we make of ourselves is the holy grail for anyone who has choice and no-one epitomises the power of choice more compellingly than Harry and Meghan."
Sign up to our free daily email for the latest royal and entertainment news, interesting opinion, expert advice on styling and beauty trends, and no-nonsense guides to the health and wellness questions you want answered.
Amy Hunt is an experienced digital journalist specialising in homes, interiors and hobbies. She began her career working as the features assistant at woman&home magazine, before moving over to the digital side of the brand where she eventually became the Lifestyle Editor up until January 2022. Amy won the Digital Journalist of the Year award at the AOP Awards in 2019 for her work on womanandhome.com.