A company are offering 'Phone PAs' £25 an hour to wipe memories of a person's ex from their phone
You'll even get a free smart phone to carry out the job.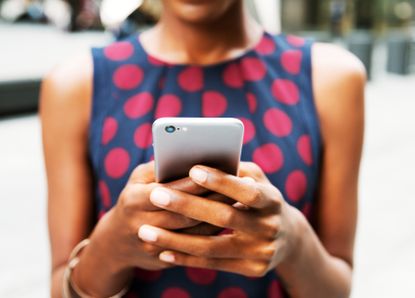 The appointment of the new role of 'Phone PA' came after it was found that over half of Brits find clearing their phones of memories the most painful part of a breakup.
We all know the five-step plan for getting over heartbreak: cry for a few days while listening to Adele (opens in new tab) on a loop, break the news to friends (preferably over drinks), come around to the idea of your new singledom while shopping online for the best vibrators, and finally, the dreaded clear out of the memories you shared together.
It's not surprising that 58 per cent of the population find this last step the most painful of them all. But the newly-coined role of Phone PA is here to save you the sorrow of doing it yourself.
MORE:Apps for over 50s dating – including ones for serious relationship hunters (opens in new tab)
A UK retailer is recruiting for a 'tech-savvy' individual whose sole task will be to remove all memories of an ex from a customer's phone – and get paid £25 an hour for doing it.
E-tailerThe Big Phone Store (opens in new tab) is contracting the Phone PA to remotely help heartbroken customers organise, clean and remove content they no longer want to see on their phones.
The service, provided as part of the company's new EX-terminate scheme, will ask customers to allow professional access to their personal files via cloud software such as iCloud and Google shared, so that the Phone PA can do the difficult task of deleting and organising for them.
The Phone PA can also tackle any awkward joint social media posts that need to be hidden or removed.
MORE:This is the 'most desirable' trade job on dating profiles in the UK (opens in new tab)
The role's appointment comes after the retailer found that not only did over half of 2,500 British people say they found clearing their phone the most difficult part of a breakup, but an additional quarter admitted that lingering pictures of an ex on their phone had caused arguments in a subsequent relationship.
How do I apply for the role of Phone PA?
If you're a seasoned expert in the art of getting over an ex, then a Phone PA might just be the job for you. If interested in applying, you can find the full job specification and apply here (opens in new tab).
The successful candidate will be contracted to work for up to ten hours per week, and must sign a confidentiality waiver.
A spokesperson for The Big Phone Store said of the new role, "After a recent survey we commissioned discovered that over half of British adults find removing memories of an ex from their phone the most painful part of a breakup, we were motivated to find a way in order to help our customers overcome this.
MORE:Heartbreak Hotel: is a retreat for divorced men and women the answer to getting over a failed relationship? (opens in new tab)
"We believe the Phone PA will be the perfect professional to do this, aiding customers through a difficult time, as well as help clean up a device in general if that's what the customer needs.
"We appreciate this is a completely new job role, therefore no educational qualifications are necessary, however we do require the successful candidate to be a confident phone user and lover of all things tech. If this sounds like you, please apply now!"
CVs at the ready...
Kate is a freelance contributor to woman&home, covering everything she loves most: fashion, fiction, and fancy face cream. If she's not working, she's probably reading, feeding her online shopping addiction, or judging the taste level of celebrity houses (10/10 for Dakota Johnson, 2/10 for Tan France).

She graduated from Central Saint Martins in 2020 with a BA in fashion journalism, and her byline has also appeared in British Vogue, The Times, and Marie Claire.