Heartbreak Hotel: is a retreat for divorced men and women the answer to getting over a failed relationship?
We spoke to one women who turned her life around after attending a divorce retreat.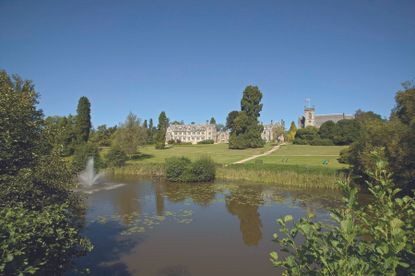 Therapy is, thankfully, now an integral part of our society.
It's now widely recognised that repressing our emotions can result in stress, anxiety (opens in new tab), burn out and depression (opens in new tab). In short, it's good to talk. And thankfully, there have never been more opportunities to seek professional counselling (opens in new tab) and therapy.
One of the most enduring psychological challenges many adults face is undoubtedly the fallout from a failed relationship - and many of us can need a little help picking up the pieces after a marriage breaks down. Cue a new retreat that specialises in aiding closure and helping the heartbroken get back on their feet.
The brainchild of Sara Davidson, best known as 'The Divorce Coach' is one of the UK's most sought-after authorities on break-ups, separations and divorce, the UK's first ever 'break-up retreat' has been dubbed the 'Heartbreak Hotel', where men and women go to find the closure they need to continue with the next stage of their life after divorce. But can a weekend away really mend a broken heart?
From heartbroken to healing others
For Hayley Copper, a former retreat resident, the answer was yes. Hayley has used her positive experience from attending one of Sara's Break-Up Recovery Retreats and channelled what she learned into setting up her own therapy business, Heart to Heart With Hayley,@hearttoheartwithhayley (opens in new tab)on Instagram, with Sara's help.
In 2018, Sara launched an all-new Breakup & Divorce Coach Practitioner Accreditation Programme, a training programme for those interested in becoming a coach as well as existing coaches who want to take their business to the next level.
Sara equips delegates with the same tools, techniques and strategies she acquired when training with revered experts in the field of personal development including Anthony Robbins, Paul McKenna, Richard Bandler, Michael Neill and the Barefoot Doctor.
"It's like a second home to me, it's the third time I've been back," Hayley told w&h."Coming back for the first time, I had really mixed emotions. It made me realise how far I'd come in such a short space of time. Four months down the line and I'm back here as a coach to help people with what I've been through.
MORE:The best apps for over 50s dating – including ones for serious relationship hunters (opens in new tab)
"I'd trained as a therapist before but I couldn't seem to hold the mirror up to myself. You can know the right things to do, you can think them, but sometimes you need someone to be really encouraging."
A group mentality
For Hayley, the retreat was a chance to connect with likeminded people, who were embarking on the challenge of becoming single later in life. "After the retreat Sara encourages people on the retreat to set up a WhatsApp group. I have a group with the guys I'm on the retreat with," she said.
Sara herself confirmed that the group is a chance for people to connect. "The retreat members often go on to be friends after the retreat is over. We had three former retreat members who went on a yoga and surf holiday - and lots of them go dating together, for example speed dating together.
"I think the network dating works well, get out there with a friend and have some fun, then the focus isn't on finding the right person it's finding someone for right now, focussing on the fun and not worrying about the long term."
The heartbreak retreat format
The retreat is split into two days; the first is the chance to explore the negative feelings that resulted from the break up and the second day is looking towards the future and how to build a new life. Speaking to Sara on the second day of a recent retreat, she said, "Everyone seems in better spirits today. The contrast is big.
"Yesterday there was a lot of crying and the energy was very low. There's still a lot of anger. It's helplessness really - people feel out of control. This is my favourite day. At the end of the first day, we have our one-to-one sessions, which helps them forward.
"We do quite a lot of hard-hitting exercises where they write down their negative emotions. These are the emotions we often run away from, or distract ourselves from. They write everything down and then literally shred the paper. Some people are happy to see them go, while others want to hold on - some people don't know who they are without them.
"There's an action plan that goes beyond the weekend retreat. It's initially blank and we put in all the actions throughout the weekend, depending what resonates with them particularly. It could be sticking post it notes up, or changing the layout of the lounge."
Looking towards a new future
Dating in 2020 isn't easy. Our new found dating climate lends itself to app dating - something which Sara recommends if coming out of a divorce, if only to build up confidence.
"The idea of dating apps for me, is that it's not about meeting a Mr Right or Miss Right, it's about dipping toes in the water," she told us.
MORE:One in ten people over 60 are interested in embarking on a new sexual relationship, says study (opens in new tab)
"Many people have been super hurt after divorce and have a fear of rejection. My strategy is that you need to be talking to five or six people at a time on the apps, because some may ghost, some may disappear - some may just be a complete weirdo! So you've got to have back up. And it's about engaging in conversation with members of the opposite sex, and even just getting likes, that gives you a boost.
"I had a woman here on the retreat who said 'I'm never doing it!' then she sat up at the bar with one of the ladies on the retreat and set up a profile and the next morning she came down and had five or six likes - and her confidence was sky high. There are pros and cons to it, but it's progress to see someone go from being totally shut down to open to new possibilities."
How men and women handle divorce differently
Men and women handle divorce very differently and studies have shown that mensuffer more emotional trauma than women followinga relationship ending. More than two years after a divorce, 41 per cent of men were still sad about the failure of their marriage; for women the figure was 33 per cent, according to a survey from Yorkshire Building society.
Devastated, betrayed, confused and suicidal; that's how men are said to feel after a divorce, while for women the emotions described in the survey were much more positive; including feeling relieved, liberated and happy following the split.
Research has also shown that men and women experience different types of loss after a breakup. Women are more likely to seek supportive family and friends to confide in, enjoying drinks with friends and confiding in those close to them, while men are more likely to take action. That can mean starting a new sport, going on holiday or even buying a new car. The research also found that men are more likely to join a dating site straight away, rather than dwelling on emotions, which ultimately prolongs experience of loss and grief.
For more information on Sara Davison's Breakup Retreats and to book onto her online course 'Break-Up Breakthrough' visit Sara's website (opens in new tab).
If you would like to turn your breakup trauma into a positive experience and become a Breakup and Divorce Coach then check out this free webinar (opens in new tab) for more information.
If you have a story about an experience related to this article, just get in touch via our Facebook Page (opens in new tab).
We'd love to hear from you!
Lauren is the former Deputy Digital Editor at woman&home and became a journalist mainly because she enjoys being nosy. With a background in features journalism, Lauren worked on the woman&home brand for four years before going freelance. Before woman&home Lauren worked across a variety of women's lifestyle titles, including GoodTo, Woman's Own, and Woman magazine.