Why Don Lemon is not returning to CNN and Tucker Carlson left Fox News
The world of American media has been thrown for a loop this week as star anchors Don Lemon and Tucker Carlson have respectively been fired from CNN and Fox News - here is what went down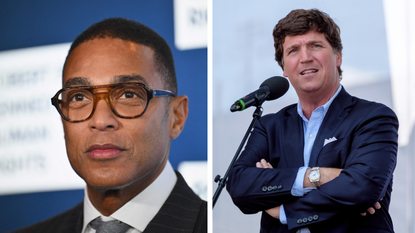 (Image credit: ANGELA WEISS / Contributor and Janos Kummer / Stringer)
It's been a pretty momentous week for the world of cable news as two instantly recognizable anchors - Don Lemon and Tucker Carlson - got the boot at their respective networks, CNN and Fox News. But what really went down?
Although both departures are pretty shocking, they are actually unrelated to each other. They do, however, both speak to the current state of media across the United States and the world at large, proving that what employees say both on the air and off it actually does have ramifications that may put their jobs on the line.
WHY DID CNN FIRE DON LEMON?
Earlier this week, CNN released a statement declaring that it has decided to "part ways" with Don, who used to be an anchor on prime time but recently became a morning show co-host.
"CNN and Don have parted ways," shared Chris Licht, the network's chairman, in an official statement. "Don will forever be a part of the CNN family, and we thank him for his contributions over the past 17 years. We wish him well and will be cheering him on in his future endeavors."
The separation wasn't a drama-free one.
In fact, shortly after CNN put out its statement, Don took to Twitter to comment on the situation, suggesting that he actually did not see the development coming despite the issues that were raised against him in recent months.
Don tweeted, "I am stunned. After 17 years at CNN I would have thought that someone in management would have had the decency to tell me directly. At no time was I ever given any indication that I would not be able to continue to do the work I have loved at the network."
For what it's worth, CNN claims that it had actually offered the anchor "an opportunity to meet with management but [he] instead released a statement on Twitter."
According to the New York Times, Don's original contract ran through 2026 but the network started re-thinking its relationship with the anchor after the controversial on-air remarks that he made about women and aging back in February.
Specifically, while talking about 51-year-old Republican presidential candidate Nikki Haley, Don remarked that she "isn't in her prime, sorry." He went on to say, "A woman is considered to be in her prime in her 20s and 30s and maybe 40s."
Despite objections from his female co-hosts Poppy Harlow and Kaitlan Collins on CNN This Morning, Don doubled-down on his sentiments by stating, "I'm just saying what the facts are - Google it."
Don eventually apologized and even agreed to be part of a corporate training program to discuss his behavior on the air, but the damage was already done: audience members took to social media to express their disdain at the conversation and CNN's chairman even publicly rebuked him.
According to the New York Times, surveys by CNN proved that Don's popularity rapidly decreased following the episode and that bookable guests refused to be seen on the air alongside him - data that undoubtedly made the network's decision to fire him that much easier.
WHY DID FOX NEWS FIRE TUCKER CARLSON?
Given Tucker's positioning within the Fox News orbit - he has been the most watched anchor on the most watched cable news network in the United States since Donald Trump first announced his run for the presidency back in 2016 - his departure from the company is even more shocking than CNN's decision to part ways with Don.
This particular development likely hinged on a massive defamation lawsuit that Fox News settled with Dominion Voting Systems for $787.5 million earlier this week. Specifically, according to the lawsuit, Fox News knowingly disseminated lies about Dominion, claiming it had "committed election fraud by rigging the 2020 Presidential Election."
During the course of the lawsuit, information regarding Tucker and other anchors' true feelings towards the matter were exposed. Private text messages that were made public revealed that Tucker "passionately" hates President Trump despite what he would say on the air nightly. He also called Trump's time at the White House a "disaster" and specifically criticized Fox News for how it had handled the presidency throughout the years.
According to The Washington Post, "the decision to drop Carlson was made Friday evening by Fox Corp. CEO Lachlan Murdoch and Fox News CEO Suzanne Scott, according to a person familiar with the decision who spoke on the condition of anonymity to discuss sensitive personnel matters."
The paper also reports that Tucker was only made aware of the development through a phone call on Monday morning and, given the abruptness of his firing, was not able to let his devoted audience members know about it during what ended up becoming his last broadcast this past Friday.
Fox announced that, for now, a number of "rotating Fox News personalities" will fill Tucker's former 8pm nightly time spot "until a new host is named."
Anna Rahmanan is a New York-based writer and editor who covers culture, entertainment, food, fashion and travel news. Anna's words have appeared on Time Out New York, the Huffington Post, Fortune, Forbes, Us Weekly, Bon Appetit and Brooklyn Magazine, among other outlets.