Who was Lord Lucan and what happened to his wife? The chilling true story behind ITV's hit drama revealed
Lord Lucan disappeared over four decades ago after being suspected of murder…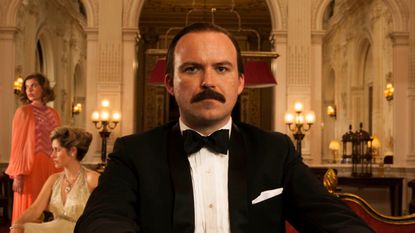 (Image credit: ITV)
Lord Lucan and the mystery surrounding his disappearance has continued to capture the nation's imagination since he was first suspected of murder, but who was the British peer and what happened to Lady Lucan?
Originally aired in 2013, ITV have once again got audiences hooked with their heart-stopping two-part drama, titled simply Lucan. Starring Rory Kinnear in the lead role as the seventh Earl of Lucan, the show also features Doctor Who star Christopher Ecclestone as Lord Lucan's friend John Aspinall and Catherine McCormack as Veronica, Lady Lucan. The show takes viewers back through the case, opening with author John Pearson in 2003 as he attempts to piece together what really happened all those years ago before returning to the 1970s when the terrifying events took place.
But who was Lord Lucan, who did he kill and what happened to his wife Lady Lucan? We reveal the chilling true story behind the ITV drama.
Who was Lord Lucan?
The now-infamous Lord Lucan was born Richard John Bingham, the eldest son of George Bingham, 6th Earl of Lucan and his wife Kaitlin Dawson. The Binghams were an Anglo-Irish aristocratic family and Richard was first an investment banker, then a gambler, earning himself the nickname 'Lucky Lucan'.
Richard became engaged to Veronica Duncan in October 1963 and they married that November. The high-profile guest list at the couple's nuptials is said to have included Princess Alice, Countess of Athlone.
Not only was Princess Alice the last surviving granddaughter of Queen Victoria but she remains the longest-lived British princess of royal blood and was no doubt one of the most prominent attendees at the aristocrat's wedding.
It was just months later that Richard and Veronica became Lord and Lady Lucan after George Bingham passed away in 1964.
Who did Lord Lucan kill?
Lord Lucan was suspected of the murder of his children's nanny, Sandra Rivett, though the British peer was never found guilty in a criminal trial. Sandra's body was discovered on November 7, 1974 in the basement of the Lucans' Belgravia home. It's often been said throughout the years that the death of Sandra could have been a case of mistaken identity. Some reports suggested that Lord Lucan intended to kill his wife Veronica, but the darkness of the basement meant he failed to recognize it was Sandra instead.
According to The Telegraph, Veronica had recently won a court battle against her husband and had been awarded custody of their three children. Whilst the publication alleges that Lord Lucan had a history of domestic abuse and was at this time heavily in debt despite his aristocratic status. The same night Sandra died, Veronica was also attacked and was struck over the head with a piece of lead piping.
Lady Lucan, however, managed to escape after being left for dead. It's said she shared the news of Sandra's murder upon her arrival at the nearby Plumbers Arms pub seeking help.
When did Lord Lucan disappear?
The same night that Sandra Rivett died and Lady Lucan was attacked, Lord Lucan disappeared, never to be officially sighted again. His car was later found abandoned and soaked in blood in Newhaven. As reported by the Guardian, en route to his unknown ultimate destination, the Lord stopped off with friends in Sussex and explained he'd discovered his wife being attacked and that she was accusing him of hiring a hitman. It's claimed he revealed he was going to "lie doggo" for a while.
A year later in June 1975, an inquest jury declared the aristocrat was Sandra Rivett's murderer, however, there was never a criminal trial, as Lord Lucan has never been found. Over two decades later in 2016, a death certificate was issued for him after a High Court judge ruled that he is presumed dead.
Despite this, there have been several alleged sightings over the years and the mystery surrounding Lord Lucan's disappearance continues to attract theories. Some have suggested that Lord Lucan took his own life in the English Channel in the months following Sandra's murder, though no body has ever been found to support this.
Whilst Lord Lucan's brother Hugh Bingham has previously insisted Richard was innocent, others believe the peer was hiding out abroad to escape the allegations of murder. Sightings have been alleged in Australia, New Zealand, South Africa and Ireland, though it's generally believed he has passed away.
What happened to Lady Lucan?
Lady Lucan might have survived the attack that terrible night, but the estranged wife of Lord Lucan never knew what really happened to him. It's said that Veronica herself later claimed her husband was her assailant and that he had been violent towards her throughout their marriage.
Opening up in 2017 during a television interview, Lady Lucan expressed her belief Lord Lucan had made the "brave" decision to take his own life when asked about her thoughts about what happened to her husband. Later the same year, Veronica passed away aged 80 at her Belgravia home in September, with her cause of death reportedly being respiratory failure.
What happened to Lord Lucan's children?
Lord and Lady Lucan had three children; Frances, born in 1964, George, born in 1967 and Camilla, born in 1970. The children were just 10, 7 and 4 when their nanny Sandra Rivett died and their father disappeared.
As the aristocratic couple's only son, merchant banker George has gone on to inherit the family title, becoming the eighth Earl of Lucan. However, this was only able to take place after Lord Lucan's death certificate was issued in 2016.
According to The Sun, his sister Camilla has gone on to become a barrister working in corporate and commercial law. Sadly, it's understood that their mother Veronica became estranged from Frances, Camilla and George in the 1980s and reportedly continued to decline contact with them until her death.
Lucan episode one is available to watch now on the ITV Hub, with episode 2 set to air on Wednesday August 11 at 9pm on ITV.
Emma is a Senior Lifestyle Writer with six years of experience working in digital publishing. Her specialist areas including literature, the British Royal Family and knowing all there is to know about the latest TV shows on the BBC, ITV, Channel 4 and every streaming service out there. When she's not writing about the next unmissable show to add to your to-watch list or delving into royal protocol, you can find Emma cooking and watching yet more crime dramas.