Who is Tessa in Grey's Anatomy? A breakdown of the character
Fans of the series got to know Tessa in Grey's Anatomy throughout two heartfelt episodes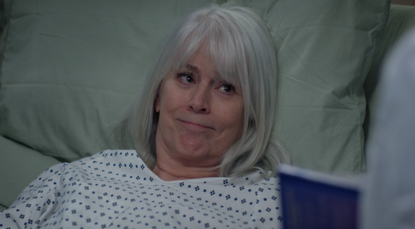 (Image credit: ABC)
As fans prepare to bid farewell to Meredith Grey on Grey's Anatomy, new characters populate the long-lasting series, including one named Tessa.
First appearing in episode 6 of Grey's Anatomy season 19 Tessa Hobbes is a character played by actress Patricia Richardson. In the series, Tessa is a famous author who visits Grey Sloan Memorial Hospital because of constant stomach pains.
As audience members may remember, in episode 6 of the latest season, dubbed Thunderstruck, which aired back in November of 2022, Tessa is officially diagnosed with chronic pancreatitis and, since all other forms of treatment prove to be ineffective, she schedules a Whipple procedure, a major surgery that consists of the removal of a portion of the pancreas, gallbladder and, sometimes, parts of the stomach.
Before going under, Tessa agrees to sign copies of her books for the hospital's doctors and their family members, all big fans of her work. The character also urges the medics to save her because she is in the middle of writing her new book, for which she already has a title for but can't seem to finish because in too much pain.
In the middle of the operation, doctors have to deal with a complication as Tessa suffers from a pseudoaneurysm. The patient, however, wakes up after surgery and seems to have gotten better.
Fast-forward a few months and watchers were treated to another appearance by Tessa, in episode 7 of season 19. Titled I'll Follow the Sun, the episode aired on February 23 as the mid-season premiere after a three-month break in airing.
In the episode, Tessa returns to the hospital because having ruptured her abdomen while picking up bags of groceries from her front porch. Before being taken for a CT scan, Tessa hands surgical intern Dr. Simone Griffith a flash drive that contains her last written book and asks the medic to take it to her publisher in Boston.
Things take a turn for the worse when the CT scan shows that Tessa is actually internally bleeding, at which point she's rushed to an operating room. Unfortunately, the doctors cannot save the author, who is pronounced dead at 12:21.
Simone decides to hand the flash drive to Meredith, who is getting ready to officially leave for Boston - this is, in fact, Ellen Pompeo's farewell episode of the series, making Tessa one of her very last patients.
Why is Meredith Grey leaving Grey's Anatomy after 18 years?
The Grey's Anatomy fall finale confirmed Ellen Pompeo's exit in November 2022. It was revealed that the writers would have Meredith move to Boston after accepting a position with the Catherine Fox Foundation to research Alzheimer's disease, the disease that afflicted her mother and led to her death at the very beginning of the series.
But why did the actress who has been playing the iconic character for nearly two decades decide to leave the series?
While on The Drew Barrymore Show in December, Ellen said that it all boiled down to the longevity of the show.
"I feel super happy, but listen, the show has been incredible to me and I've loved a lot of the experience," Ellen said to Drew then. "Listen, it's just, I gotta mix it up a little bit."
"I'm 53. My brain is like scrambled eggs," the actress joked. "I gotta do something new or I'm literally gonna turn into like, you can't do the New York Times crossword puzzle every single day. I mean, 19 years, that's longer than people keep their kids in their house, like people keep their kids in their house until they're 18 and then they send them off to college. So this is like me like going away to college."'
Anna Rahmanan is a New York-based writer and editor who covers culture, entertainment, food, fashion and travel news. Anna's words have appeared on Time Out New York, the Huffington Post, Fortune, Forbes, Us Weekly, Bon Appetit and Brooklyn Magazine, among other outlets.