What is the Better BBC drama about and is DI Lou Slack's road to redemption after years of corruption based on a true story?
The Better BBC drama questions if redemption can ever be achieved as DI Lou Slack tries to turn her back on her criminal contact forever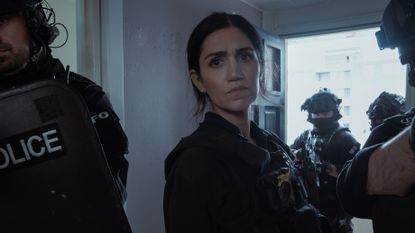 (Image credit: BBC/Sister Pictures)
The new Better BBC drama delves into morality and corruption with all the tension of Line of Duty and emotional impact of Happy Valley, but is the story based on real events?
If you've raced through all the Sarah Lancashire TV shows out there and have already re-watched all of Line of Duty, then look no further than the Better BBC drama for your latest dive into crime series. Although the lead character of Yorkshire-based DI Lou Slack (Leila Farzad) is a police officer, this is anything but your usual police procedural. Corrupt for almost two decades and having formed a brotherly friendship with criminal Col McHugh (Andrew Buchan), Lou finds herself wondering if the time has finally come to try and redeem herself.
Here we reveal what the Better BBC drama is about, if Lou's journey is based on a real-life police officer and how many episodes there are...
*Warning: Spoilers ahead*
What is the Better BBC drama about?
Thriller fans might have just had to bid a sad farewell to one of the year's most popular shows after *that* Happy Valley ending, but the Better BBC drama takes us right back to Yorkshire and to the heart of the police force once again. Except that in Better the lead detective is much more like DCI Tom Brannick in Bloodlands season 2 than Happy Valley's Sergeant Catherine Cawood as DI Lou Slack has crossed the line between catching criminals and being one as she's been helping out Leeds crime boss Col McHugh for years.
Admittedly, she's now not happy about it - hence the title of the Better BBC drama - as Lou is trying to end her entanglement with organized crime and stop being a corrupt copper by taking Col down. As we know from Line of Duty, corrupt officers are under serious pressure and Lou begins to question if she can ever make up for her betrayal.
Opening up to RadioTimes.com (opens in new tab), Lou's actor Leila Farzad explained how a personal tragedy gives her character a new perspective.
"[T]hen when struck by tragedy, she has to question it all and question her morals and wonder if she can be redeemed for all the terrible things she's done," she said. "So it was complicated and different and brilliant."
Meanwhile, Andrew Buchan who plays criminal Col expressed his belief that the lack of a "whodunnit" style storyline makes the Better BBC drama stand out from the crowd because it explores the characters' complexities even more.
"It makes the unraveling of their lives and careers all the worse, as the story progresses, all the harder. You kind of read it and think 'Well, it's not your typical cop show'. And it's not, it's not a whodunnit – so what is it?" he shared. "It's this character-driven, character-based, very complex story about two people with many a flaw. Very, very complex lives."
Is Better a true story?
Given the number of recent dramas based on real events as well as the specific subject matter some fans might be questioning if the storyline of the Better BBC drama is a true story of police corruption. However, just like Line of Duty before it, Better is purely fictional and is the creation of Spooks' writers Sam Vincent and Jonathan Brackley and isn't based on a true story.
This might come as a relief to some worrying about the origins of its intense subject matter and the writers have discussed how the initial idea has evolved massively. Throughout it all, though, they were intent on writing a drama based on the central idea of morality and possible redemption.
They were also clear about wanting the Better BBC drama to be character-orientated, with the police aspect part of the backdrop and not the primary focus.
"The show sort of came together via pieces of things that we did and didn't want to do, and it's all based around this one central idea of morality and goodness," Jonathan told RadioTimes. "We always wanted it to be a very character-based drama, not procedural. So the backdrop is the police and criminality, but that's not what the show is about. It's about these people."
Whilst Sam shared that the story for the Better BBC drama is one they've had for "many many years" and had "evolved from a very kind of simple premise". Despite changing "a lot" according to the co-creator and Better not being a true story, they believe that the final result is "timeless" given its overarching, universal themes.
"I think it sort of comes from somewhere quite deep within me and John, this desire to kind of wrestle with this moral story and this particular way of exploring it. So, in some ways, it's very, very personal and it goes back a long way," Sam explained. "This kind of timeless story as well... it's a universal thing: good and bad and what these things mean."
Although both creators are from London, they were determined to set the Better BBC drama elsewhere and soon became set on Leeds in West Yorkshire, where the show was filmed.
"[W]e wanted to set it in a city that has its own identity, that is nevertheless a big sort of bustling, vibrant metropolis, a city that you don't normally see a lot on TV," Jonathan said.
He added, "And so when it was suggested that Leeds might be appropriate, we went up there and it's got such a wonderful feel to the place. It's such a visually, arresting backdrop for the show."
So unlike plenty of other crime dramas, Better has taken its own route and isn't in any way based on real events. But the moral dilemma featured in the show is a "universal" battle between good and bad that in a smaller, much less dramatic way some might be able to relate to.
How many episodes of the Better BBC drama are there?
Leila Farzad's DI Lou Slack won't find her journey to find some kind of redemption easy and fans will have to be a little patient as the Better BBC drama consists of five episodes. The remaining episodes will air on Mondays at 9pm on BBC One, with the finale set to be broadcast on March 13th. Anyone who can't wait until then to see if Lou brings down Col and achieves some sense of peace from righting her wrongs can also watch the entire series on BBC iPlayer now.
Emma is a Senior Lifestyle Writer with six years of experience working in digital publishing. Her specialist areas including literature, the British Royal Family and knowing all there is to know about the latest TV shows on the BBC, ITV, Channel 4 and every streaming service out there. When she's not writing about the next unmissable show to add to your to-watch list or delving into royal protocol, you can find Emma cooking and watching yet more crime dramas.