What happened in the Peaky Blinders final episode and is season 6 the last we'll see of the infamous Shelbys?
The Peaky Blinders final episode saw a prophecy come true as Tommy's conflicts with his family took an even darker turn…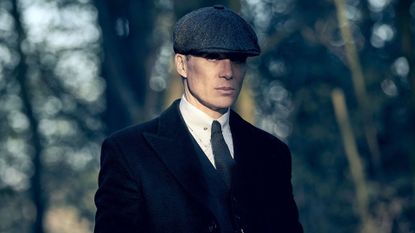 (Image credit: BBC)
Anticipation for the Peaky Blinders final episode has been building for weeks and now the fate of Tommy and the Shelby family has been revealed.
From the moment it landed on the BBC in 2013, Birmingham-based drama Peaky Blinders has gripped audiences' imaginations. Based loosely upon the crimes of an urban gang of the same name active in the late 19th and early 20th centuries, Peaky Blinders charts the rise to power of Thomas 'Tommy' Shelby and his family following the First World War. Very sadly after Peaky Blinders star Helen McCrory's death, her character Polly Gray was written out of season 6.
Though that hasn't stopped long-time fans from excitedly anticipating what lay in store for Polly's son and Shelby nephews and niece in the latest season finale…
But what happened at the end of Peaky Blinders season 6 and is the last we'll ever see of the Shelby family?
*Warning: major spoilers ahead!*
What happened at the end of Peaky Blinders season 6?
Ever since Michael Gray attempted to wrestle control of the infamous Birmingham gang away from his cousin Tommy Shelby in the season 5 finale, Peaky Blinders fans have been waiting for a final confrontation between the two. And the Peaky Blinders final episode in season 6 certainly didn't disappoint as the tension between them took Michael and Tommy to a place only one could come back from.
Michael's mother Polly Gray died in Peaky Blinders season 6 at the hands of the IRA, but it's her words that come back to haunt her son and nephew now as she once predicted, "There will be a war in this family and one of you will die."
From the very beginning, Tommy has been the mastermind of the Shelby empire and the Peaky Blinders final episode is no exception. After arranging for long-time friend Johnny Dogs to switch a bomb placed in his car to the car occupied by his cousin's associates and escaping death, Tommy and Michael come face-to-face one last time.
Pointing a gun at Michael, Tommy yells at his cousin, "Speak to me!", perhaps giving him a final chance to try and bring the family back together. But Michael is having none of it. Blaming Tommy for Polly's death, he declares, "Your lethal hand is always on our shoulders" as he calmly states that none of the Shelbys can escape Tommy.
Tommy responds only that Polly visits him in his dreams before admitting, "She'll visit me no more", as he shoots Michael dead. "I have no limitations", Tommy adds.
Already in the finale, Tommy had lost his wife Lizzie after she walked out on him. After discovering her husband cheated on her with fascist socialite Diana Mitford not long after their daughter Ruby's funeral, Lizzie joined the long line of people who'd finally had enough of Tommy Shelby.
Preparing to face his own mortality as the Peaky Blinders final episode draws to a close, Tommy, who had been told by Doctor Holford that he's terminally ill, says goodbye to his family including sister Ada and sons Charles and Duke. Once the owner of a grand estate, Tommy blew it up, stating he'd "requisitioned" it to make way for housing for ordinary, hard-working people, in line with his policies as an MP.
Now returning to their roots, the Shelbys are living in caravans and though some might suspect something is up, Tommy has only confided in Arthur about his illness. Arthur's wife Linda reads out a final message from him, where he tells Tommy he'll likely be with him soon.
The brothers' bond, stretched at times to the limits, had been one of the strongest aspects throughout the show and so it'll have touched more than a few fans to see the Peaky Blinders final episode celebrate this.
A month later Tommy is living in a caravan in the hills when another brutal twist of fate is revealed. Coming to him in a vision as Aunt Polly once did, Tommy's daughter Ruby tells him he's not dying after all, saving him from taking his own life. Always one to heed these visions, Tommy discovers that the doctor who diagnosed him is in league with Oswald Mosley.
They had deduced that the only one who could ever kill Tommy Shelby was none other than Tommy Shelby himself. Enraged by the discovery, he confronts Doctor Holford who believes that Tommy has been changed by guilt and would never again kill a man in cold blood.
As the eleventh hour arrives on Armistice Day it looks as though Holford is right as Tommy walks away. He returns to find his caravan and all his remaining possessions burning, perhaps symbolizing the death of the old Tommy, as this burning is frequently done to mark the deaths and funerals of characters throughout the show including his late brother John and aunt Polly.
With only seconds to go in the Peaky Blinders final episode Tommy mounts a white horse in a parallel of the first-ever episode where he rode in on a black horse, and heads off to pastures unknown...
Has Peaky Blinders ended or will there be another season?
Just like thriller fans hoping for the final Our House episodes will mean a season 2 or those who were delighted that their hopes for a The Tourist season 2 weren't in vain, many Shelby fans will be hoping that Peaky Blinders hasn't ended for good. Unfortunately, though, this really was the final season of the hit period drama.
The news that Peaky Blinders season 6 would be the show's last TV season was confirmed by writer Steven Knight back in 2021, after he previously expressed a desire to continue the story with a seventh season.
But all is not lost for long-time viewers as he opened up to Deadline about how the Shelbys' story wasn't quite over yet. Instead, just like the way there'll be no The Last Kingdom season 6, but there is set to be a film follow-up, there's going to be a Peaky Blinders movie.
"Covid changed our plans. But I can say that my plan from the beginning was to end Peaky with a movie. That is what is going to happen," he explained.
It's not known yet when the Peaky Blinders movie will be released or exactly what story it could tell. However, with the season 6's Peaky Blinders final episode ending ahead of the Second World War and Tommy still alive there are plenty of possibilities.
Finn Shelby was also cast out of the family in season 6 vowing vengeance and Tommy's illegitimate son Duke has taken his place, meaning that it could be the next generation that becomes the focus of the film.
Either way, following the epic highs and lows of the Peaky Blinders final episode there'll no doubt be many fans eagerly anticipating the Shelbys' return. Until then, there's plenty of time to re-watch all the most intense and emotional moments from Peaky Blinders season 1-6 on BBC iPlayer.
Sign up to our free daily email for the latest royal and entertainment news, interesting opinion, expert advice on styling and beauty trends, and no-nonsense guides to the health and wellness questions you want answered.
Emma is a Royal Editor with seven years of experience working in digital publishing. Her specialist areas including literature, the British Royal Family and knowing all there is to know about the latest TV shows on the BBC, ITV, Channel 4 and every streaming service out there. When she's not writing about the next unmissable show to add to your to-watch list or delving into royal protocol, you can find Emma cooking and watching yet more crime dramas.