The very important reason Victoria Derbyshire wrote a phone number on her hand when she read the news
Well done, Victoria...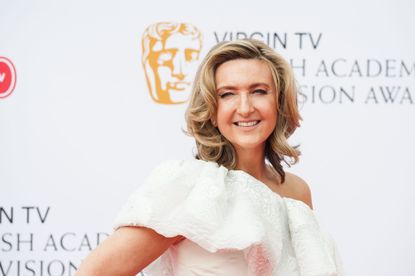 (Image credit: Getty)
Presenter Victoria Derbyshire was applauded by viewers for doing something very important on TV this week.
The iconic journalist appeared on the BBC news with a phone number scrawled onto her hand with biro.
Victoria subtly held her hand up to the screen and rested her chin on her fingers to make the digits visible.
While it may seem at first glance that Victoria had simply forgotten to scrub a reminder off her hand before going on air, it turns out the ink was there for a vital reason.
The phone number was in fact the one for the National Domestic Abuse helpline.
READ MORE:The adorable service Labrador helping to relieve the stress of doctors battling the coronavirus pandemic
The broadcaster later took to social media to reveal that the move was done to help viewers who may be suffering abuse at the hands of people they're self-isolating with during the coronavirus lockdown.
'The National Domestic Abuse hotline has seen a 25% increase in calls & online requests for help in past week,' Victoria explained on Twitter.
'During the lockdown there's also been a daily rise in people going on the helpline website & last wk that figure was up by 150%.
READ MORE:Duchess Camilla comes out of self-isolation and joins NHS volunteers
'The helpline is open 24/7.'
Lots of fellow social media users responded to applaud Victoria for her helpful initiative.
'Thank you for using your platform to bring awareness to this very important issue,' one wrote.
'Thank you Victoria. Excellent idea,' added another, while a third chipped in, 'You are a treasure. The UK is blessed to have you.'
Opening up about her decision to carry out the good deed, Victoria told the Independent, "I'd written the number on my hand to tweet a photo of it at 7am this morning and left it on my skin deliberately in case it could help any of the millions watching."