Vaccinated Matthew McConaughey 'wants more information' before he vaccinates his kids
Actor Matthew McConaughey says he won't rush to vaccinate his three kids although his wife and mother have both been vaccinated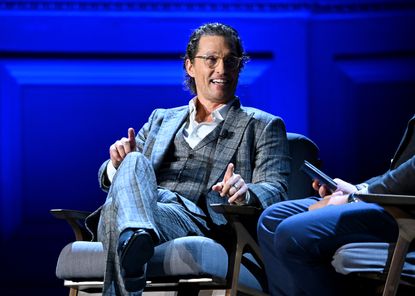 (Image credit: Noam Galai / Stringer)
Matthew McConaughey has noted that he needs "more information" before deciding to vaccinate his children.
During a live stream interview as part of the New York Times' DealBook Online Summit, Academy award-winning actor did not dispute the effectiveness of the COVID-19 shots (him and his wife Camila Alves are both vaccinated) but merely mused on the necessity to vaccinate 5-to-11 year-olds given the fact that the Centers for Disease Control green-lighted shots for that specific age group just last week.
Matthew is the father of 13-year-old Levi, 11-year-old Vida and 8-year-old Livingston.
"They just said we can vaccinate kids," said the actor during livestream. "I want to trust in the science. Do I think it's any kind of scam or conspiracy theory? Hell, no, I don't. No [...] we've all got to get off that narrative. There's not a conspiracy [...] These are scientists trying to do the right thing."
However, he said, "it's scary." He went on, "Right now, I'm not vaccinating [my kids], I'll tell you that."
---
After mentioning his own immunization status, Matthew did also reveal that his 90-year-old mother Kay McConaughey, who is immunocompromised and considered a high-risk person, is currently living with his family. Kay has already received her booster shot.
"We go slow on vaccinations anyway, even before COVID," said Matthew, also noting that his family has been regularly testing and spending loads of time outdoors. "And, mind you, we've quarantined harder than any of our friends have and still are, two years later."
The actor is clearly not the only celebrity making his voice heard in connection to the current immunization process. Most recently, Green Bay Packers quarterback Aaron Rodgers acknowledged that he "misled some people" regarding his vaccination status after the league found out that he is not immunized (he claims to be allergic to the shot).
Matthew also used his time on the live stream to discuss the controversial Texas abortion law that has recently made it all the way to the United States Supreme Court. He called the legislation "overly aggressive."
The actor's comments will surely be dissected even further if his political ambitions, which he has recently teased, will actually come to fruition.
Anna Rahmanan is a New York-based writer and editor who covers culture, entertainment, food, fashion and travel news. Anna's words have appeared on Time Out New York, the Huffington Post, Fortune, Forbes, Us Weekly, Bon Appetit and Brooklyn Magazine, among other outlets.