Tom Cruise gifts his friends this delicious treat every single Christmas
Actor Tom Cruise sends out something special to his loved ones during the holidays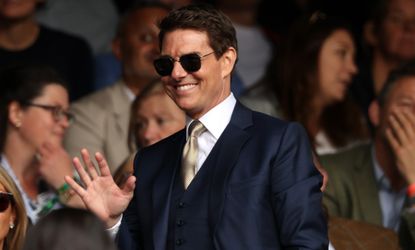 (Image credit: ADRIAN DENNIS/AFP via Getty Images)
Referred to by many as the "Tom Cruise cake," the actor likes to gift a delicious-looking White chocolate coconut bundt cake over the holidays, made by the folks at the family-run Doan's Bakery in Woodland Hills, California.
And the amount of celebrities that have received the dessert over the years is crazy—from Henry Cavill to Renée Zellweger, Jimmy Fallon, James Corden, Kirsten Dunst, Rosie O'Donnell and Graham Norton, the 59-year-old actor has a lot of people on his list, clearly.
Before we get into the details of the cake, let us tell you about Tom's delightful habit.
In 2018, while on The Late Late Show with James Corden, Tom revealed to the host that he stays away from sugar while training for roles and so instead sends cakes and "waits for the calls" so that friends can tell him all about the delicacy. Talk about living vicariously through others.
All of his recipients have Tom's ex-wife Katie Holmes to thank for the specific cake they get each holiday season. In fact, while filming Mad Money, Katie and co-star Diane Keaton were looking for a cake to have on set, so each ordered one from their respective favorite bakeries. Tom had to select which one was best and went with Diane's pick, which turned out to be the very one he now sends to fellow celebrities.
As for the dessert itself, it's a coconut bundt cake with chunks of white chocolate, plus layers of cheese frosting and toasted coconut flakes. Funnily enough, it isn't a new menu item or something created for celebrities specifically—it debuted when the bakery first opened in 1984.
---
Needless to say, the owners of Doan's Bakery are very grateful for the sort of publicity they've received given Tom's holiday habit throughout the years. "It's kept us in business," they've said to various media outlets.
The cake feeds between 12 and 16 people, but we won't judge you if you decide to indulge in it all on your own throughout the holiday season. It's the most wonderful time of the year, after all.
Anna Rahmanan is a New York-based writer and editor who covers culture, entertainment, food, fashion and travel news. Anna's words have appeared on Time Out New York, the Huffington Post, Fortune, Forbes, Us Weekly, Bon Appetit and Brooklyn Magazine, among other outlets.