The Handmaid's Tale fans left traumatised after The Crossing's 'harrowing' ending
The Handmaid's Tale season 4 episode 3 had fans shouting at their TV screens after it's shocking conclusion...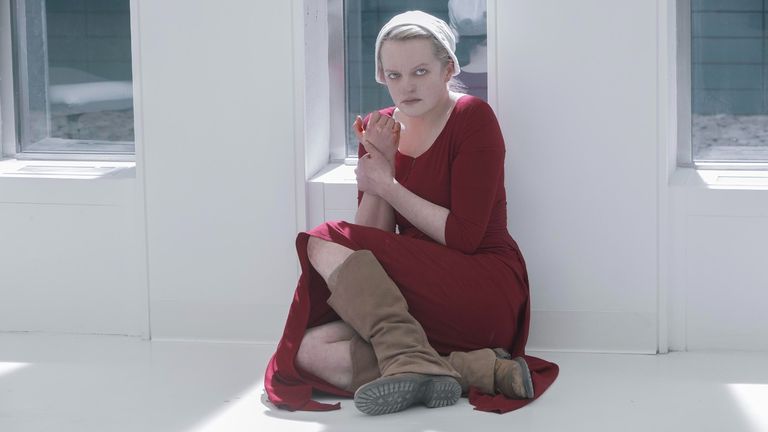 (Image credit: Hulu)
The Handmaid's Tale season 4 may have only just kicked off in the UK, but already fans' nerves have been left shattered after the latest episode, The Crossing, took a truly "harrowing" turn. 
The Handmaid's Tale season 4 has been a long time coming for die-hard fans. After production was delayed due to the COVID-19 pandemic, this new dramatic season finally premiered in the US earlier this year, but UK viewers have had to be patient as they waited for The Handmaid's Tale's spellbinding new season to land on Channel 4. And from the very first moment the new The Handmaid's Tale trailer dropped, viewers across the world couldn't wait to see June Osborne's quest for revenge against oppressive Gilead step up a gear. 
Whilst there are some key The Handmaid's Tale books vs show differences, that didn't stop some from speculating about whether the novel's spellbinding sequel, The Testaments, could hold the key to season 4. Now the time has come to discover how to watch The Handmaid's Tale online and catch up on the first few episodes of the heart wrenching dystopian series. 
And despite the tragedies we've seen unfold across the previous three seasons, it seems many fans weren't fully prepared for what lay in store in episode 3, The Crossing...
What happened in The Handmaid's Tale season 4, episode 3, The Crossing? 
The Handmaid's Tale's latest episode, The Crossing, was directed by none other than the show's lead star, Elisabeth Moss, who plays everyone's favorite determined protagonist, June Osborne, AKA Offred. And it seems Elisabeth's just as skilled behind the camera as she is in front of it, as her direction of the episode's tragic scenes certainly packed a punch.
The Crossing sees June undergo horrific torture at the hands of her Gilead oppressors, who are determined to learn the location of her fellow Handmaids. Refusing to submit despite the pain, her torturers then target June's greatest weakness as she comes face-to-face with her eldest daughter, Hannah.
Throughout previous seasons fans have hoped to see June/Offred escape in The Handmaid's Tale and though she's had several opportunities, each time she remained behind, refusing to leave without her beloved daughter. Now, reunited, albeit on either side of glass walls, Hannah no longer recognises her.
It's the poignant sight of Hannah recoiling and screaming at the sight of her own mother that finally breaks June, as her torturers threaten to hurt her daughter. Having now betrayed her friends, June and the other Handmaids are all thrown into a van, heading for a colony.
And just when fans thought their fates were sealed, we saw June overpower Aunt Lydia, allowing all the women to escape. But our renewed hopes for a triumphant journey to freedom were soon dashed in a typically brutal fashion. Running for their lives, two Handmaids are shot by the van driver, before two more, Briana and Alma, are hit by an oncoming train whilst attempting to cross the railroads.
Of all the six original Handmaids fans have come to know and love, only June and Janine now remain.
The Handmaid's Tale fans react to The Crossing
The Handmaid's Tale fans might be accustomed to the traumatic plotlines and shocking scenes that make the dystopian drama so compelling. But now the utter devastation in The Crossing's final moments has left viewers shouting at their screens in shock. 
'WOW … that was edge of seat, shouting at the TV stuff' one person wrote after watching this unsettling episode. 
'And that's me in bits again after tonight's episode of The Handmaid's Tale!! S4E03' another fan wrote, reflecting on the emotional impact of losing so many much-loved characters this way.
Someone else shared that they were 'absolutely sobbing', as another reflected: ' I feel like I need counselling after tonight's episode of The Handmaids Tale'. 
'Surely it can't get any more harrowing than that?' another fan questioned.
Whilst another echoed this sentiment, declaring: 'I think #thehandmaidstale is getting too harrowing to watch anymore. My nerves can't take it!'
However, despite many viewers being left traumatised by this heartbreaking episode, others were also quick to praise the skill that went into creating such impactful scenes. 
 'I just watched episode three (The Crossing) of series 4 of The Handmaid's Tale from behind a cushion with my toes curled and my breath held! Absolutely brilliant and each series gets better and better. Fantastic', one person wrote.
And it seems that filming The Crossing's closing scenes was something that also heavily impacted the actors. Opening up during a recent conversation with Metro.co.uk, Madeline Brewer, who plays Handmaid Janine, revealed that this train scene was the last one the actors filmed and was one of the "more emotional days" on set.
She also expressed her belief that having fellow cast member Elisabeth directing The Crossing gave the episode "an added layer of care upon the whole thing since we've all been together for four seasons". Reflecting upon Elisabeth's approach to filming the deaths of the Handmaids, Madeline shared that the star took "love" over it.
"It was just special. But it was like us, it was the group," she explained. "It wasn't someone who's come in to direct an episode. She took the love and care for this moment."
The Handmaid's Tale continues on Sundays at 9pm on Channel 4.
Emma is Senior Lifestyle Writer for Goodto.com, womanandhome.com and Myimperfectlife.com and she loves sharing the latest lifestyle, royal, celebrity and entertainment news. Before joining Future, previously TI Media, Emma was a Freelance Editor and before that a Publisher for an independent digital publisher. When she's not writing about the next big lifestyle trend, she enjoys cooking, long walks and watching as many crime dramas as she can!