The Exchange: True story that inspired Netflix's empowering original series from Kuwait as two women break the glass ceiling of stock trading
The Exchange true story is explored through Farida and Munira as they forge careers in the male-dominated stock exchange in 1980s Kuwait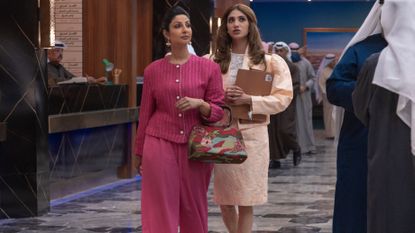 (Image credit: Courtesy of Netflix)
The Exchange true story is every bit as empowering and inspirational as the fictional tale which follows Farida and Munira as they showcase their skills in the Kuwait Stock Exchange.
Already 2023 has delivered some absolute gems when it comes to Netflix dramas and amongst these are plenty of original series from across the world, including The Glory on Netflix and Fauda season 4. Now the platform's first original series from Kuwait has landed and The Exchange delivers an important tale of the first women to face the cutthroat world of the country's stock market in the 1980s. Farida and Munira won't be defeated as they pursue their goal and must battle against the challenges that come with being determined women in a male-dominated industry.
Here we reveal more of what the show is about, explain The Exchange true story and whether Farida and Munira are real people…
*Warning: Spoilers ahead!*
What is The Exchange about?
For those who are still making their way through Netflix's The Snow Girl and the Pamela Anderson Netflix documentary and haven't yet seen the streaming giant's recent release, The Exchange is their first original series from Kuwait and focuses on the journeys of cousins Farida (Rawan Mahdi) and Munira (Mona Hussain) in the 1980s. The two women find tricky math a breeze and are eager for the challenge of taking on careers in Kuwait's busy stock exchange.
The industry they set their sights on is incredibly male-dominated and they struggle against certain attitudes as they seek to make their mark. Whilst Farida, whose father is her guardian after her divorce, is determined to provide for her daughter, Munira is a clerk for the Trading Division of the Bank of Tomorrow. Along the way they must contend with the corrupt boy's club of the stock exchange as they try to change things for the better.
What is The Exchange true story and is it based on real events?
If the last two years have shown anything entertainment-wise it's that shows based on true stories aren't going anywhere. Whether it's Four Good Days on Netflix or ITVX's Nolly, there are so many hit series that instantly have us intrigued and for anyone wondering about the The Exchange true story or if it's even inspired by real events, the answer is that it's based on real experiences. Netflix's The Exchange is inspired by the real-life stories of women who were the first in Kuwait to shatter the glass ceiling of the country's male-dominated industries.
Opening up about her inspiration for The Exchange on Netflix (opens in new tab), the show's co-creator and co-writer Nadia Ahmed explained that having grown up around "empowered women" like Farida and Munira she wanted to pay tribute to trailblazers through these fictional characters.
"I grew up in Kuwait, surrounded by empowered women who were pioneering industries, especially in finance," she said. "They demanded to be heard and succeeded, breaking into the workforce and blazing new trails for future generations. 'The Exchange' is my love letter to them, bringing an amalgamation of them to life in Farida and Munira in a new and exciting way."
The 1980s setting is also something that was important to her and her fellow writers and creators Anne and Adam Sobel. They shared how they undertook huge amounts of research to be able to bring to life an "authentic" portrayal of Farida and Munira's experience in Kuwait at that time.
Anne and Adam declared, "The Exchange is a labor of love, the result of years of collaboration and hard work as we researched the 80s to build the visceral world in an authentic way. From interviews with historians and people who lived through these experiences, to polishing the plotlines, The Exchange was a creative rollercoaster".
Ultimately, the Exchange true story is that of plenty of tenacious and successful women in Kuwait. Each of their experiences and their trail-blazing careers have come together in "amalgamation" that can't fail to entertain and inspire in equal measure.
Are Farida and Munira in The Exchange real people?
Though many recent dramas focus on the stories of real people, Farida and Munira in The Exchange are understood to be fictional. However, whilst they might not ever have lived and worked in 1980s Kuwait, their stories reflect those of women at the time, as revealed by Nadia Ahmed, who reiterated this to Variety (opens in new tab) ahead of the show's premiere on Netflix.
She explained, "The investment banking business was a big thing in the '70s and '80s in Kuwait. There was lots of money to go around and not enough people doing money management, you know what I mean? The stock exchange was booming, investment banking was booming. It was where you would go if you wanted to make some serious money."
Nadia explained how her own experience influenced her characters and storyline too, adding, "My mom was a single mom — she was solely financially responsible for me, and she wanted the best for me. So she entered the investment banking world, and I was consistently around women who were also doing the same thing, who were shattering stereotypes of Khaleeji [people of the Arabian Peninsula] women."
"These women were pioneers, they were the first to enter these male-dominated spaces," The Exchange co-creator declared. "So yeah, it was me reflecting on my childhood and my adolescence and wanting to bring something to the screen that encompassed complex, multi-dimensional characters. Female characters that I didn't see enough of from this region. And I'm really happy with how it came out."
Her excitement at the way The Exchange true story inspiration came to life is shared by the drama's producer, Abdullah Boushahri. He told Variety that after initially viewing the work-place focus as a potential "challenge", he found Farida and Munira's story "ground-breaking".
"[W]hen I started reading the scripts, I realized that in The Exchange there are just so many human emotions, and so much woman-power and ground-breaking topics and types of stories that have never been told in this way before," Abdullah said.
So whilst Farida and Munira aren't specific, real people, their hugely impactful story explores very real experiences of women in Kuwait and delves into themes that are hugely important as The Exchange true story inspiration.
The Exchange is available to watch now on Netflix.
Emma is a Senior Lifestyle Writer with six years of experience working in digital publishing. Her specialist areas including literature, the British Royal Family and knowing all there is to know about the latest TV shows on the BBC, ITV, Channel 4 and every streaming service out there. When she's not writing about the next unmissable show to add to your to-watch list or delving into royal protocol, you can find Emma cooking and watching yet more crime dramas.