The Cambridges Say Their Goodbyes To Canada Following Royal Tour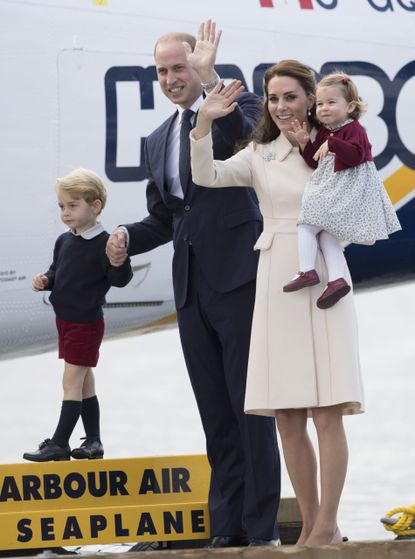 (Image credit: REX/Shutterstock)
Saturday was the final day of the royal tour of Canada, and with it came our final sightings of Prince George and Princess Charlotte. George stole the show, appearing to love the attention, as he enthusiastically waved at crowds that had gathered to wave them off. George who was dressed in his now trademark shorts and long socks combination could not stop smiling at cheering well-wishers as they made their way from the car to the sea-plane which would take them to the main airport. He was later photographed cutely pressing his nose against the window of the plane as they waited to depart. Princess Charlotte has also seemingly perfected her royal wave as she too joined in with the goodbyes. Prince William and Kate released a statement at the end of the trip thanking Canada for their hospitality saying 'This country will play a big part in the lives of our children and we have created such happy memories for our family during this visit'. After the plane landed at Victoria's main airport, ready for the family to catch their connecting flight, George was allowed to sit at the controls of the plane and press some buttons where he announced he would be flying them back to England himself. Clearly the young royal has inherited his father's love of flying.
See George's excitable royal goodbye here.
http://www.youtube.com/watch?v=nLaYdu8LKX4
We had to wait most of the week to get a new sighting of Prince George and Princess Charlotte on the Royal tour but it was worth the wait as these adorable pictures prove. The Prince and Princess were guests of honour at a children's garden party in Victoria, Canada where they joined military families and their Children for a day of fun and games. A petting zoo, balloon animals and a puppet show were all laid on to keep the young guests entertained. Charlotte was particularly taken with the Balloon arch at the entrance running over to it to hug it and yell "pop", her first public word, whereas Prince George found joy in blowing bubbles.Here are all the pictures that melted our hearts.
Charlotte was particularly taken with Moose, a very patient therapy dog, who she greeted by sitting on and bouncing. The 1-year old is used to dogs with the family themselves having a pet dog called Lupo.
Both Charlotte and George were entertained by a balloon magician who created some balloon animals for them to take away.
Charlotte and Kate had a little dance to music as part of the party, with Charlotte playing along with a musical instrument.
At the end of the day George looked tired out from all the excitement, clutching to his father for support in a touching picture.
Here is a cute video of them playing at the event.
http://www.youtube.com/watch?v=uhbq0KIFRds
Day five of the royal tour saw Kate and William spend the day in the Yukon territory, a wild and mountainous part of the country which is sparsely populated. They started the day by visiting a local museum which allowed them to post a tweet by telegram before heading to the golf rush town of Carcross. Here they watched mountain biking before an impromptu decision which saw them daringly explore a steam train that the Queen and Prince Philip travelled on nearly 60 years ago. Panicked aides had to sit back and watch as they edged along train-tracks surrounded by water to get to the carriage. The young royals only decided to explore the train after hearing that his grandparents had travelled on the train back in 1959.
Day four of the royal tour was a busy one for Kate and William as they headed to Kelowna. Kate looked pretty in green as they attended one of the local universities, stopping to watch their teams Volleyball team, where they were presented with their very own personalised jerseys.
Later in the day the couple were whisked off to a local food festival where they tried local food delicacies and sampled wine. William was less than impressed with one of the meals on offer which resembled something entirely different. The dish in question was 'geoduck', a type of clam. William joked that 'Presentationally they are quite challenging'. He did however try some later on the food tour with The Duchess commenting that she liked the taste. Kate also revealed during the day that she enjoys cooking for the family at home with her speciality being curry.
On day three of their trip Kate and Will attended a glitzy reception which united political and civic leaders. Kate dressed up in a stunning £1000 dress from Preen with which she also wore a diamond encrusted maple leaf brooch previously owned by The Queen's Mother. A touching tribute to the home nation.
Earlier in the day the couple again decided to leave George and Charlotte at home as they travelled to the remote Canadian Island of Bella Bella. Kate dressed down for the occassion wearing a traditional safari jacket and her trusted boots that she has been wearing for more than twelve years. Kate and Will were gifted a range of traditional garments, including the waistcoat seen below, from the Heiltsuk First Nation people in a welcome ceremony before they went on to explore the Great Bear Rainforest which is 250 miles long.
Kate and Will left their children at home for the first full day of Royal Engagements as part of their Canadian Tour. Kate turned heads in a daring Alexander McQueen number which cut off just above the knee which is a departure from her usual style as they joined Justin Trudeau and his wife. 1000s of Canadians camped out hoping to get a glimpse of the royal couple with both Kate and Will taking time out of their day trip to Vancouver to chat to and greet their well wishers.
The first stop on the second day of their tour was at Shelway, a charity that supports vulnerable mums. The couple were given cute teddies to take back for Prince George and Princess Charlotte. Afterwards they royal couple were met by the Canadian Prime Minister and his wife where they arrived at Immigrant Services Society to learn about how the project protects refugees. After lunch, William and Kate met young Canadian leaders and had photographs with Olympians and Paralympians. To finish the day they visited the Canadian Coast Guard where they were greeted by a number of first response agencies before heading back to Victoria by hovercraft.
The Duke and Duchess of Cambridge arrived in Canada on Saturday ready for their 8-day tour along with their children George and Charlotte. They landed in Victoria shortly after 4pm local time where they were greeted by Prime Minister Justin Trudeau and his wife. All eyes were on George and Charlotte as they embark on their first tour as a family of four. Princess Charlotte looked adorable in a cute floral dress as she clung to her mother Kate whilst George looked smart, dressed in a blue jumper and long socks and seemed shy as he held his Dad's hand. Kate co-ordinated with her children also wearing blue in a smart Jenny Packham dress with a Locke and Co hat. She also wore The Queen's diamond maple leaf brooch. See the pictures of them disembarking the Canadian Air Forces plane here.
In an hilarious moment caught on camera, Prince George was more interested in a landing Helicopter than his meeting with Justin Trudeau, snubbing his offered high five and handshake by shaking his head.
http://www.youtube.com/watch?v=yha0OCAOw8E
The trip marks 16 month-old Princess Charlotte's first royal tour! Charlotte and George will be based at the Government House with their nanny Maria Borrallo whilst their parents carry out over 30 engagements. Government House have even put rubber ducks in the ponds and fountains at the residence. The gardeners often put ducks out when children are visiting the house but these ducks will remain for the whole week that George and Charlotte are staying.
The itinerary for their 2016 Canada tour:
Saturday 24th September
The tour will start when the family touch down at Victoria Airport and arrive at Government House - where George and Charlotte will be remaining. The Duke and Duchess will visit Victoria's cenotaph and unveil a new plaque, in tribute to the veterans involved in the Afghanistan conflict.
Sunday 25th September
William and Kate will travel by boat plane to Vancouver where they will be welcomed at the Poole Plaza. They'll then head down to Downton East Side to visit the Shelway charity which helps vulnerable mothers battling problems like addition. Afterwards they will meet refugees from Syria taken in by Canada, at the Immigration Services Society. Their final stop of the day will be at Kitsilano Coastguard Station where they will greet members of the police and fire service before flying back to Victoria.
Monday 26th September
Monday's activities include an aerial tour of the world's largest temperate rainforest - Great Bear Rainforest - home to the Kermode bear and wildlife such as whales, sea otters and dolphins. Following this, they will watch a youth performance at a community centre and travel to Mcloughlin Bay where they will see a walking trail. That evening the royals will attend a reception at Government House, where they are staying.
Tuesday 27th September
On Tuesday William and Kate will visit Kelowna in Okanagan Valley where they will meet students at the university and watch a women's volleyball team. Following this they will enjoy food and wine at the BC Government's Taste Of British Columbia Festival. Afterwards, the couple will fly to Yukon where they will be staying overnight.
Wednesday 28th September
Following in the footsteps of The Queen and Prince Phillip in 1959, William and Kate will visit the telegraph office which is now part of the Macbride Museum. They will then attend a party as the guests of honour on Main Street. Afterwards they will receive a tour of Carcoss - a tiny town with less than 300 people living in it before their final stop at Montana Mountain.
Thursday 29th September
On Thursday Government House will host a royal party in the gardens for military families, which Prince George and Princess Charlotte will also attend.
Friday 30th September
On their second to last day, William and Kate will head to Haida Gwaii and enjoy some canoeing at the Haida Heritage Centre and Museum in Skidegate. Afterwards, they will be welcomed by the Prime Minister and watch children give a cultural performance before opening a new hospital. To finish the day they will try out some fishing at Hecate Strait.
Saturday 1st October
Their final day's activities include a visit to Cridge Centre for the Family - one of Victoria's charities supporting abused women and helping young people. This will then be followed by a stop at a local cafe to meeting families helped by Kelty Mental Health Resource Centre. This will then be followed by a departure ceremony at Victoria Harbour Airport and a brief trip to Vancouver Island before heading home.
After the tour, it is expected that the family will have some time away from the cameras when they get back to England.
September 2016
In September, William and Kate took their first Royal visit to Cornwall. The royal couple were supposed to be visiting the Isle of Scilly but due to bad weather conditions the visit was put on hold. Instead they visited the Eden Project whist waiting for conditions to calm down, the pair looked happy and deep in conversation as they walked around the world's biggest undercover rainforest - Rainforest Biome. Kate looked gorgeous as usual in some patterned trousers from GAP. (opens in new tab)
The couple visited the Truro Cathedral to meet the city's dignitaries and to sign slates in support to its appeal to raise money for roof repairs. During the visit Kate wore a gorgeous pale pink Lela Rose dress, alongside some grey wedges and a nude clutch.
Summer 2016
During this trip to France, the family were rumoured to have spent a night at the Hotel du Palais in Biarritz - once home to Napoleon III during his summer holidays. The luxury seafront hotel describes itself on its website as "a hotel rich in memories, style and history" and with "style synonymous with an epoch, the Second Empire, which was to establish the reputation of Biarritz as 'The Queen of Resorts and The Resort of Kings'".
A basic room in the hotel costs €500 per night, with an Imperial Suite can be as much as €3,910, with bed and breakfast included.
William and Kate visited India and Bhutan earlier this year. Read all about the couple's most recent royal tour below.
16th April - Taj Mahal
The Duke and Duchess concluded their trip with a visit to the Taj Mahal.
The visit marks 24 years since Princess Diana visited the 17th century monument, in a trip that was taken during an emotional time, and prompted rumours that her marriage was breaking down. During her trip, Diana told reporters that she found the Taj Mahal 'Very healing'.
The Duke and Duchess' communications secretary said: "The Duke of Cambridge is of course aware of the huge esteem his mother, the late Princess of Wales, is held in in India and he appreciates the status of the images that exist of the Princess at the Taj.
"He feels incredibly lucky to visit a place where his mother's memory is kept alive by so many there...The Duke and Duchess are looking forward toseeing this beautiful place for themselves and creating new memories as they say thank you to the people of India at the conclusion of this tour."
Catherine opted for a patterned shift dress by Indian designer Naeem Khan for the occasion to combat the heat.
The pair weren't so lucky with the weather earlier in the day, but luckily the couple seemed to leave the rain in Bhutan. The Duchess wore an Alexander McQueen broderie Anglaise dress, last seen at the Jubilee celebrations in 2012, as they left the country.
15th April - Thimphu
The royal couple spent a glamorous evening at the Taj Tashi hotel, where they were guests of honour at the reception for British Nationals in Bhutan.
The Duchess chose a £745 Beulah dress featuring poppy print (Bhutan's national flower). Catherine has opted for Beulah before - the brand run by Lady Natasha Rufus Isaacs, an old friend of hers - and chose the glamorous design for her final evening on tour.
During the evening, the Duchess was presented with a silk scarf by Ugyen Michael Wangchukat.
But before the glamour of the evening, the Duke and Duchess hiked for a tough 3 hours to Tiger's Nest monastery in Paro Taktsang.
Although he joked that the climb was 'easy', Prince William was snapped wiping sweat off his brow. The Duchess, however, barely broke a sweat as they trekked to the temple located 10,000 feet above sea level.
Clumpy walking boots were nowhere to be seen this morning, with Catherine instead opting for a glamorous pair of £475 knee high boots by Penelope Chilvers, teamed with a leather waistcoat and loose-fitting white blouse. She also kept her full face of make-up intact for the whole trip - kudos!
Later, the couple will attend a reception for British nationals in Bhutan before heading back to India.
Scroll through to see the rest of Catherine's stunning fashion choices...
14th April - Thimphu, Bhutan
Although the couple seem to be having the time of their lives, they will be no doubt saddened to hear of the illegal poaching of a one-horned Rhino at the Kaziranga National Park that occurred just hours after they left.
Yesterday, the Duke and Duchess were seen feeding the gentle creatures at the wildlife reserve.
Today's itinerary included more sports for the royal pair following games of football and cricket earlier in their trip. During their first day in Bhutan, the sporty Cambridge's tried their hand at archery at the capital's open-air archery venue.
The couple certainly looked like able archers, but their attempts were anything but. William overshot his two attempts, asking 'Did that clear the bank? Because it looked like it did. I don't want to cause a crash.'
In contrast, Catherine's shot only travelled 20 yards, almost hitting the royal press pack. 'Sorry,' she giggled.
Before partaking in the national sport, the Duke and Duchess met local children who sat in the audience and the King's half brother, Prince Jigyel Ugyen Wangchuck.
Earlier in the afternoon, the couple were driven through the capital city of Thimphu and treated to a traditional welcome ceremony known as a Chipdrel, in which dancers and musicians performed in national dress as they entered the ancient Thimphu Dzong ancient monastery.
They were then greeted by the Bhutanese King Jigme Khesar Namgyel Wangchuck and his wife Jetsun Pema, who is known as the 'Kate Middleton of the Himalayas'.
Catherine swapped her gold Emilia Wickstead dress coat and trademark nude heels that she wore upon arrival for a traditional Bhutanese skirt, made from fabric woven by local weaver, teamed with £393 Paul and Joe (opens in new tab) cape.
In the morning, the Duke and Duchess flew into Bhutan and were met by senior state representatives and members of the royal family. The King of Bhutan's sister presented William and Catherine with a ceremonial scarf, known a chador, as a symbol of friendship.
13th April - Safari and the village of Pan Bari
Today the Duke and Duchess spent a fun-filled morning on safari, where they drove through the Kaziranga National Park in Assam. The Duchess wore a £75 embroidered Topshop (opens in new tab) dress to feed the wild animals which freely roam the park. Unsurprisingly the dress is almost sold out, so you'll need to click quick if you want to bag the Duchess' style for yourself.
After a busy morning feeding the elephants and Rhinos, the royal couple visited the village of Pan Bari where they stopped for a cup of tea and met locals to discuss rural life in India. Later today local families will give Catherine and William a guided tour of the crops which provide their livelihoods through traditional crafts such as weaving.
The Duchess began this morning's rural adventure in a far more casual ensemble. An elegant spotted blouse and pair of skinny jeans from Zara (opens in new tab) highlighted her enviable figure. When she's not wearing heels, Catherine often opts for comfy boat shoes, and this morning she chose her favourite Sebago pair.
12th April - New Delhi and Kaziranga National Park
To round off day three of their trip, William and Catherine flew to Assam to visit the world's largest one-horn rhino park. The couple enjoyed front row seats for a performance by local dancers around a camp fire and seemed particularly taken by a little boy who appeared to be around the same age as Prince George. During the meeting the mischievous youngster cheekily trod on William's toes.
Earlier on in the evening the couple were greeted at Tezpur Airport by traditional Assamese dancers and invited to taste Assamese rice pancakes and coconut cookies.
Earlier in the day, the Duke and Duchess met children from the slums of New Delhi who face abuse and poverty.
The couple visited a facility run by the Salaam Baalak Trust, an organisation that helps vulnerable young people who flee to the capital. They were given a guided tour by the children who used to live in on the streets before being rescued.
Catherine was snapped wearing a loose-fitting, sleeved maxi dress costing £50 from high street shop Glamorous paired with casual nude flats from Russell & Bromley. She wore her hair in relaxed curls to complete the dressed-down look.
Just one hour later, the Duchess changed into £800 Temperley London lace dress to have lunch with Prime Minister Narendra Modi.
11th April - Mumbai and New Delhi
Following their morning in Mumbai, the Duke and Duchess travelled to New Delhi for a party held at the British High Commissioner's residence in New Delhi to celebrate the Queen's 90th birthday.
The Duchess' wardrobe just keeps getting better! Wearing a monochrome Temperley London dress with Indian-inspired embroidery, Catherine looked every inch a princess at the occasion.
Nothing is too lavish or unusual for the Queen's birthday it seems - the couple were snapped cutting an enormous Union Jack cake with a ceremonial sword.
Earlier in the day, William and Catherine met young entrepreneurs at The Social bar and restaurant at an event to showcase the best of British around the world, organised by the GREAT campaign.
Prince William attempted making a dosa pancake using an automated 'dosamatic' machine. He deemed his creation 'delicious', but Catherine, possibly conscious of getting her Emilia Wickstead dress dirty, refused to taste his culinary efforts. The crisp cream frock, costing around £1,700, looked elegant teamed with pink Rupert Sanderson pumps and a Mulberry clutch bag.
William said that he would love to have a dosamatic machine at the palace, and Catherine replied that because you can also use it to make pancakes, the whole of London will want one.
During day two the royal couple paid their respects to the country's fallen soldiers by laying a wreath at India Gate - the country's main war memorial. Catherine struggled to control her dress in the gusty weather but managed to maintain composure throughout like a true Princess.
The couple also visited Gandhi Smriti where Mahatma Gadhi spent his final years. The Duke and Duchess removed their shoes to follow the footsteps Gadhi took from his bedroom to the garden where he was assassinated in 1948.
10th April - Mumbai
On their first night in India the Duke and Duchess of Cambridge were special guests at a dazzling Bollywood dinner. The glittering charity event was thrown by The British High Commission in partnership with the British Asian Trust - Prince Charles' charity and they were joined by A-list film makers, entertainers and sportsmen.
The Duchess was a sight to behold in a bespoke cobalt blue gown by one of her favourite British designers, Jenny Packham. The floor-sweeping chiffon dress was specially customised in India with silver beading for the visit. Bold drop earrings by high-end Indian jeweller Amrapali complemented her elegant updo perfectly.
Earlier in the afternoon the couple visited Mumbai's Oval Maidan where they joined local school children for a game of cricket and a bit of football. Catherine was an incredibly good sport and didn't let her wedge heels stop her from running after the ball. The couples competitive side showed and both seemed to be enjoying the folly and high jinx on the pitch.
After the fun and games in the park William and Catherine hopped aboard an open top bus to tour the city before visiting slums in the Malabar Hill area that's home to 10,000 people who live in just 1,500 cramped two-story huts on the outskirts of one of the country's wealthiest districts.
The Duke and Duchess shared jokes and chatted with local residents who mentioned they had never been visited by politicians or celebrities from their own country.
On arrival to India the Royal couple checked into the five-star Taj Mahal Palace hotel, which was bombed in the horrific terror attacks in 2008 leaving 164 dead and over 300 others injured. William and Catherine met the members of staff who helped protect guests during the attacks and laid a wreath in memory of the victims as a show of 'solidarity'.
Catherine wore a red paisley printed ensemble by British designer Alexander McQueen for the occasion. Her favourite nude heels and a Russell and Bromley clutch completed the look.
The young couple are no doubt starting to miss their children, Prince George and Princess Charlotte who have been left in the safe hands of their Granny Carole and nanny Maria Turrion Borrallo. It's first time Catherine has left the children since Charlotte was born in May last year, but the couple 'will keep in touch via Skype' claims Sarah Dixon, a maternity nurse who has worked with friends of the royal couple.
Want to know what's in store for the Duke and Duchess for the rest of the week? Read the Cambridge's full itinerary below:
16th April - Agra, India
On their final day, William and Catherine will conclude their tour at the Taj Mahal. The Duke has said that he feels "incredibly lucky" to visit the monument where his mother's memory is "kept alive".
However, there have been disputes with the Indian authorities regarding the removal of scaffolding around the Taj Mahal. The Foreign Office reportedly asked for the building works to be taken down as not to ruin photos of the Duke and Duchess. However, a Foreign Office spokeswoman told The Telegraph: "We can confirm that this story is not correct. We did not request that the Taj Mahal remove the scaffolding."