Susanna Reid reveals the reason behind her 2 stone weight loss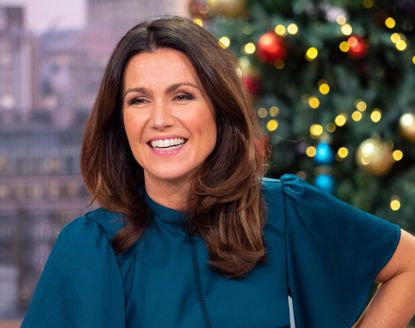 (Image credit: Ken McKay/ITV/REX/Shutterstock)
The Good Morning Britain star has spoken about how quitting alcohol has helped her slim down.
The 47-year-old presenter has lost nearly 2 stone after her decision to completely give up the booze.
She spoke about her decision recently, in an interview for Is It Just Me? podcast, she said, "When you cut alcohol out that is an easy couple of pounds.
"As you get older your memory is affected. I just thought, 'Alcohol is not great for your memory'."
The TV host has just recently reached 100 days without drinking alcohol and celebrated it on Twitter by saying, '100 days without a hangover! Believe me, you can still have fun without alcohol, despite what your co-workers might say.'
The star has talked about her weight loss on the show before and admitted that one of her decision to drop a few pounds was down to her doctor.
"It was a combination of factors, but a doctor said I was at the top end of my BMI. He said it might benefit me if I lost a little weight," she said.
And she's been showing off her new figure in a number of figure hugging dresses while presenting the morning show. While her co-host Piers has been crediting other people for Susanna's weight loss too.
While interviewing boxer Tyson Fury, Piers said, "She's lost two stone, Tyson! After your little pep talk, Susanna is wasting away."
Susanna's co-host was referring to when Tyson was last on the show and told her to cut out the milk in her coffee if she wanted to lose weight.
Susanna said to the boxer, "You suggested that I eliminate, well take away, milk from my coffee, so now it's black coffee only.
"Thank you very much for that tip! We can all learn from Tyson." While Tyson told Susanna that she was 'was looking well'.
The star, who has been on a health kick since September, also briefly spoke about her new relationship recently, with millionaire and Crystal Palace chairman Steve Parish. She admitted that she was happy with him, after a friendship turned into a romance.