Sharon Stone opens up about the "brutally unkind" treatment she received following her stroke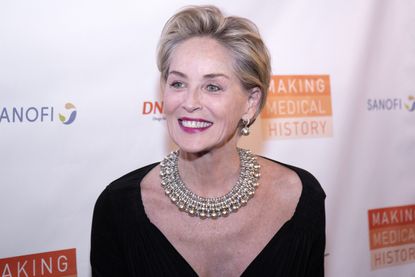 Hollywood icon Sharon Stone has opened up about the devastating way she was treated by the people she encountered following her 2001 stroke.
Speaking to Variety at a Women's Brain Health Initiative event, the award-winning actress revealed that women from all walks of life failed to fully grasp the magnitude of the haemorrhagic stroke and the on-going impact it had on her life.
She said: "People treated me in a way that was brutally unkind.
"From other women in my own business to the female judge who handled my custody case, I don't think anyone grasps how dangerous a stroke is for women and what it takes to recover – it took me about seven years."
Continuing to speak candidly about the knock-on effect of the condition on several areas of her life, the 61-year-old described the "insurmountable losses" she faced in the wake of her stroke: "[From] trying to keep custody of my son to just functioning – to be able to work at all".
Thankfully a ray of hope came in the form of French business magnate Bernard Arnault, who offered Stone a high-profile contact with French luxury goods brand Dior.
Explaining more, the mum-of-one said: "I was so grateful to Bernard Arnault, who rescued me by giving me a Dior contract."
MORE:91 per cent of strokes could be avoided by doing this one thing (opens in new tab)
But despite this career lifeline, she revealed that were still a number of mountains to climb in her lengthy recovery process – even comparing her abrupt exit from the limelight to the death of Princess Diana (opens in new tab).
Stone continued: "But I had to re-mortgage my house. I lost everything I had. I lost my place in the business.
"I was like the hottest movie star, you know? It was like Princess Diana and I were so famous – and she died and I had a stroke. And we were forgotten."
She also went on to offer some sage words of advice for fans on the symptoms of stroke (opens in new tab) and the fast action that needs to be taken, saying""If you have a really bad headache, you need to go to the hospital. I didn't get to the hospital until day three or four of my stroke.
"Most people die. I had a 1 per cent chance of living by the time I got surgery – and they wouldn't know for a month if I would live."
Due to bleeding in or around the brain, haemorrhagic strokes account for 15 per cent of strokes in the UK according to the Stroke Association, and causes include everything from high blood pressure to aneurysms.
Miriam worked for woman&home for over five years and previously worked on the women's lifestyle magazines Woman and Woman's Own.