Salma Hayek has slight wardrobe malfunction while dancing around in a bathrobe
Salma Hayek's joyful post had us laughing at the comments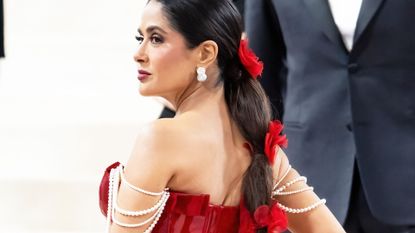 (Image credit: Getty Images)
To celebrate hitting 24 million Instagram followers, Salma Hayek posted a video of her dancing around in her bathrobe - but had a bit of a wardrobe issue while doing so.
Salma Hayek has officially hit 24 million followers on Instagram - and based on her most recent post, she was pretty damn excited about it.
While sitting in a hair and makeup chair to get ready, she suddenly springs up out of her seat in nothing but a bathrobe, joyfully dancing to music with her friend putting her recently self-revealed happiness trick to good use. While the two are dancing, you can see in the video that Salma added censors to the video, which cover the multiple nip slips she had while moving around.
In the caption, she thanks all of her followers and fans for their continued support throughout her long and successful career. "24 million followers, 24 million reasons to smile 😄 Thank you all for joining me on this wild ride! ❤️🙏 I cannot contain my excitement & gratitude 💃 P.s happy birthday @samanthalopezs," she said.
Although Salma hit a huge milestone on Instagram, unsurprisingly, the only thing people seemed to be interested in was her censored nip slips - and some were more subtle about it than others.
To show support for Salma, one person commented, "The best part is the censor 😂 you know you're living your best life while dancing and it all comes out!!"
Others were a bit more aggressive in their comments about the wardrobe malfunction. "Where can we get the uncut, uncensored version? Asking for a friend," one person said.
In the past, however, Salma has been pretty open about her sexuality and how she embraces it - she even shared a story about the one time she nearly died while receiving a lap dance.
She explained while appearing on The Tonight Show with Jimmy Fallon that this all happened while shooting a scene for one of her most recent movies, Magic Mike: The Last Dance.
She recalled that shooting that scene almost ended up in a bit of a lap-dancing-induced accident. "There's one part that's not in it where I'm upside down, and my legs had to be somewhere," pointing to her shoulder, "But, upside down, one loses sense of direction, and I didn't do what I was supposed to do, so in the rehearsal, I went, like, head down—almost hit my head."
"He held on to my pants, but I was really concerned because my pants were going away, and I couldn't remember if I had underwear or not at this moment," she told Jimmy, laughing.
Madeline Merinuk is woman&home's US lifestyle news writer. She covers celebrity, entertainment, fashion, and beauty news but is also obsessed with internet trends - you can find her reciting trending TikTok sounds out loud at any given time.
After winning multiple student journalism awards for her investigative work, she graduated from Hofstra University in 2021 with a B.A. in Journalism. After graduating, she worked at today.com, the digital site for the Today Show, where she wrote pop culture news and interviewed big-name personalities like Emily Ratajkowski, Haley Lu Richardson, Emma Corrin, and more.
Her personal interests, in no particular order, are: cheese, Joni Mitchell, reading, hot yoga, traveling, having multiple chapsticks in every handbag at all times, and dancing to ABBA songs as if she were in the Mamma Mia movies.