Fans can't believe how young Ruth Langsford's 87-year-old mum looks in rare new video
So sweet!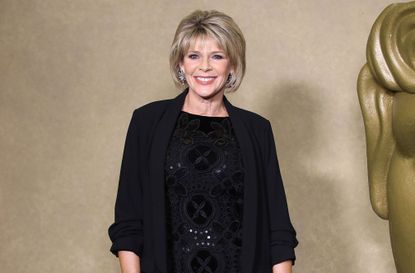 Ruth Langsford's fans were in awe of her mother after the telly host shared some footage of her on Instagram.
The 59-year-old This Morning presenter uploaded a sweet snippet of her mum, Joan, dancing away to a live band at a family party last weekend.
Captioning the lovely moment, mum-of-one Ruth penned, 'Go Mum! Family 60th Wedding Anniversary Party last night....couldn't get her off the dance floor! 87yrs old and still has the moves! 💃 ❤️.'
Commenting on the post, some fans were in amazement at how youthful nearly-ninety Joan looks.
READ MORE:Ruth Langsford stuns in snakeskin high street dress – and it just went into the sale!
'87??? She looks 20 years younger! What's her secret, I need to know ❤️,' wrote one.
'Oh my she is fabulous!!!! She really looks so much younger too. Go girl 👏,' added another, while a third wrote, 'Brilliant so amazing 87 years young amazing lady xxx❤️❤️❤️.'
READ MORE:Ruth Langsford wore a £25 dress from Tesco – and fans love it
Last month, Ruth shared details of an adorable mother-daughter day out, posting a video of Joan grinning before tucking into breakfast.
'Lovely day spent with my amazing Mum (87!!) enjoying the sunshine, chatting, laughing, remembering. Then her favourite....bubble & squeak with poached egg and asparagus Yum! Love you Mum ❤️,' Ruth wrote.
Sadly, Ruth and Joan suffered a huge loss earlier this year, when Ruth's sister Julia passed away in June.
Breaking the devastating news to her social media followers, Ruth posted a sweet photo of her and Julia beside the message, 'My lovely Sis Julia has sadly died after a very long illness. My heart is completely broken. She was the kindest and most gentle soul and I will miss her forever. As I am sure you will appreciate I need to take time to grieve with my family. Thank you for your understanding.'