Ruth and Eamonn delight fans with 'brilliant' video of themselves showing off their dance moves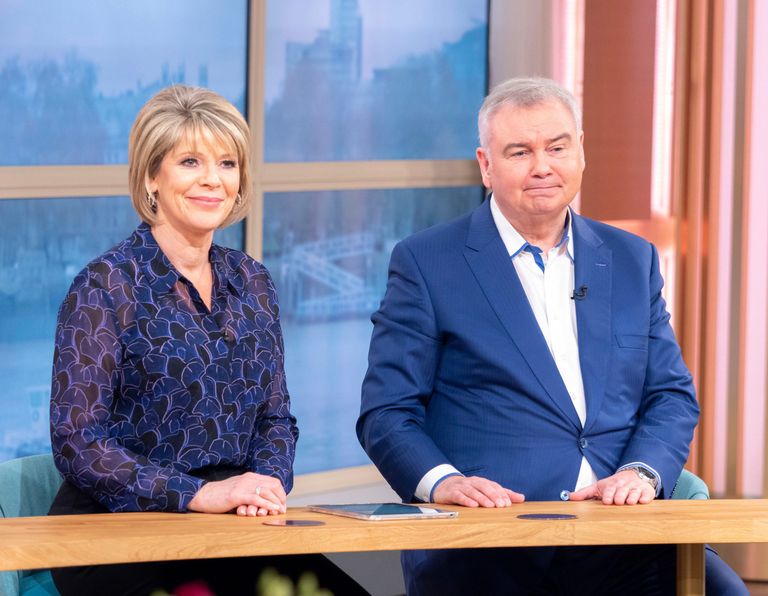 By Amy Hunt
Ruth Langsford and Eamonn Holmes without doubt share a silly sense of humour, with This Morning fans often catching them sharing cheeky jibes live on air.
But it's rare that we get to see the pair letting their hair down away from the cameras.
However, over the weekend Ruth gave her fans a sneak peak at how she and her husband keep themselves occupied during down moments, when they're filming their Channel 5 series Do The Right Thing.
58-year-old Ruth shared a short video with her 622,000 Instagram followers of her and Eamonn on set recently, showing off their dance moves as they tried to keep warm on a freezing cold set.
Read more:'As if'; Viewers respond as Ruth and Eamonn joke about divorce on This Morning
In the caption, she wrote, 'When it's cold in the studio rehearsal @eamonnholmes & I have to do something to keep warm!! 🔥 🎤 #DoTheRightThing tonight at 7.00 @channel5_tv'
The video saw the popular couple boogeying away to 'I Will Survive' by Gloria Gaynor, singing the words along to the track whilst the audience clapped in the background.
And their fans cleared enjoyed the rare, candid off-screen moment, with many saying that it was 'so funny', while others simply confessed their 'love' for Ruth and Eamonn.
One follower said, 'Just adore you both 😍', while another commented saying, 'You two do@make me giggle I wish you were on this morning every day 😘'.
A third fan wrote, 'This is one of the many reasons for why I love them'.
While a fourth agreed, saying, 'love it though! 😂🙌🏻'.
We agree - it's certainly a fun way to warm up on a chilly day!
Ruth and Eamonn enjoyed a pretty busy weekend, as the work didn't stop with their Channel 5 show. The couple returned to screens on Sunday morning for the new, weekend episode of This Morning.
Hopefully the presenting pair get a chance to rest up this week!