The Queen's 'biggest regret' is revealed in emotional episode of The Crown
Spoilers ahead...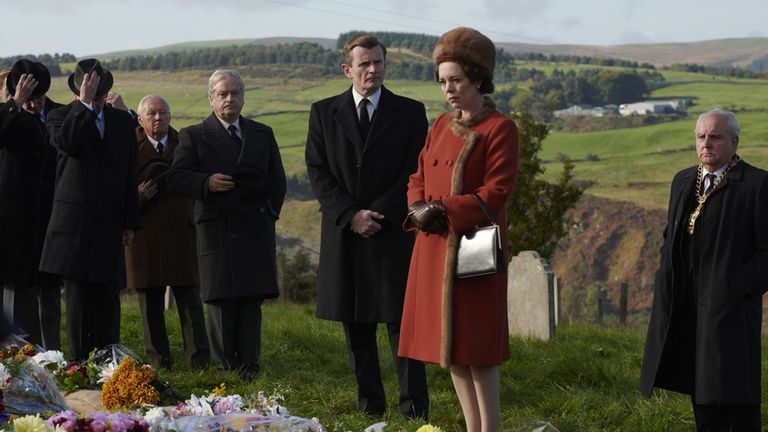 The Crown season 3 returned on Sunday, with Netflix dropping all ten episodes of the critically-acclaimed series.
One episode takes a look at a horrible tragedy that happened in the Welsh mining town of Aberfan, which remains the The Queen's biggest regret due to the way she responded to it.
In 1966, rainfall had caused a spoil tip to suddenly slide downhill, resulting in the deaths of 144 people. 116 of those killed were local schoolchildren.
The Queen (Olivia Colman) is quickly informed about the tragedy, and a statement of condolence is prepared. Despite her advisors suggesting she goes to visit, she states that it "isn't something Queens do".
Prince Philip (Tobias Menzies) goes to visit the Welsh town, and is visibly distressed by the town's mourning. He reveals to The Queen that there was no anger or violence, and that "they just sang" as they gathered around the coffins.
MORE: Olivia Colman says Queen role in The Crown was 'most difficult thing she's ever done
Eventually, the Queen does decide to visit, and is told by advisors that emotion would be welcomed by the mining town. One says, "You may wish to consider that this is Wales, not England. A display of emotion would not just be considered appropriate — it's expected."
As instructed, the Queen is seen red-eyed and wiping away tears, but she later confesses to new Prime Minister Harold Wilson (Jason Watkins) that she has trouble showing emotion. In fact, she never shed a tear.
No one is entirely sure why The Queen delayed her visit to Aberfan, but she has allegedly revealed that she 'had regrets' about the way it was handled.
MORE: Palace denies that The Crown has any "endorsement by the royal household"
According to The South Wales Echo, Gyles Brandreth claimed that the monarch's former private secretary Lord Charteris had 'immediately replied "Aberfan"' when asked about The Queen's biggest regret.
However, despite this, it appears the town of Aberfan still support the Queen. Survivor Jeff Edwards, who was eight at the time of the disaster, said, "If the Queen does regret not coming here straight away, I think that is misplaced.
"When she did arrive she was visibly upset and the people of Aberfan appreciated her being here. She came when she could and nobody would condemn her for not coming earlier, especially as everything was such a mess."
The Queen has also visited the town three times since and made a donation to a project, which helps local school leavers without qualifications.
The Crown series creator Peter Morgan told The Observer that he "underestimated how raw" Aberfan still was, adding that "the production team made spectacular efforts to show respect and consideration" when filming.
Executive producer Oona O'Beirn added, "We had a therapist to help all the people who were recreating such a horrific scene. People who live there are still traumatised, of course, and we found they'd never been offered help before. Now we are trying to arrange more."