Why people are calling for Sainsbury's to be boycotted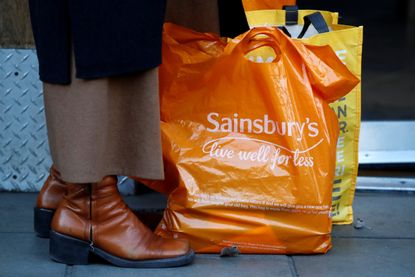 (Image credit: AFP via Getty Images)
Hundreds of people have taken to social media to call for supermarket giant Sainsbury's to be boycotted.
Many angry shoppers have claimed that they will no longer be shopping at the food retailer and are urging others to do the same, after a statue of 18th century slave trader, Robert Milligan was taken down yesterday.
The likeness of the merchant, who founded London's West India Docks was removed from the area in light of the Black Lives Matter (opens in new tab) movement happening all over the world.
Demonstrations and protests against police brutality and racism (opens in new tab) were sparked in the US earlier this month following the death of Minneapolis Black man, George Floyd (opens in new tab), who died after a white police officer knelt on his neck for almost nine minutes during an arrest.
Outrage is now being heard all over the world, with protests taking place across the UK.
READ MORE:This is hard to hear, but if you are a white UK resident "shocked" by what happened to George Floyd you are part of the problem (opens in new tab)
Anti-racism advocates have been calling for statues depicting historical figures involved in the enslavement of Black people to be removed after one of slave trader Edward Colston was taken down by protesters in Bristol last week.
The removal of the Robert Milligan statue was funded by the Museum of London, which is funded by Lord Sainsbury, whose great-grandfather established the Sainsbury's brand Brits are familiar with.
In light of this information, hundreds have taken to social media to admit they believe Lord Sainsbury's support within the global conversation on racism means that his family's establishment should be boycotted.
'I honestly am so glad I never shopped at Sainsburys.#BoycottSainsburys,' one wrote on Twitter.
'@Sainsbury's given your involvement in this - one customer less #boycottSainsburys' added another.
Meanwhile, others were on the other side of the fence.
'People are going to #BoycottSainsburys because Lord Sainsbury has urged statues of slave owners to be taken down? Are these people actually for real?,' asked one confused Twitter user.
'If you are using this hashtag sincerely, can you punch yourself in the face for me? Thanks,' another chipped in.
'Imagine being mad at someone saying slavery was bad take down the statues. I fully don't get how this is something controversial,' continued a third.