Only Murders in the Building: will there be another season?
Great news: Only Murders in the Building has officially been renewed for season 3 and here is everything we already know about it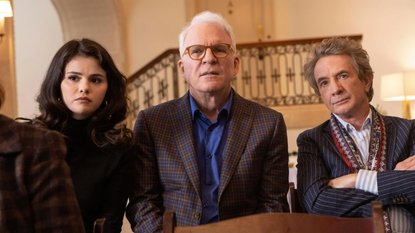 (Image credit: Hulu)
By now, you should be done watching season 2 of Only Murders in the Building, the Hulu comedy starring Steve Martin, Martin Short and Selena Gomez about a trio of true crime enthusiasts who start investigating a murder in their New York building.
The last episode of Only Murders in the Building season 2 aired last night and folks have plenty of questions in mind following the finale, including: who killed Bunny? What happens next? What did the final scene mean? Will there be a third season?
Only Murders in the Building: season 2 ending explained
Beware, spoilers ahead! Audience members finally figured out who killed Bunny, played by Jayne Houdyshell: Poppy White (Adina Verson), the under-appreciated assistant to Cinda Canning (Tina Fey).
In fact, as folks realized after episode 9 of season 2 aired, Poppy's real name was Becky Butler, the subject of Cinda's podcast All is Not OK in Oklahoma. After faking her death and escaping a sad life, Becky met Cinda and gave her the idea that became the podcast in exchange for a job.
The motive for Bunny's murder also becomes clear after the finale: Cinda was looking for another high-profile case to dissect on her podcast and, in an effort to help her, Poppy decided to commit the crime herself. So she killed Bunny, used the Arconia building's tunnels to go free and hid the knife she used for the crime in Charles' own apartment as to frame him for the murder.
At the very end of the final episode of season 2, the story line jumped an entire year, setting up the scene for season 3.
In the last few minutes of the episode, fans got a glimpse of Paul Rudd playing actor Ben Glenroy, a lead in Martin's character's new Broadway show. Interestingly enough, we learned that Steve's character Charles plays the second lead on that show and the two on-screen actors actually don't get along, a fact that comes to mind when we learn about Ben's murder.
Only Murders in the Building: will there be another season?
Season 3 of Only Murders in the Building has already been confirmed and Paul will officially join the cast of the show after appearing in a cameo in the season 2 finale.
"Paul Rudd, after making an auspicious entrance into the world of our show at the end of Season 2 as Ben Glenroy, is someone we clearly want to know more about and see in our upcoming Season 3, as he is a clear source of many upcoming questions and, as ever with our show, many twists yet to come!" series co-creator John Hoffman said in a statement to Variety (opens in new tab) this week.
No word yet on when season 3 will premiere but it will likely be on Hulu, where fans can stream the first two seasons of the show in their entirety right now.
Anna Rahmanan is a New York-based writer and editor who covers culture, entertainment, food, fashion and travel news. Anna's words have appeared on Time Out New York, the Huffington Post, Fortune, Forbes, Us Weekly, Bon Appetit and Brooklyn Magazine, among other outlets.